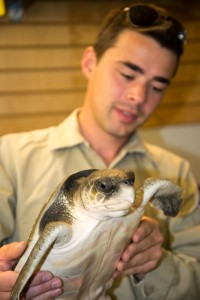 Wellfleet Bay turtle field coordinator Ron Kielb got word this morning that a Kemp's ridley sea turtle had been found alive at Ellis Landing on the bayside of Brewster. With most of our troops focused on lots of hatching diamondback terrapin nests these days, we're not quite in sea turtle rescue mode yet!
Ron Kielb holds rescued Kemp's ridley turtle (photo by Karen Strauss)
Although the turtle was reported to be alive, we find that it's not always the case. So Ron was pleased to discover a very lively Kemp's when he arrived and brought it back to the sanctuary for weighing and measuring. Nancy Rabke (who's also on terrapin nest patrol these days!)  volunteered to drive the turtle up to Quincy and the New England Aquarium's Animal Care facility.
We don't know what brought this sea turtle ashore in late summer.  And we hope the aquarium doctors give him or her the all-clear. But at least this is one young turtle found before Cape Cod Bay gets too cold!