It's hot, it's muggy, the sun is relentless, and our trail naturalist team has decided to greet visitors on the shady Silver Spring trail.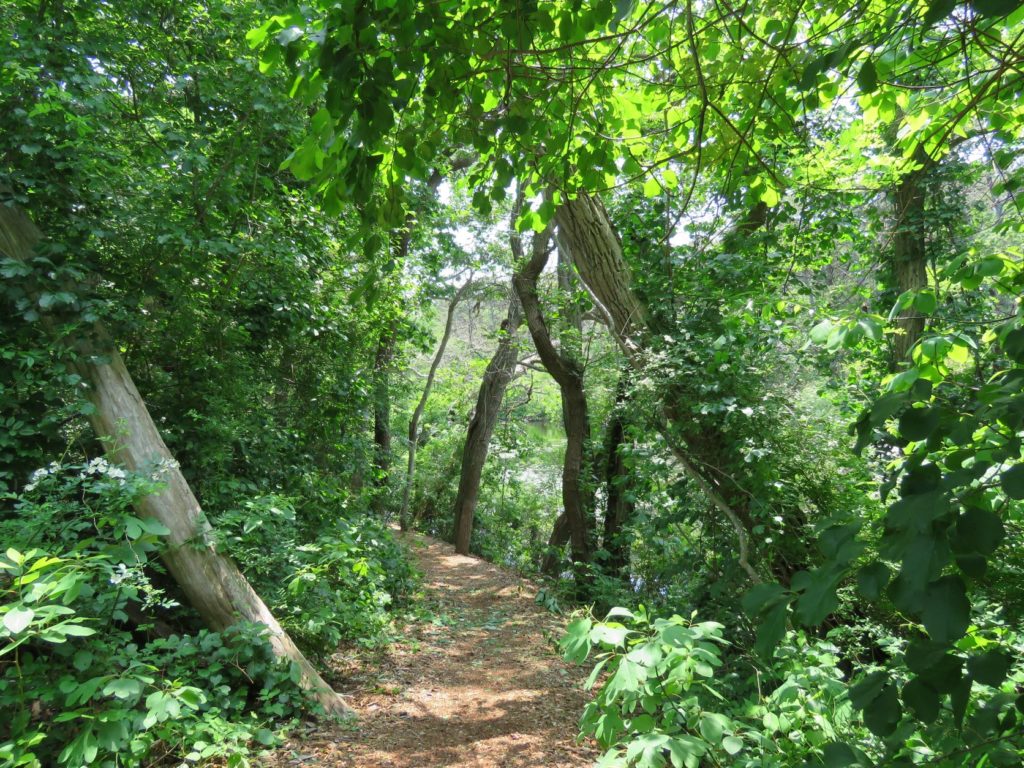 Volunteers Irwin Schorr, Judy Hadley, and I set out at 9:30, supplied with water, snacks, a radio, cell phones, notebooks, binoculars, and my camera. As always, our hope is to find the familiar and the unexpected and have the chance to interact with visitors who have chosen to visit Wellfleet Bay Wildlife Sanctuary.
As a team of naturalists, the three of us are perfectly suited. There's Irwin, who tells the stories of the plants (every plant has a story) and who knows pharmaceuticals and the role plants play in our health (including the whole story of aspirin!) Judy, who's new to the team, loves plants, especially trees. Her favorite season for "tree-walking" is late fall through early spring "just because of the sheer beauty of the tree skeletons." I'm a retired professor of French/Applied Linguistics with no scientific background! However, I aspire to know as much as possible about botany, have learned much about insects and birds, love doing research, and take many pictures to document our observations.
Every day on the trail has its highlights and surprises. Sometimes it's a diminutive dragonfly like the Eastern Amberwing on a Spatterdock, aka Yellow Pond Lily (Nuphar variegatum).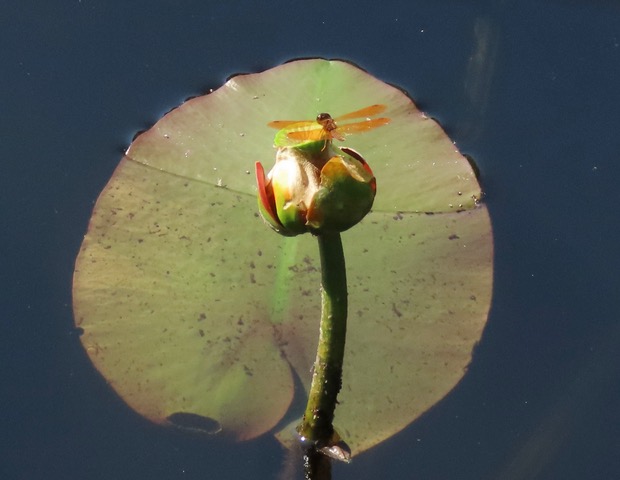 Other times it's the highly-anticipated emergence of the scarlet blossoms of the Cardinal Flower (Lobelia cardinalis) and even the unusual white or pink forms. While relatively rare, at least according to the books, we seem to find these "albinos" regularly on Silver Spring. But discovering it for the first time was exciting!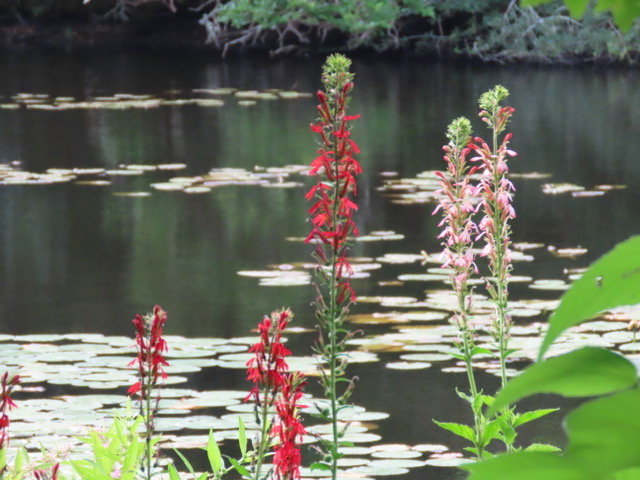 And we're still left speechless when a female Ruby-throated Hummingbird just happens to stop by for a snack.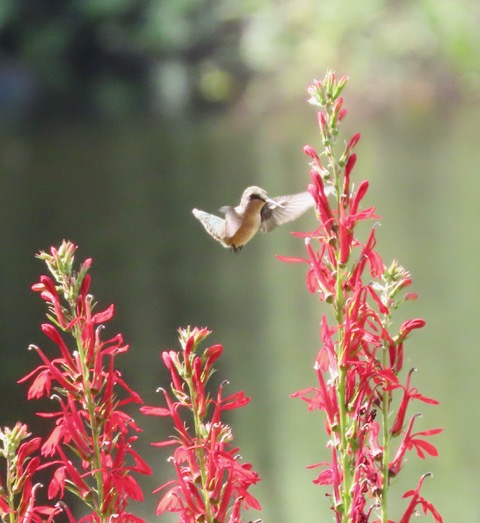 As we walk, we watch, we listen, we stop, we puzzle over plants, we learn and, most importantly, we talk to visitors and answer their questions. Here are a few answers for some of the many questions we got this summer:
Yes, these are Painted Turtles! They sun themselves to warm up and to maintain overall good health.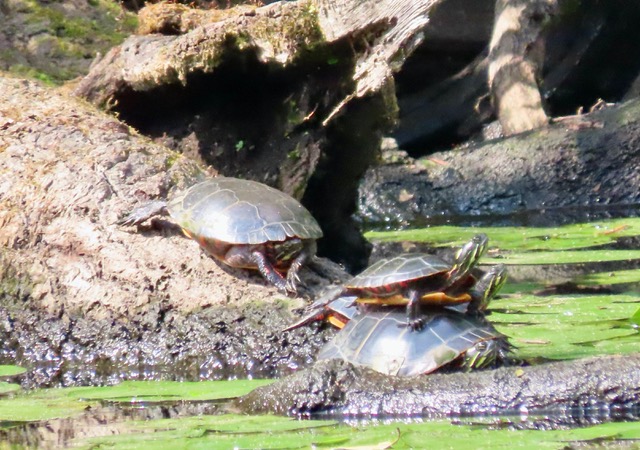 We thought this looked like Pac-Man devouring a Blue Dasher (dragonfly)! "Who is Pac-Man?" a 5-year-old asked us. Actually, it's a Fragrant White Water Lily pad with the dragonfly in the right place at the right time.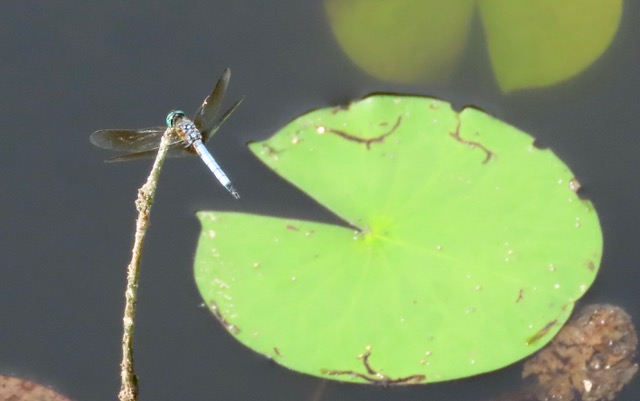 What's the stuff that looks like spaghetti? It's Common Dodder, a parasitic plant that attaches itself to the stems of other plants and draws nutrients from them (known as a stem holoparasite). Unchecked, it can choke out other plants. We didn't used to have as much of it here because it doesn't usually thrive in colder climates. But with climate change, Common Dodder has become more abundant.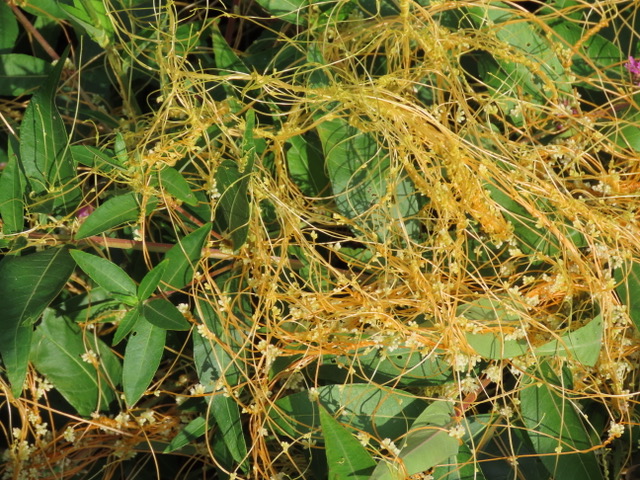 What's that fragrance? Yes, that's the Sweet Pepperbush (Clethra alnifolia). Breathe in deeply and savor the aroma! Look at the buds and the leaves and the individual flowers on the long stem (also known as a raceme).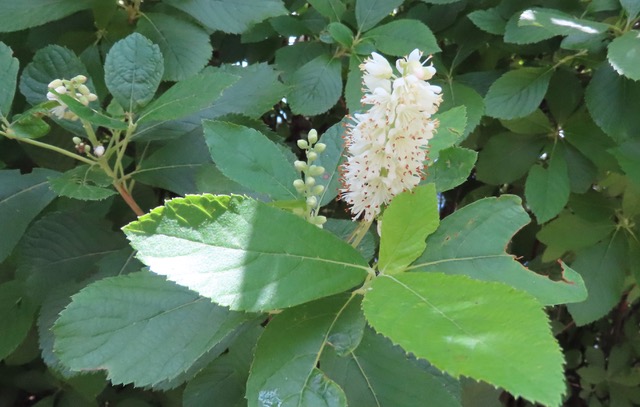 Silver Spring, like every trail at Wellfleet Bay, usually has a few surprises if you stop, look, listen, smell, and sometimes walk silently.
I think what also makes Judy, Irwin, and me a good team is that we share a sense of wonder. No matter how often we've seen a flower, it's always exciting to see it emerge again. Being a naturalist on the trails is one of the best learning experiences through which we have all gained a much deeper understanding our environment. And, more than anything, we love being out in nature and being astonished by it.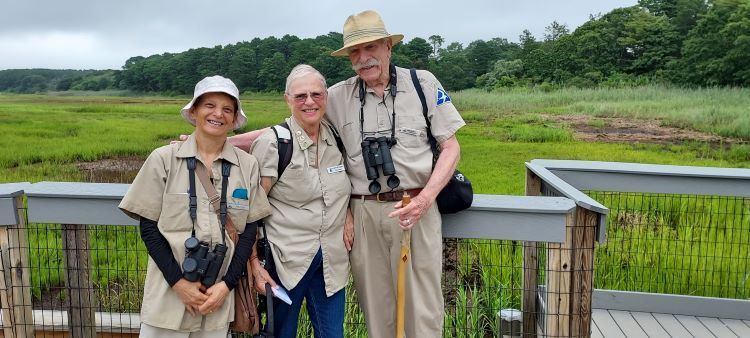 This post was contributed by Jeannette Bragger, a veteran volunteer naturalist and Piping Plover nesting season monitor. If you're interested in joining our volunteer naturalists program, please contact Visitor Experience and Outreach Coordinator Christine Bates.