The Spring 2022 banding season was a study in extremes. It began with a combination of mid-April storms to the south, pushing migrating Hermit Thrushes, Golden and Ruby-crowned Kinglets north, and a fog bank forcing them to land on Cape Cod—a phenomenon known as a fall-out. As a result, we banded a record number of these three species. They were accompanied by large numbers of Northern Flickers, which did not turn up in our nets, but were documented during our daily census. Unfortunately, dozens of exhausted Northern Flickers washed up on bayside beaches.
During this period we noted an impact on bird condition. All three species captured during this initial fallout had a 10% lower body mass. Average mass increased as the season progressed (see the table below). In Ruby-crowned Kinglets (RCKI) we saw the same pattern, but it was even more magnified since males arrive before the females. Ruby-crowned Kinglet males were caught up in the April 14-15th weather event, but the females, who arrive later, were less impacted. And our data show female RCKI being at above-average in weight, but males below. If we consider the Golden-crowned Kinglets you can see how the later birds weighed more than the earlier birds. But because the later birds were more likely to be smaller females, the weight difference is even more extreme.


After the first three busy days, the station slowed to a normal capture rate through the end of April and into the first week of May. But then weather impacted our operations again. An extreme wind storm (May 7-10) was followed by four days of fog. This impacted us in several ways: we couldn't band in the wind (birds can see the nets blowing) and birds tend not to migrate toward the Cape in northeast winds anyway. Fog also keeps local birds from moving around. Meanwhile, it was 80 degrees in Montreal, so migration didn't stop; the birds just missed the northeast coast completely.
Additional evidence of the dearth of birds during this period of May can be seen in our total lack of male Black-throated Blue Warblers. These birds migrated during the week of bad weather and completely bypassed Cape Cod.
But things got better. When the fog finally lifted, we had our best week of the season from May 16-19. We captured 20-plus catbirds a day as all the second-year birds moved through. From May 20-22 we encountered our only big wave of warblers of the spring, with 11 species captured over the three-day stretch.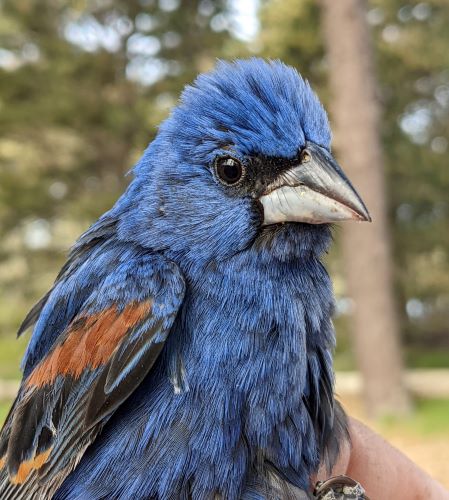 After May 22nd things slowed down as the migration season drew to a close. But we had some nice late season surprises, the best being an older male Blue Grosbeak. This bird showed up one day but wasn't captured. It disappeared the next day and we thought it was gone. But to our surprise, it appeared in one of our nets the following day and we all got to enjoy it. What a stunning bird, with the interplay of the chestnut wing bars on the blue plumage—a beauty!
Although we had lots of slow stretches this spring and missed one portion of migration completely, we still managed to record our highest spring banding total ever with 758 birds –twenty more than in 2021, our previous best year. The burst of birds in April and one good week in May really kept the numbers up and we look forward to looking for more specific patterns once we fully analyze the data.
This post was contributed by master bander James Junda who operates Wellfleet Bay's bird banding station.