Every cold-stun sea turtle season has its special characteristics and this year's will be known for how long it lasted— well into January!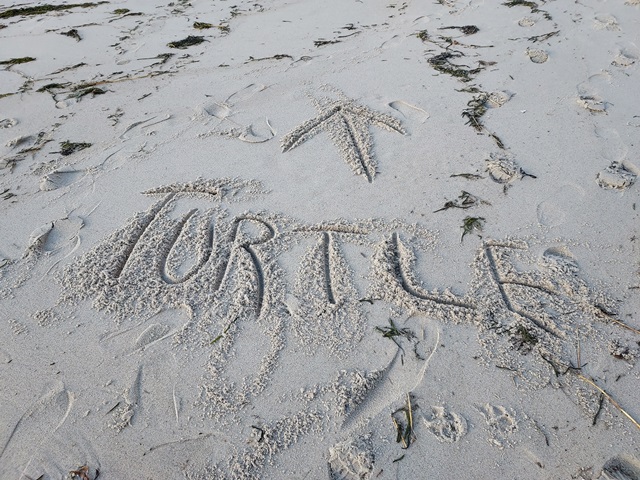 As of this posting, we've rescued or recovered over 700 sea turtles, our fourth busiest year. Last year we had over 1,000 by the end of the season. But now that we're about half-way through January, it's clear the season is finally wrapping up.
Because of a very warm fall, the first cold-stunned turtles came in about two weeks later than usual, November 17th. After that, they came in almost daily, including one 94-turtle day.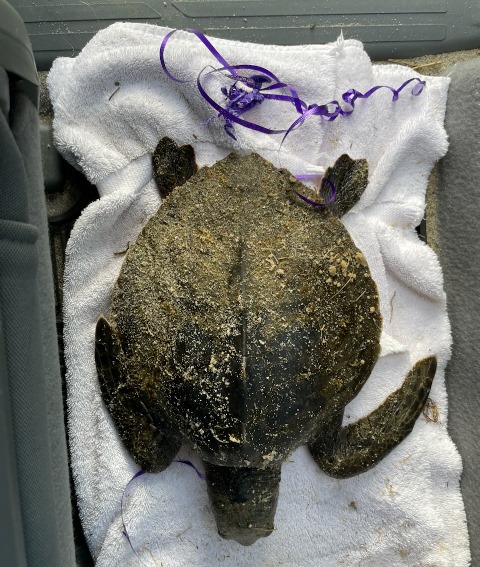 One noteworthy turtle was a live Kemp's ridley with a balloon string running through its entire GI tract. We've only seen this situation in two turtles from previous years and both were dead. We're looking forward to hearing more about the latest turtle and our fingers are crossed for its full recovery.
Two stranded turtles have had tags, meaning both were previous cold-stun victims. A green sea turtle found on Nantucket, unfortunately, was dead. The turtle was rehabbed last winter and released in June at West Dennis Beach. We also had a return ridley, a turtle that stranded last fall and was rehabbed and released off North Carolina last spring. Happily, it was alive when it was rescued by Michael Lach at Ellis Landing in Brewster!
Our awesome corps of volunteers covered miles of beaches from Dennis to Provincetown, many of them walking on some cold, windy overnight and predawn beach patrols.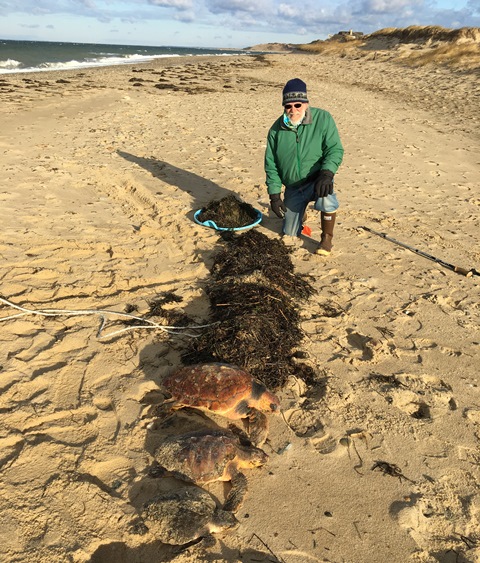 Wellfleet—and Great Island in particular–was a stranding hot spot. This 3-mile-long barrier beach in Wellfleet requires almost daily coverage and a round-trip walk of 6 miles! We're constantly amazed by the "regular crew"—Bruce Hurter, Bruce Beane, Charlie Sullivan and John Cumbler, all of whom walk that long, often lonely trip. We're also grateful that the Cape Cod National Seashore rangers frequently patroled that stretch by truck, often giving our turtles a lift and bringing them to the sanctuary.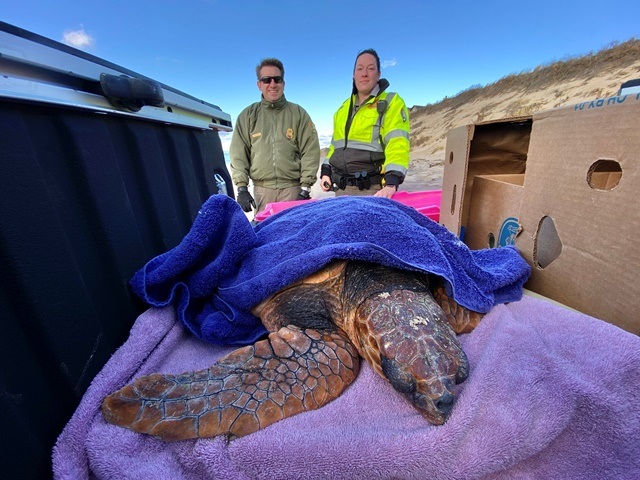 A shout-out, too, to the volunteers who were ready to drive turtles to the New England Aquarium's Sea Turtle Hospital in Quincy and the National Marine Life Center in Buzzards Bay, sometimes with only a hour's notice!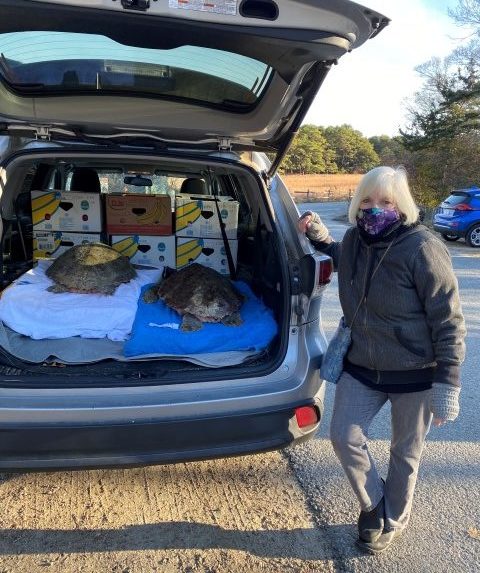 We also want to acknowledge all the casual beach walkers who kept an eye out for stranded sea turtles, folks walking their dogs and those visiting the Cape for a weekend, including this familiar-looking guy who responded to a stranded ridley at Ryder Beach in Truro!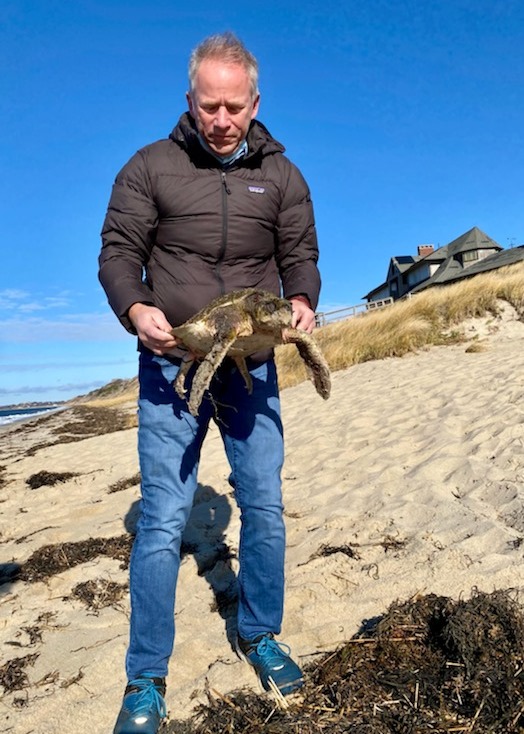 The season concluded, as it usually does, with loggerheads. To our amazement, several of these larger turtles were still alive when they stranded, despite being exposed to much colder January temperatures. In one case, our sea turtle team was directed to administer preliminary first aid by "swimming" two loggerheads so that they could start to warm up a bit and re-hydrate. The New England Aquarium's Sarah DiCarlo, on the phone, gave instructions as our staff oversaw activity in the baby pools!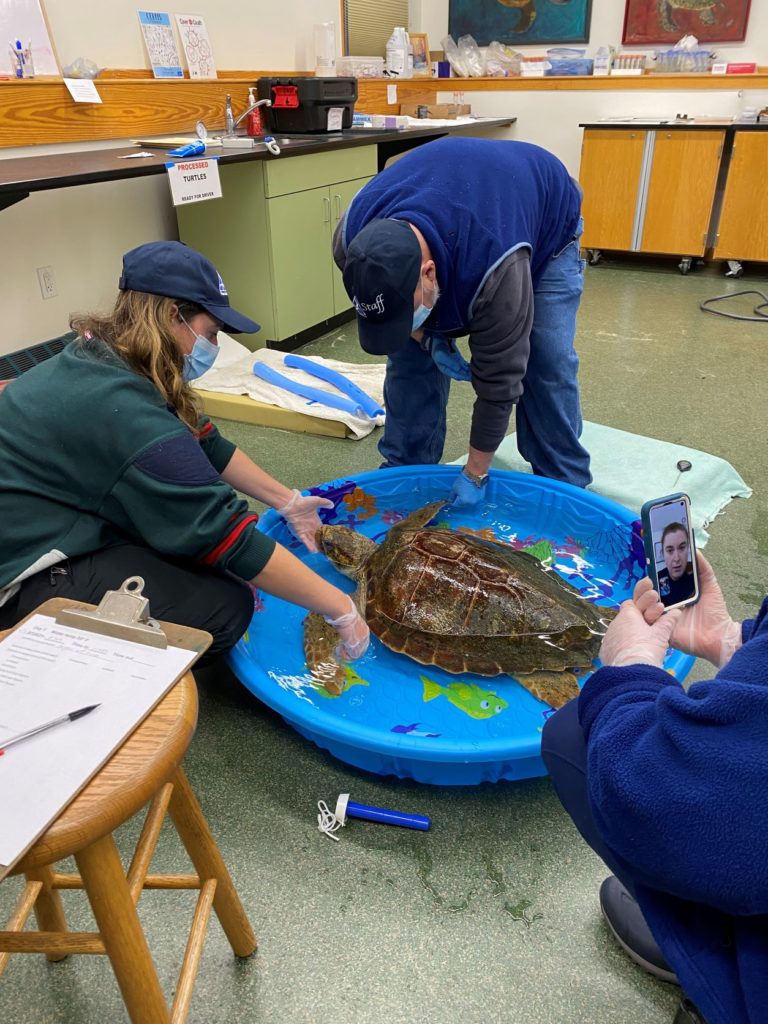 2021 Sea Turtle Stats
| | |
| --- | --- |
| Total | 733 |
| By Species | |
| Kemp's ridley | 617 |
| Green | 23 |
| Loggerhead | 92 |
| By Town | |
| Provincetown | 2 |
| Truro | 175 |
| Wellfleet | 216 |
| Eastham | 144 |
| Orleans | 28 |
| Chatham | 1 |
| Brewster | 123 |
| Dennis | 33 |
| Barnstable | 5 |
| Martha's Vineyard | 1 |
| Nantucket | 3 |
| Scusset | 1 |
| Hull | 1 |