This is the time of year when our collective attention turns to gifts. So for this seasonal message I'd like to unwrap the meaning of gift and offer those that come "without ribbons. [That come] without tags…without packages, boxes or bags."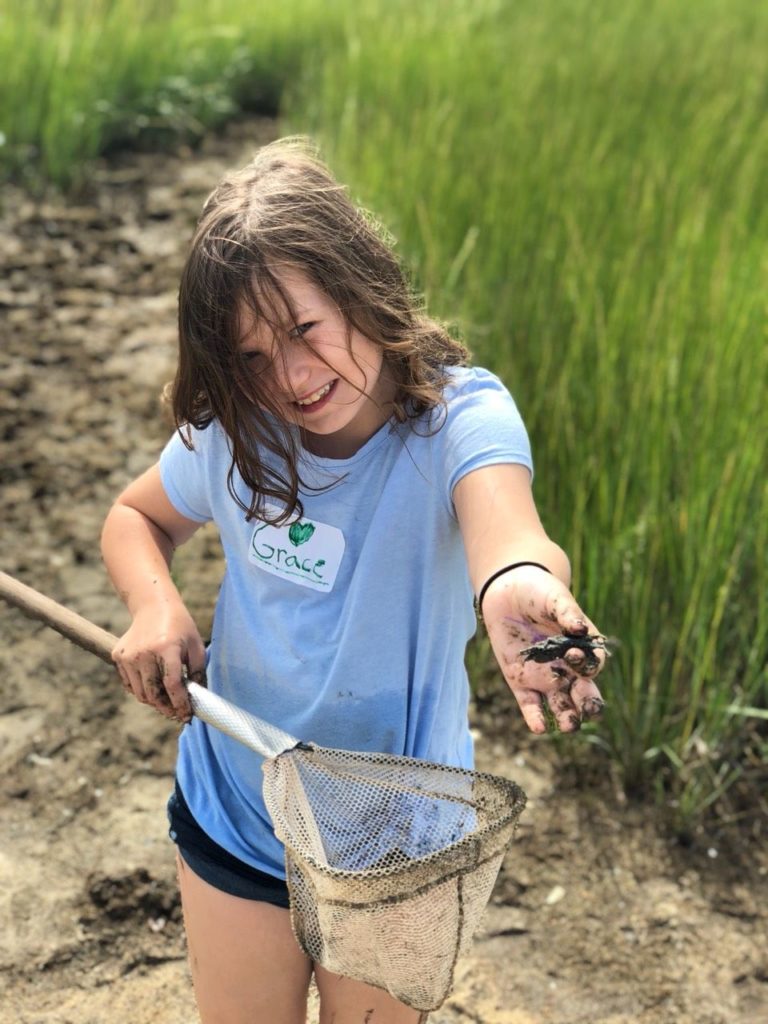 Look up the word gift in the Merriam Webster dictionary and the first definition provided is "noun: a notable capacity, talent, or endowment."
The past year was filled with countless illustrations of notable talent and skill demonstrated by Mass Audubon Cape Cod staff and volunteers. It is these gifts that are at the heart of our region's success and accomplishments. Presented here are some shining examples from the past year:
January: Meticulously recording and finalizing data for the 2020 cold-stunned season to officially reveal that it was the second largest number of cold-stunned sea turtle strandings on record (1000-plus!)
February: Navigating the nuances and frenzy of open enrollment for Summer Day Camp and early registration for local families which increased opportunities for Cape kids to attend camp at a discounted rate.
March: Learning a new technological platform to deliver the 25th Cape Cod Natural History Conference online so local research—spanning the subjects of microplastics in seals to nesting Bald Eagles on Cape Cod—could be shared with over 250 registrants.
April: Tapping into professional know-how of engaging children creatively in the outdoors while simultaneously meeting COVID safety protocols so we could run April Vacation Adventures and get "back outside actually TOUCHING real-life nature again with all our kiddos!"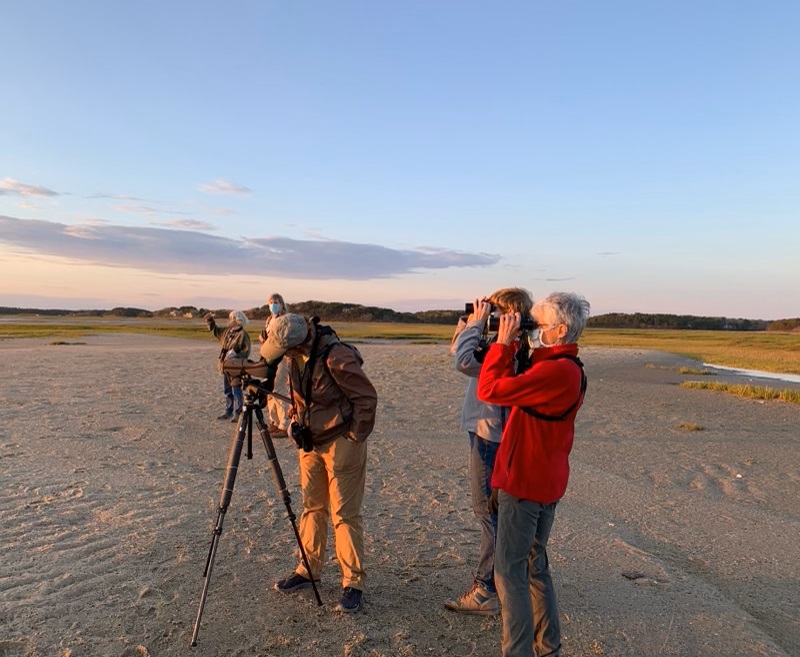 May: Focusing tirelessly (for way more than 24-hours!) on Bird-a-thon, building both awareness of and a community of enthusiastic birders which resulted in record-breaking fundraising for our region's bird conservation and education programs.
June: Lending a helping hand to herptiles (reptiles and amphibians) was an exciting theme this month: the first-ever documented breeding of trans-located spadefoot toads in Massachusetts occurred in a vernal pool that we created at Ashumet Holly Wildlife Sanctuary; the surprise discovery, and subsequent rescue, of a tiny ring-necked snake discovered at the ocean's edge during a Field School walk in Truro; and the identification and protection of over 400 terrapin nests in five sites in three towns (Wellfleet, Eastham, Orleans) monitored by 160 volunteers and three staff yielded 5,000 terrapin hatchlings—that is 1,000 more baby turtles than last year!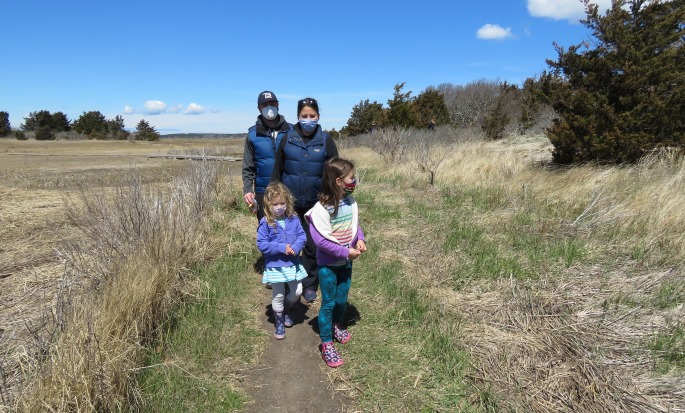 July: Realizing record-breaking visitation at Wellfleet Bay with over 8,300 people counted at the admissions desk (more than 1,500 than previous record), and realizing how vital time spent outside in nature is to so many people, and how important our welcoming sanctuaries are in the grand scheme of things.
August: Logging in countless hours of labor cleaning the buildings, managing rubbish and recycling, mowing fields, and maintaining trails to make our sanctuaries inviting and safe for record-breaking visitation!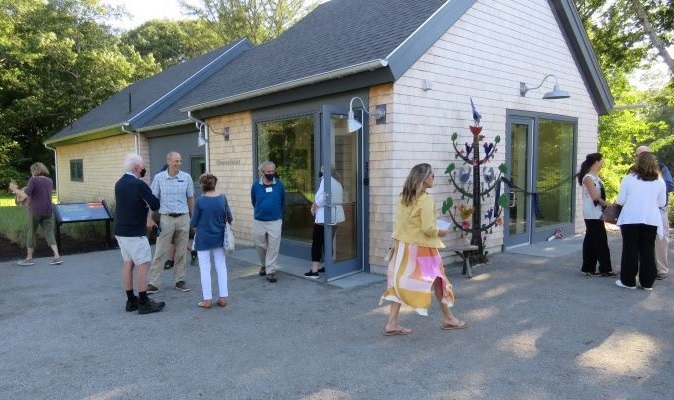 September: Orchestrating a magical celebration and ribbon-cutting for the Discovery Center's opening at Long Pasture that brought friends, colleagues and supporters together for our first in-person event in a very long time.
October: Wielding chainsaws for days to tackle fallen trees—oaks, cherries, cedars, and pines—toppled by a powerful nor'easter that ripped through Massachusetts and affected all of our sanctuaries on the Cape with blocked trails and power outages.
November: Enjoying the return of schoolchildren and college groups for in-person programming at the sanctuaries including students from Monomoy Regional Middle School studying bird migration and undergrads from Penn State's Adventure Literature program.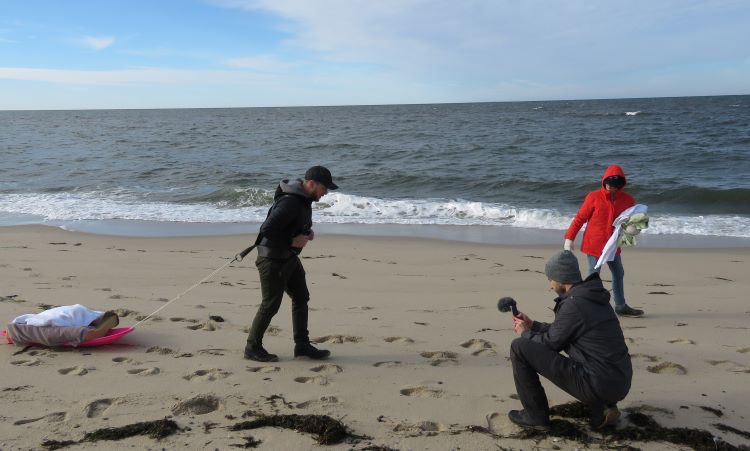 December: Managing scores of media inquiries and visits from reporters and documentary filmmakers all interested in capturing video and stories about cold-stunned sea turtle rescue, and raising international awareness of our important work as first-responders in this impactful conservation program!
Now as January approaches, staff will begin to get together to plan another exciting year of educational programs for all ages and audiences, summer camp, preschool, wildlife science and monitoring, ecological management, campground reservations, volunteer training, and much, much more.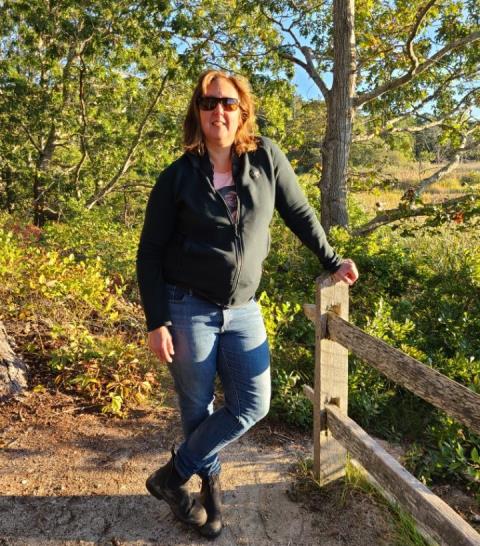 I am incredibly proud of being part of such a talented and dedicated group of people—a true gift and source of endless pride. Happy New Year!
This post was contributed by Melissa Lowe, Regional Director of Mass Audubon Cape Cod.