David Larson and I led today's edition of Wednesday Morning Birding out of Joppa Flats Education Center. With a 10:51 high tide on the river, we headed down to Sandy Point in hopes of roosting shorebirds. We were not disappointed! Skies were cloudy to partly cloudy; temps, upper70s to low 80s; and winds, SW/10-15 mph. We had quite the crowd tag along with us . . . .
With cloudy conditions and school in session, we did not have any trouble finding parking space at Sandy Point for our lengthy caravan. Some distance down the beach, we found a roosting lot of shorebirds. Predominantly, they were made up of Semipalmated Plovers and Sandpipers, most with their bills tucked and at least one leg withdrawn conserving heat. In the middle of all these migrating shorebirds, about 45 Sanderlings were assuming the roosting pose with bodies pointed into the strong southwesterly breeze. These birds were particularly noticeable, because they were all juvenile with bright black-and-white, crisp, uniform plumage — really handsome! Looking carefully through the mass of roosting birds, at one point, I thought I had a Baird's Sandpiper, but before I could tease out the needed field marks for the proper ID, it shifted position and vanished. In our search, we did locate three Western Sandpipers, juveniles with rufous scapulars. This is another "peep," one which we don't see all that often. During this migration, however, there have been a number regularly seen.
One of Lisa's volunteers along for the Wednesday Morning Birding experience, shouted out, "Tern!" When we got on it as it flew overhead and then landed some distance further down the beach, we could see that it was as large as a Ring-billed Gull, had a bright orangish bill, and that its black cap was molting into a frosty-looking forehead. At first we ID'd this tern as a Caspian Tern, an uncommon sighting. Upon further review and with the aid of photos taken by several of our party, in fact, this tern is (was) a Royal Tern, even less common than the Caspian Tern. The tern's bill being more orange than red and, as David Larson described the head, its "monk's tonsure," good field marks for Royal Tern. Take a look at Bob Minton's photo below. Nobody was able to get a head-on shot, but you can see the white of the forehead and crown and the narrow black band, the remnants of the bird's all-black cap when in breeding plumage. Another sighting was rather unusual, and one that I am sure is a first for Wednesday Morning Birding — behind us in Ipswich Bay, someone spotted an Ocean Sunfish (Mola mola) with its dorsal fin poking above the water's surface. Hmmm, it took a while before we got back to our feathered friends!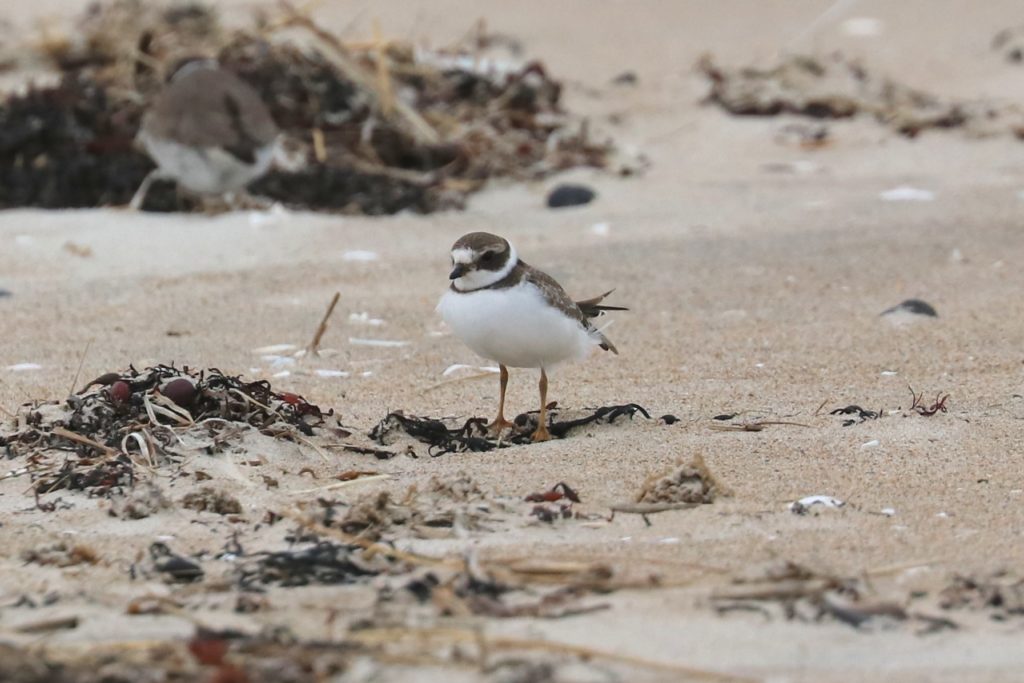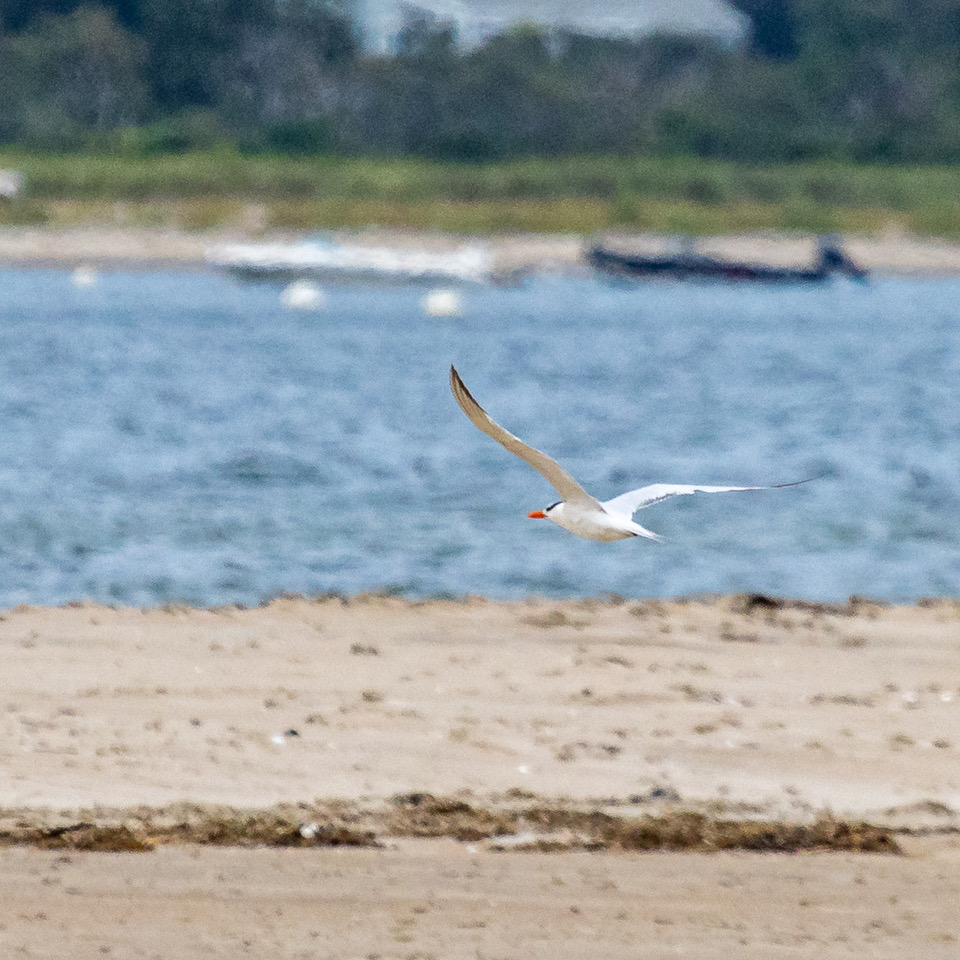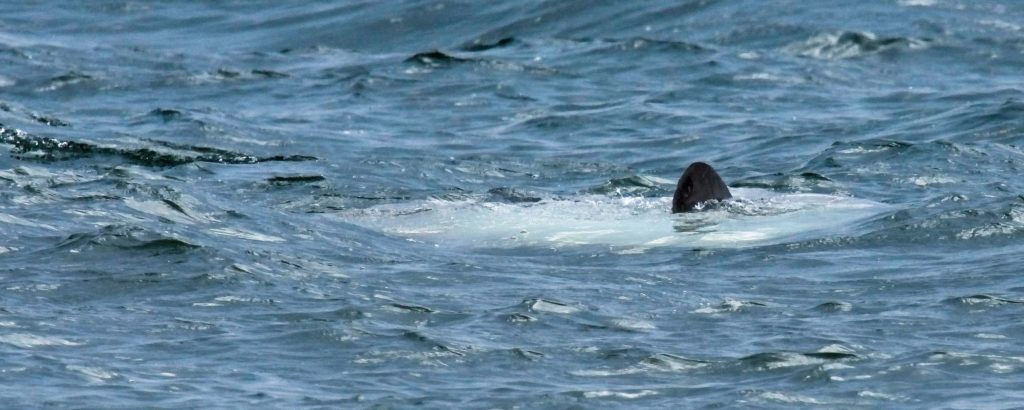 When we got off the beach and headed north, the northeast corner of Stage Island Pool yielded a number of "good" shorebirds. There were six Stilt Sandpipers, eight juvenile Pectoral Sandpipers, another uncommon "peep," a Baird's Sandpiper, and a couple of Short-billed Dowitchers. There were also some Greater Yellowlegs, six or more Lesser Yellowlegs, four Least Sandpipers, our smallest "peep," and a number of Semipalmated Sandpipers. Some of the yellowlegs were in company with nine Snowy Egrets near the water control structure. Toward the southern end of the pool, two White-rumped Sandpipers were found.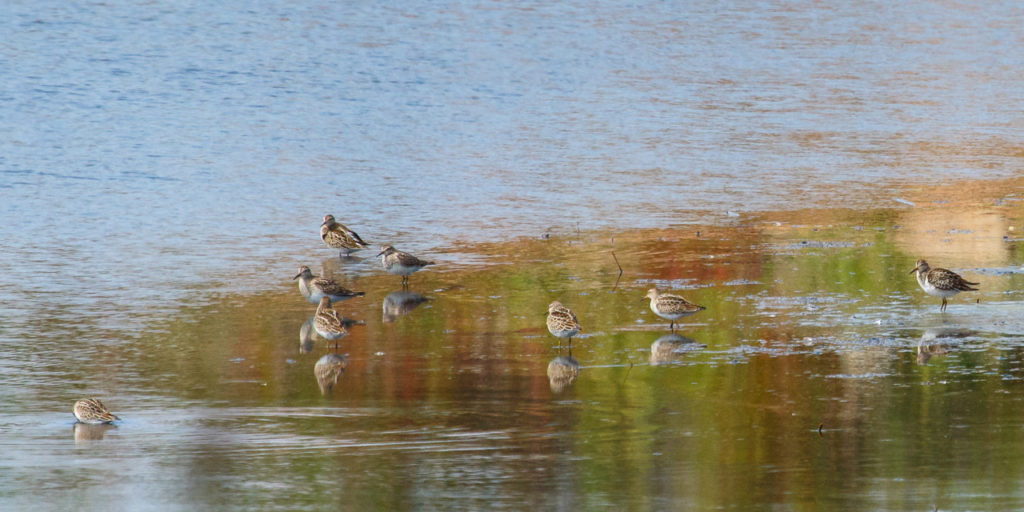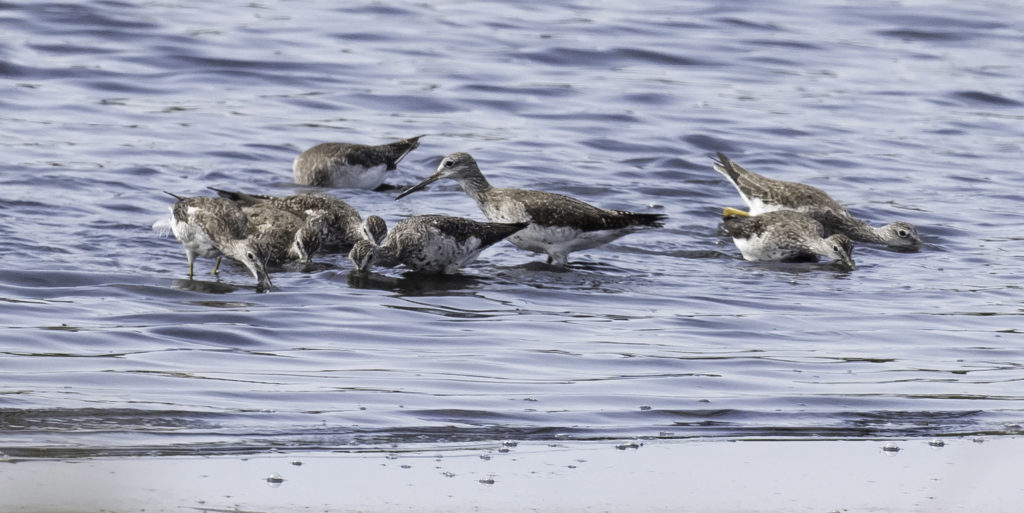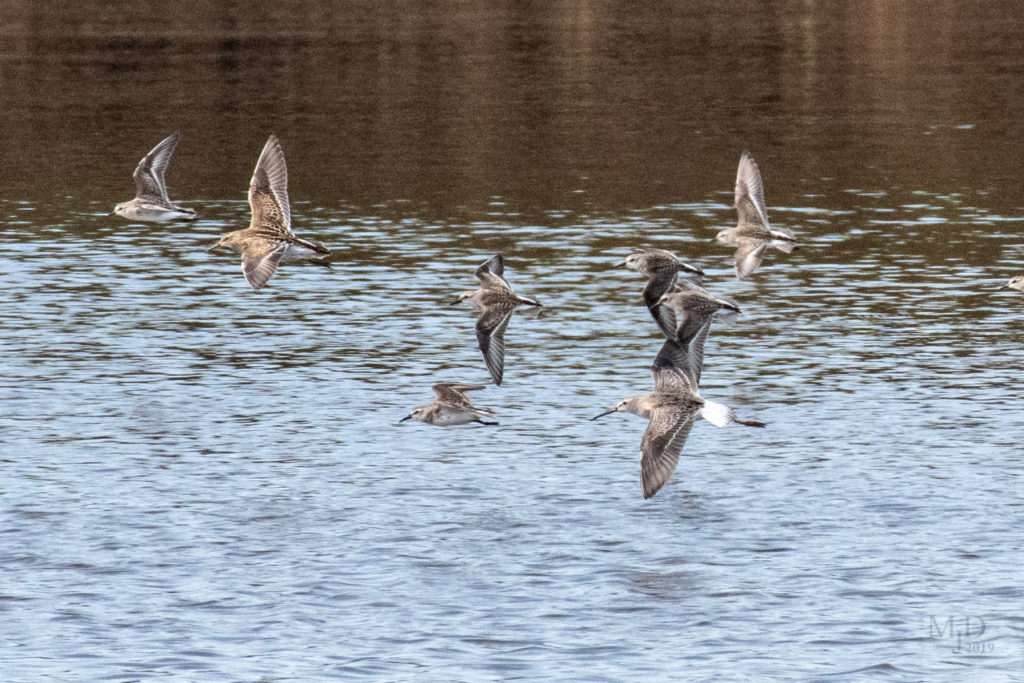 From Stage Island Pool, we continued north to Hellcat to see what Bill Forward Pool and North Pool held for us in the way of migrating birds. Of particular interest was two
American Golden-Plovers that had been seen. When all said and done, we struck out on the golden-plovers, but had fun sorting through other shorebirds, including the usual Black-bellied Plovers, Greater Yellowlegs, Semipalmated Plovers and Sandpipers, and a couple of White-rumps. What was really interesting were two species that can be difficult to differentiate from the Short-billed Dowitcher — Long-billed Dowitcher and Stilt Sandpiper. We were able to tease out two Long-billed Dowitchers and five Stilt Sandpipers from among the 10 or so Short-bills in front of us. Study up for next week's Wednesday Morning Birding!! During our shorebird vigil, three Blue-winged Teal, birds of the year, flew into Bill Forward Pool. Toward the end of our stay at Hellcat, an Osprey put on a nice show over and in the North Pool. We finally had to break it off — we were getting heavily into "overtime!"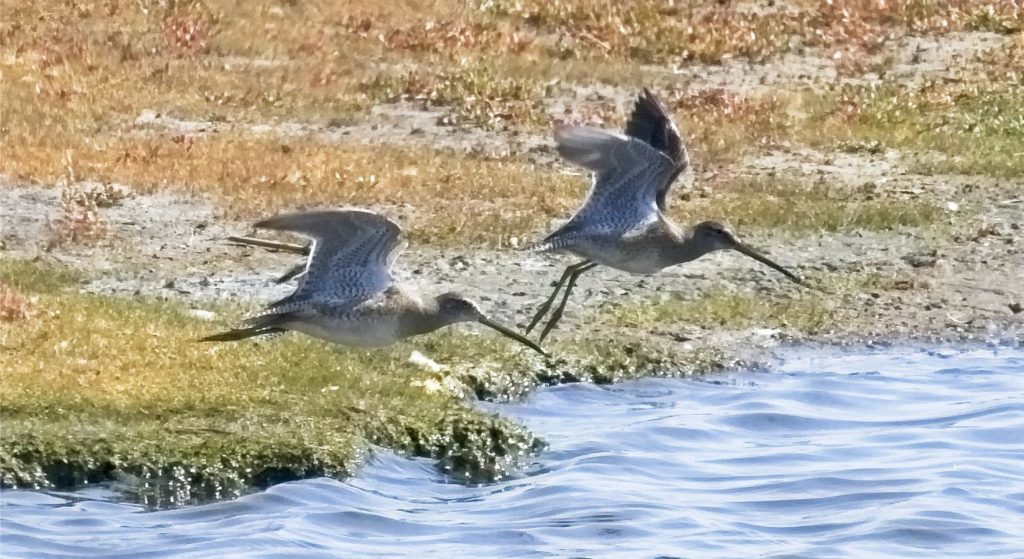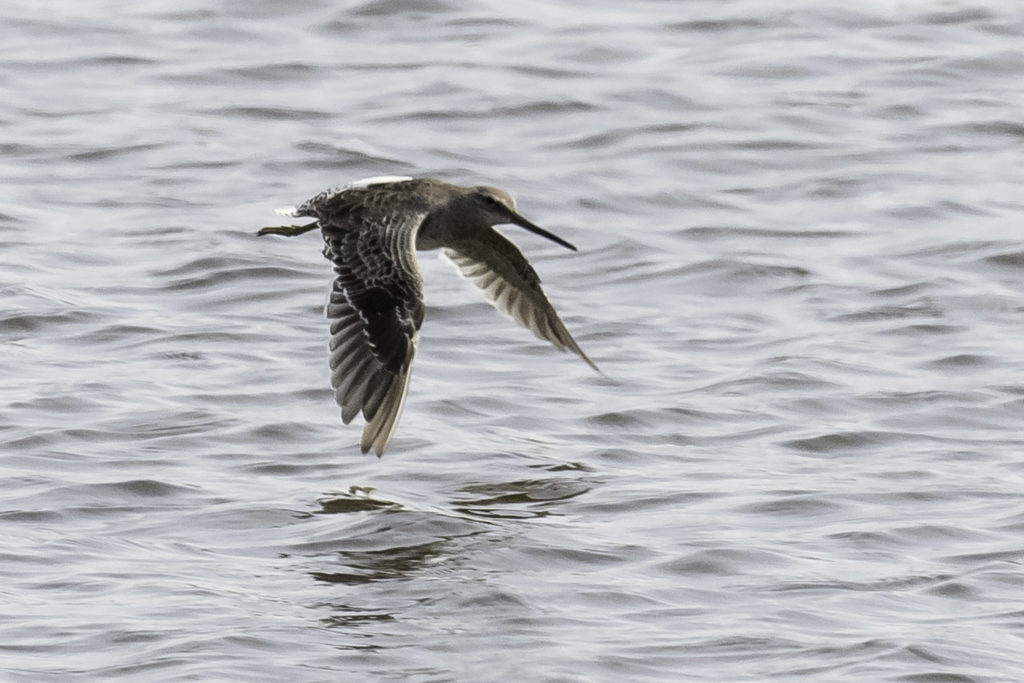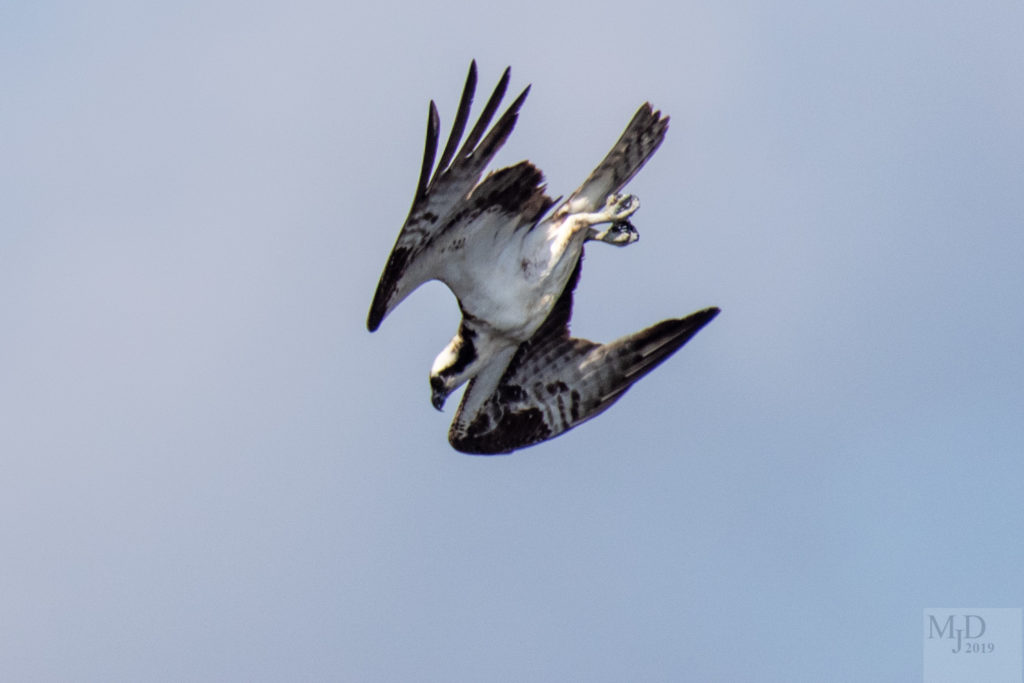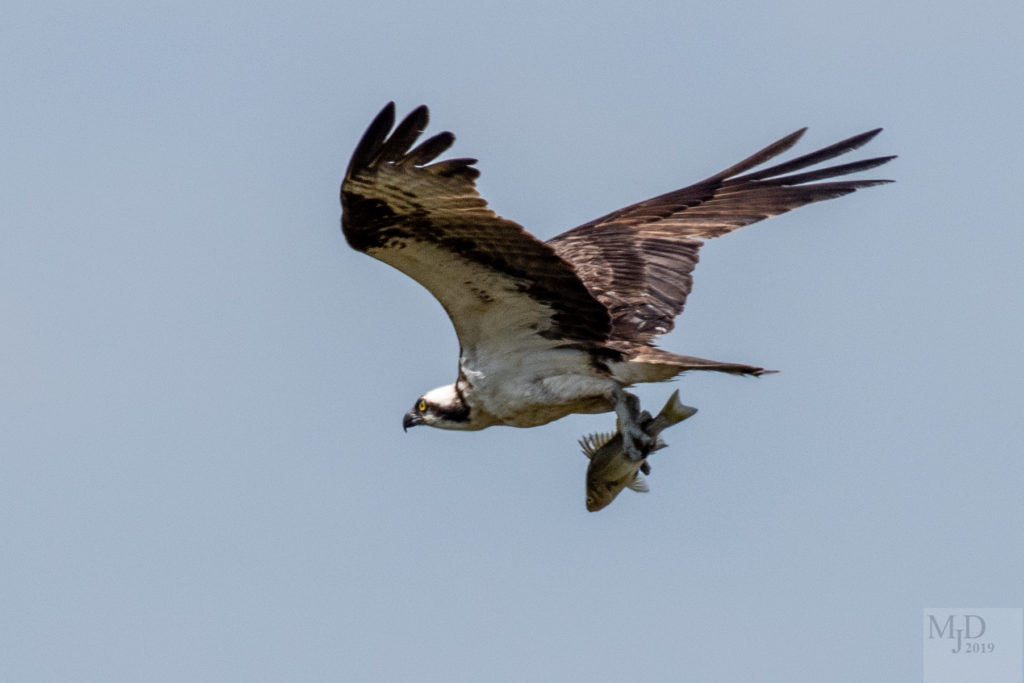 As migration moves along, noticeably absent during our weekly visit to Plum Island are Willet, Eastern Kingbird, Red-winged Blackbird, Common Grackle, Eastern Towhee, and any number of other species. Migrating warblers are starting to appear. A few have already been banded at the Banding Station.
I hope that you will join us next week for the next chapter of this fall's migration. Who knows what we will see next!
Cheers and warmest regards!
Dave Weaver
Our list:
Canada Goose (~ 120) – ~ 100, backside of Stage Island Pool (SIP); ~ 20, Bill Forward Pool (BFP).
Gadwall (6) – SIP & BFP.
Mallard – common; SIP & BFP.
Blue-winged Teal (3) – BFP.
Double-crested Cormorant – common; various.
Great Blue Heron (3) – 1, marsh n. refuge gate house; 2, North Pool from Hellcat Dike.
Great Egret (~ 15) – various.
Snowy Egret (9) – SIP water control structure.
Turkey Vulture (1) – soaring over lot #1.
Osprey (2) – vicinity of BFP.
Black-bellied Plover (~ 30) – BFP.
Semipalmated Plover – common; mostly Sandy Point.
Greater Yellowlegs – common; SIP & BFP.
Lesser Yellowlegs (6) – SIP.
Sanderling (~ 45) – predominantly juvies; Sandy Point.
Semipalmated Sandpiper – common; Sandy Point, SIP, & BFP.
Western Sandpiper (3) – Sandy Point, roosting with Sanderlings & Semipal Plovers & Sandpipers.
Least Sandpiper (4) – SIP.
White-rumped Sandpiper (4) – 2, SIP; 2, BFP.
Baird's Sandpiper (2) – 1, SIP; 1, BFP.
Pectoral Sandpiper (10) – 8, SIP; 2, BFP.
Stilt Sandpiper (11) – 6, SIP; 5, BFP.
Short-billed Dowitcher (12) – 2, SIP; 10, BFP.
Long-billed Dowitcher (2) – BFP.
Ring-billed Gull – Sandy Point.
Herring Gull – Sandy Point.
Great Black-backed Gull – Sandy Point.
Royal Tern (1) – Sandy Point.
Rock Pigeon
American Crow (2)
Tree Swallow – common.
American Robin (2) – roadside.
Gray Catbird (3) – roadside.
European Starling
Cedar Waxwing (6) – roadside, S-curves.
Non-feathered taxon:
Ocean Sunfish (Mola mola) (1) – Ipswich Bay off Sandy Point.