Wednesday Morning Birding this week was missing its two stalwarts, David Moon and David Weaver, and had to settle for David Larson and David Williams (if that is all clear to you, then you are ahead of the game.) Nonetheless we had a pretty good day. We started out checking the mudflats in Newburyport Harbor from the boat ramp on Water Street. Yellowlegs were everywhere on the low/incoming tide. The stars of the show were six Black Skimmers (4 adult and 2 immature) flying around and skimming in front of us, a good number of Bonaparte's Gulls, at least one Long-billed Dowitcher, Greater and Lesser Yellowlegs, Black-bellied and Semipalmated Plovers, and more of the usual suspects.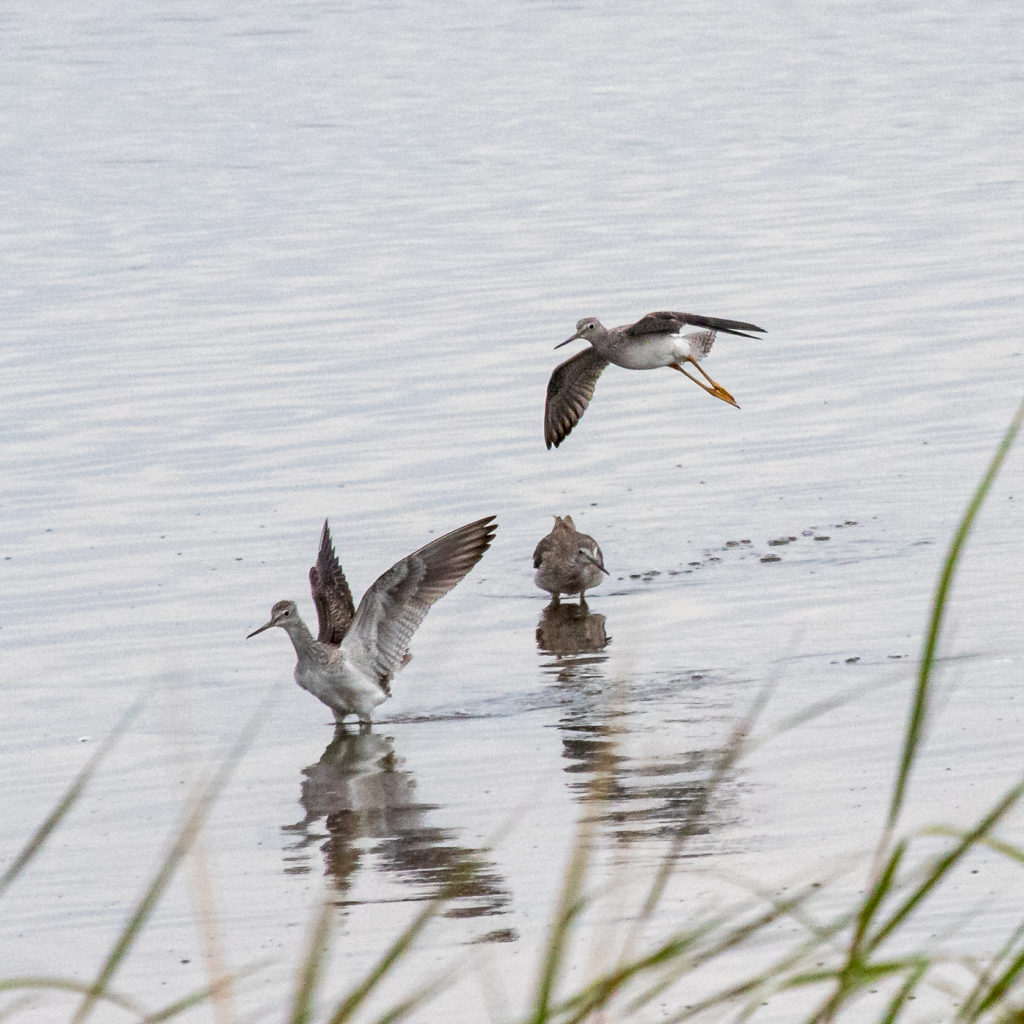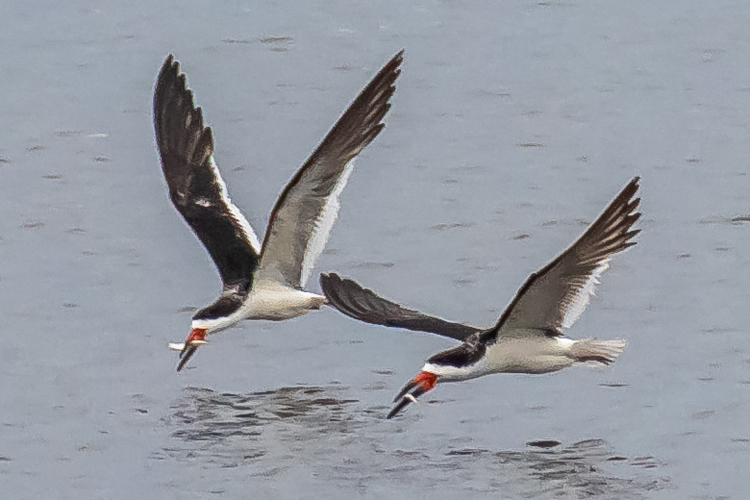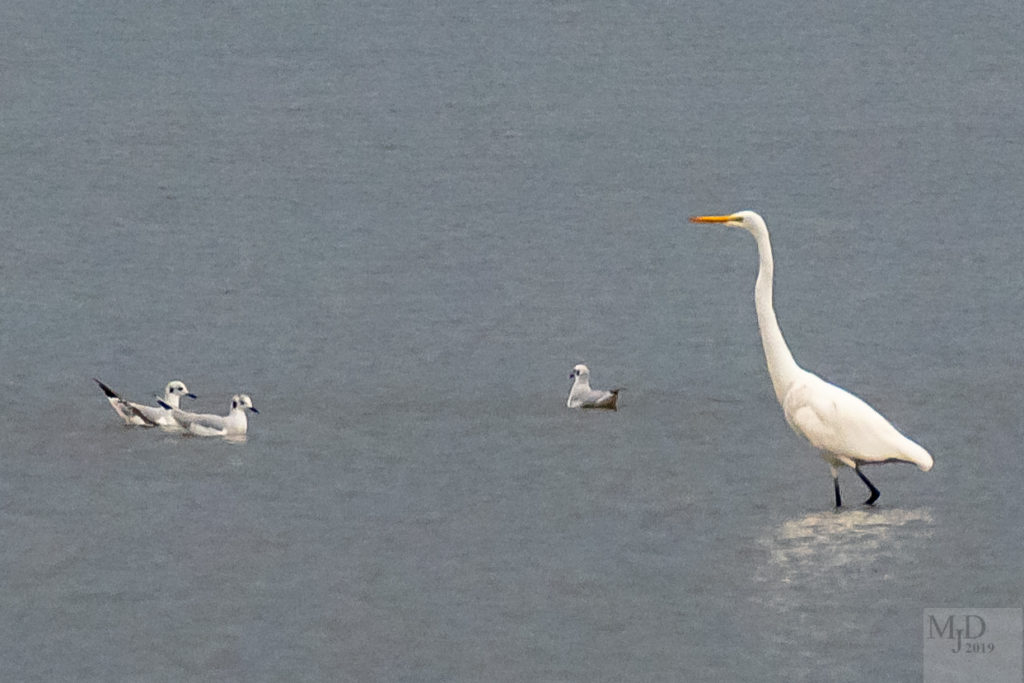 Once the mudflats were mostly covered, we headed to Plum Island and the Parker River NWR. We spent a few minutes at the Parking Lot #1 boat ramp, but sparrows were uncooperative with the tide so low. Not much was happening at the main pannes and a stop at the North Pool Overlook yielded Long-billed Dowitcher, Eastern Phoebe, and Belted Kingfisher. While there, Doug Chickering passed on a hot tip about a Great Horned Owl near the Bill Forward blind so we scooted off only to find that the owl had departed. Oh well. We joined a small group in the blind and were treated to lots of Green-winged Teal, a couple of Northern Shovelers, 4 Northern Pintail, American Black Ducks s and Mallards. Among the shorebirds present were a Hudsonian Godwit, an American Golden-Plover, a few Dunlin, and lots of plovers and yellowlegs. In the pines overhead, there were several Golden-crowned Kinglets squeaking away.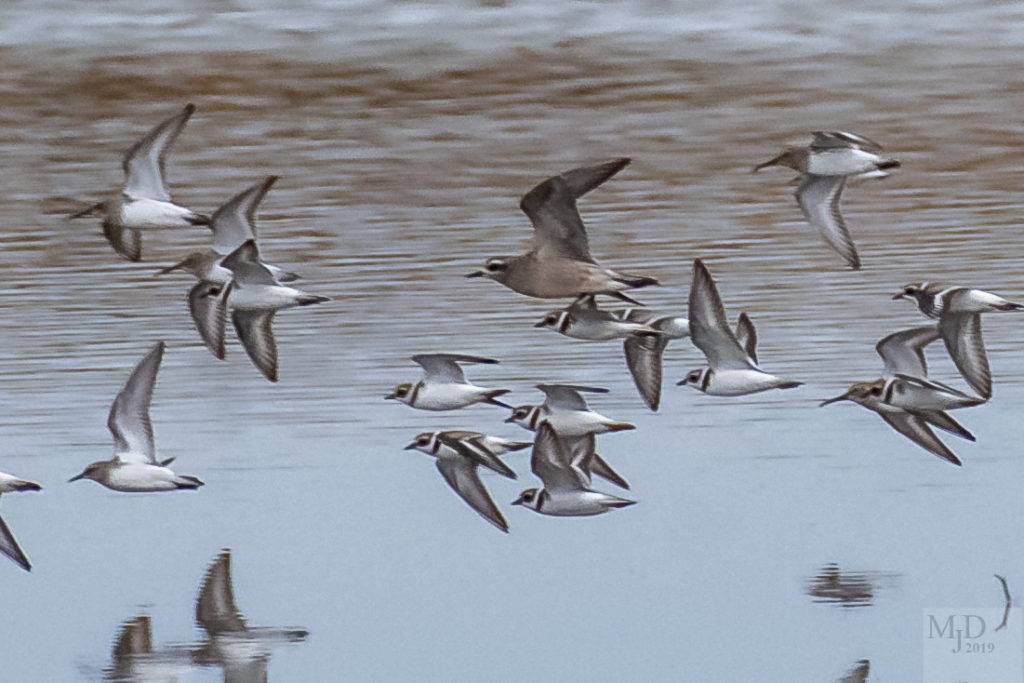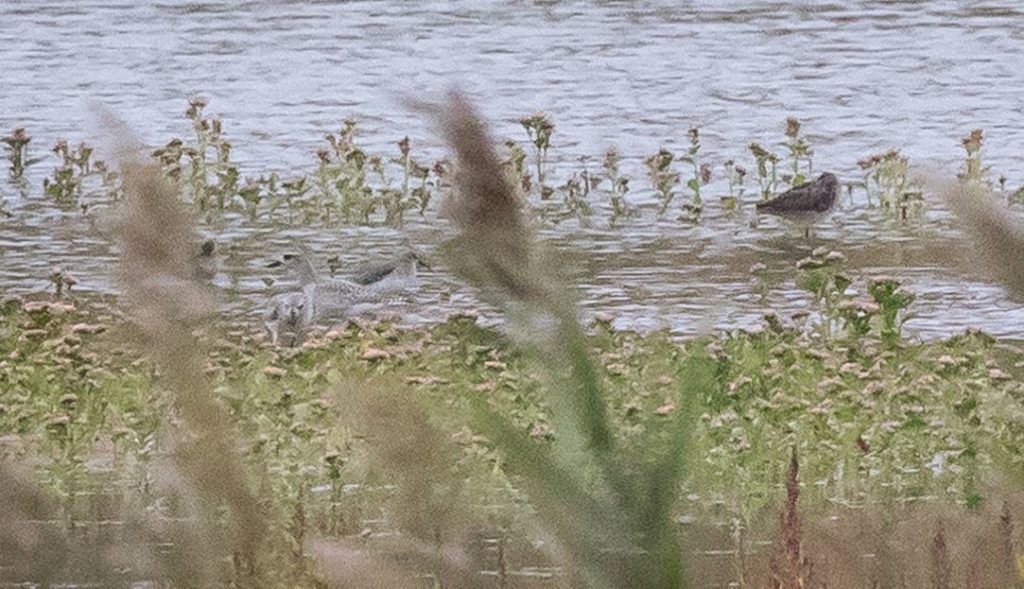 We next headed to the Pines Trail, in hopes of finding that Great Horned Owl, but it was not to be. We did find more Golden-crowned Kinglets, a Black-and-white Warbler, a Nashville Warbler, a seemingly inexhaustible supply of Eastern Towhees, and general dampness.
We called it a good morning.
–One of the Daves
Species:
Gadwall – at least 2
American Black Duck, Mallard, Green-winged Teal – all common
Northern Shoveler – 2
Northern Pintail – 4
Wild Turkey – 6
Double-crested Cormorant – more than 115 (several migrating skeins)
Great Blue Heron – 2
Great Egret – 15
Snowy Egret – 2
Black-bellied Plover – 120
American Golden Plover – 1
Semipalmated Plover – 70
Greater Yellowlegs – 250
Lesser Yellowlegs – 5
Hudsonian Godwit – 1
Semipalmated Sandpiper – 40
Dunlin – 14
Short-billed Dowitcher – 1
Long-billed Dowitcher – 2
dowitcher sp. – 12
Bonaparte's Gull – 75
Ring-billed and Herring gulls – common
Great Black-backed Gull – 5
Black Skimmer – 6
Rock Pigeon – 12
Mourning Dove – 8
Belted Kingfisher – 1
Eastern Phoebe – 1
Blue Jay – 4
American Crow – 10
Black-capped Chickadee – 2
Golden-crowned Kinglet – 10
American Robin – 15
Gray Catbird – 1
Northern Mockingbird – 1
European Starling 30
Black-and-white Warbler – 1
Nashville Warbler – 1
Eastern Towhee – 10
Savannah Sparrow – 4
Song Sparrow – 2
We will meet again next week back at Joppa Flats at 0930 for Wednesday Morning Birding. For more information about Joppa Flats programs, call David Moon or me at 978-462-9998.