Last Wednesday, weather forecasts gave us some reason to think there might be some relative warmth, but strong winds out of the southwest dashed those hopes — wind chill was significant even though temperatures were in the middle 30s. Our first stop was Salisbury Beach State Reservation. Along the entrance road and en route to the boat ramp, we had three Northern Harriers hunting over the marsh. At the boat ramp, there were seven White-winged Scoters, two adult males and five first-winter males, offering us great looks. Common Eiders, American Black Ducks, and a small flock of Buffleheads could be seen. Over the marsh just above the tree line to the west, an immature Bald Eagle cruised toward the north. Of course, there were the usual gulls.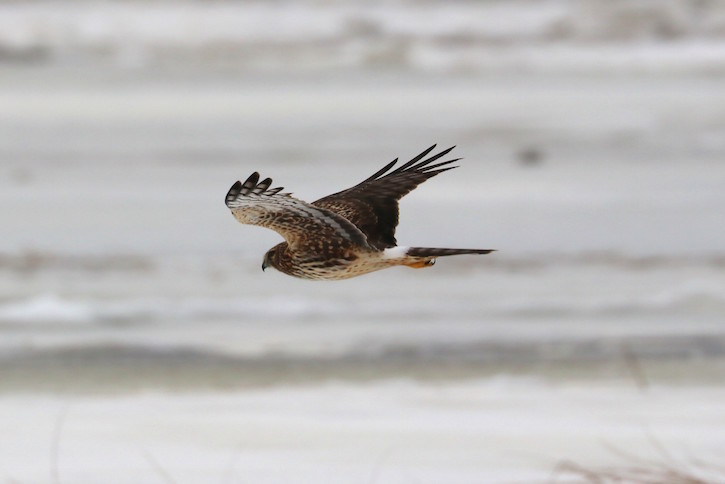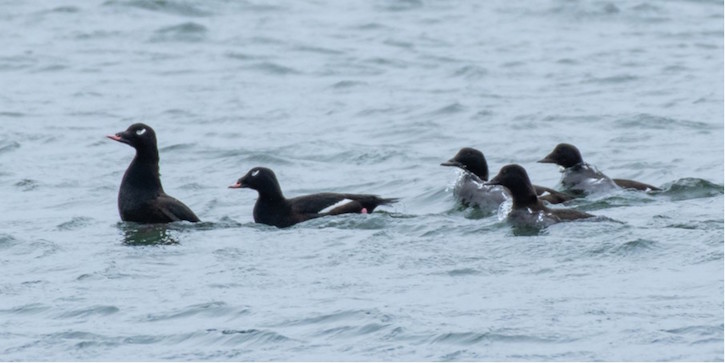 Cruising through the campground our way to the parking lot by the jetty, a Merlin dashed across the road and landed on an electrical transformer.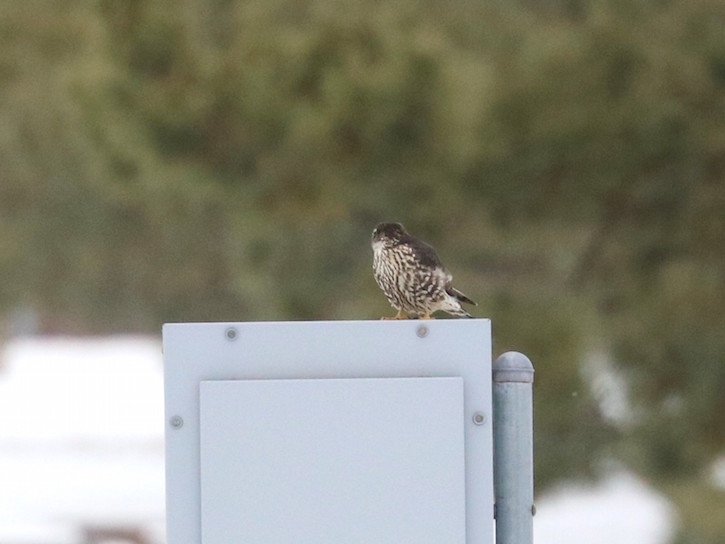 As they often do, gulls loafed in the jetty parking lot — about a third were Ring-billed Gulls, the balance being Herring Gulls. Toward the jetty at the edge of the parking lot, a woman was dressed in a bright yellow vest standing next to a long string of yellow "do not enter" — or some such statement — tape. She was a member of the team from the Seacoast Science Center that responds to calls about marine mammals, and was keeping watch over a resting Harp Seal that was about 30 yards away from us high on the beach. The woman gave us a briefing on Harp Seals, a high-arctic ice seal that appears at our latitude this time of year. Interesting — a lucky strike extra! You just never know what you are going to see on Wednesday Morning Birding . . .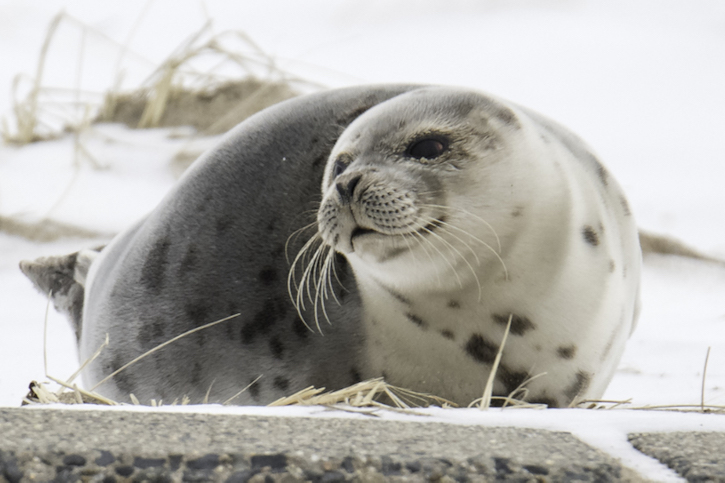 Back to the feathered variety of animals we were seeking, in the river mouth there were three Red-necked Grebes, lots of Common Eiders, and a few more White-winged Scoters. There was word of a Razorbill, but we were never able to get on it.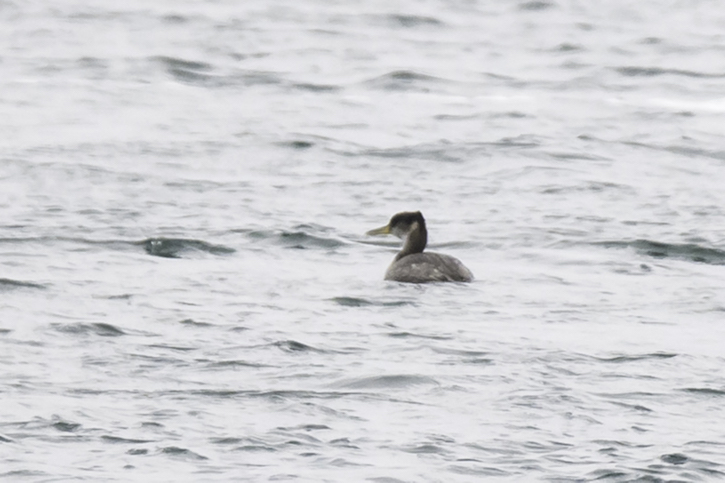 Back across the river into Newburyport, we checked out the site of an Eastern Screech-Owl we had heard about, and had wonderful looks of a red-morph screech taking in the morning sun, just snoozing away in its tree cavity. From there, it was on to Plum Island and Parker River Refuge. As we were crossing the Plum Island Bridge, the trailing van (that would be me!) saw a big white bird flying from north to south high over the highway — a Snowy Owl! What an amazing sight — lovely! The owl cruised down into the marsh some distance away not to be seen again. While approaching the refuge gate, a female Northern Harrier flew low over the marsh. It was then that we found the gate closed as the government shutdown continued. Needless to say, we were disappointed, but commiserated over the adverse effects the shutdown was having on our friends at the refuge.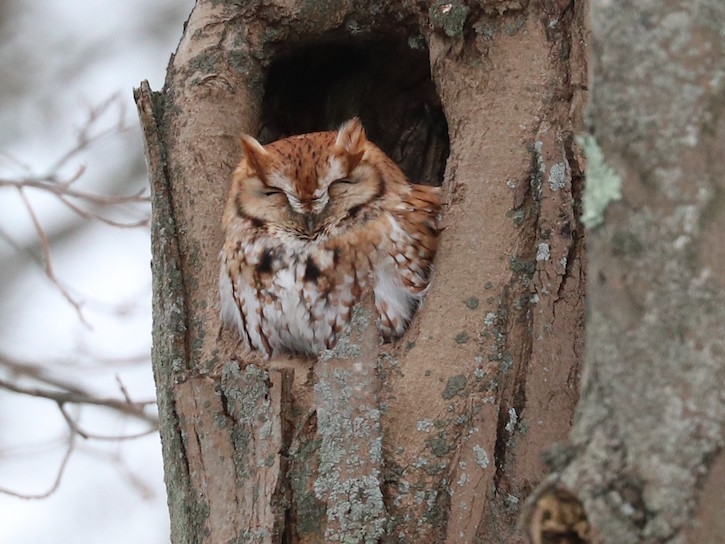 We shifted gears and made our way to the north end of the island. From our vantage point on the river, we added several duckie species to our day's list — about eight Black Scoters, including at least two adult males with their bright orange bill knobs; some Long-tailed Ducks; a few Common Goldeneyes; and two Red-breasted Mergansers. A lone Common Loon was also spotted. The SW-WSW/15-25 mph winds had us beating feet in retreat to our vehicles.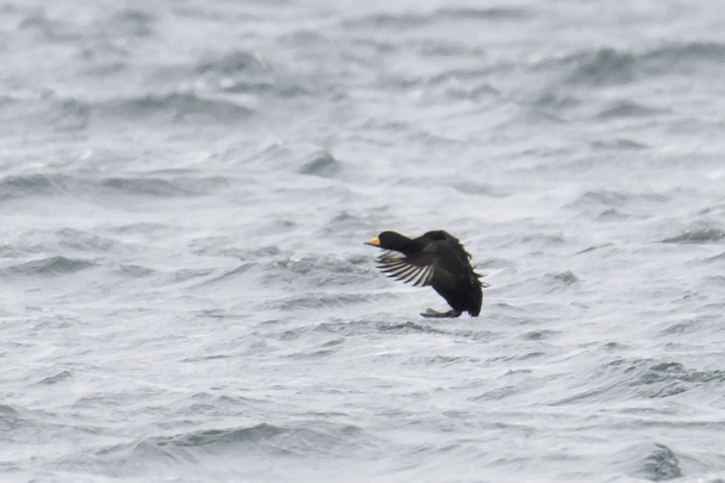 Not quitting, we stopped briefly at the parking area on the southwest side of the PI Bridge to see what there was to see. Two days after the full moon, the high tide could, by its looks, still be considered an astronomical high tide — it was really high. Taking advantage of the tide, many Canada Geese and American Black Ducks were feeding in the flooded marsh grasses. There were also some passerine fly-bys, including at least one Horned Lark (later seen through a photo taken by Mike Densmore) and a Snow Bunting.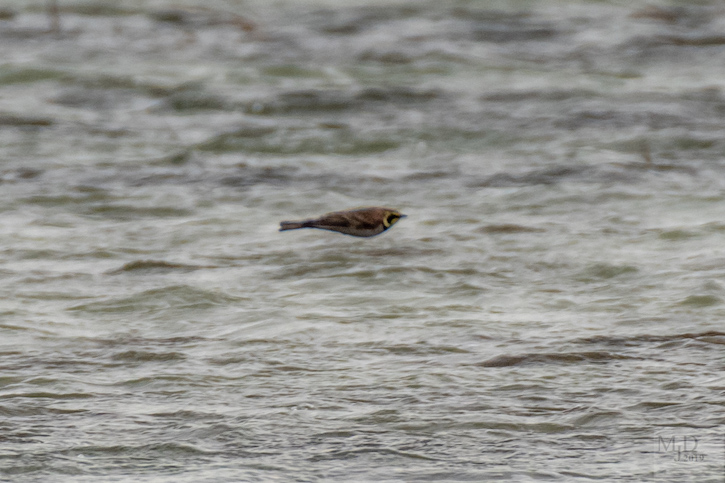 Ever so briefly, there you have it. David Moon and I hope that we will see you next Wednesday at Joppa for yet another edition of Wednesday Morning Birding.
Cheers and best regards!
Dave Weaver
Our List: [brackets indicate the bird was found in another noted location]

Salisbury Beach
Canada Goose – common.
American Black Duck – common.
Mallard – common.
Common Eider – common.
White-winged Scoter (~ 15)
Long-tailed Duck (2)
Bufflehead (7)
Common Goldeneye (~ 15)
Red-breasted Merganser (3)
Red-necked Grebe (3)
Turkey Vulture (1)
Bald Eagle (1) – imm.
Northern Harrier (3)
Red-tailed Hawk (1)
Ring-billed Gull (~ 12)
Herring Gull – common.
Great Black-backed Gull (3)
Rock Pigeon
[Eastern Screech-Owl (1) – red morph; Newburyport.]
Merlin (1)
American Crow (~ 6)
Northern Mockingbird (1)
European Starling
Song Sparrow (3)
Plum Island
[Canada Goose – common; marsh, w. side PI River, from w. end of bridge.]
[American Black Duck – common; marsh, w. side PI River, from w. end of
bridge.].
Common Eider – common; north end.
Black Scoter (~ 8) – north end.
Long-tailed Duck (4) – north end.
Common Goldeneye (5) – north end.
Red-breasted Merganser (2) – north end.
Common Loon (1) – north end.
Northern Harrier (1) – marsh, n. refuge gate.
[Red-tailed Hawk (1) – PI Tpk.]
Herring Gull – common.
Great Black-backed Gull (2) – marsh, n. refuge gate.
Rock Pigeon (2) – n. refuge gate house.
Snowy Owl (1) – fly over, n. to s., east end PI Bridge; lost track once
landed in marsh w. side PI River.
American Crow (1)
European Starling
[Snow Bunting (1) – marsh, w. side PI River, from w. end of bridge.]