The head-count of birders heading for Wednesday Morning Birding this week may have been a bit depressed by the overwhelming gloom of the early morning, but by the time Dave Weaver and I met the group in Gloucester, skies cleared. We enjoyed a sunny, fairly mild, and breezy winter day on Cape Ann. At the Jodrey State Fish Pier, we immediately saw what would be a theme for this week on Cape Ann: many Red-breasted Mergansers, including rafts of fully alternate-plumaged drakes who are getting frisky to display for the females. We found scattered Common Eiders in the harbor, but the tight raft of eiders that we usually see there was around the corner in the channel where the fishing boats dock. It was way too busy for us to go into that area as a group, even though that raft of eiders is fun to watch with all the courtship behavior going on right now. We are always cautious about walking into the working area, because the fish pier is an industrial site where casual visitors are not welcome. If there is no boat there, we sometimes will observe birds part way down the stretch, but not for long, and we try not to be a nuisance.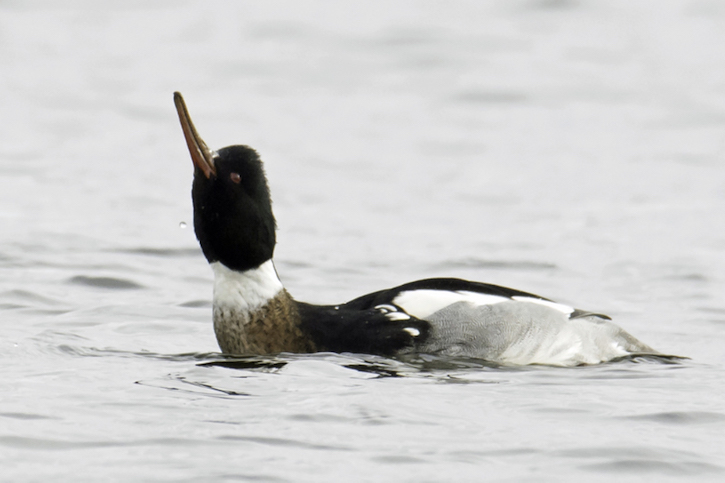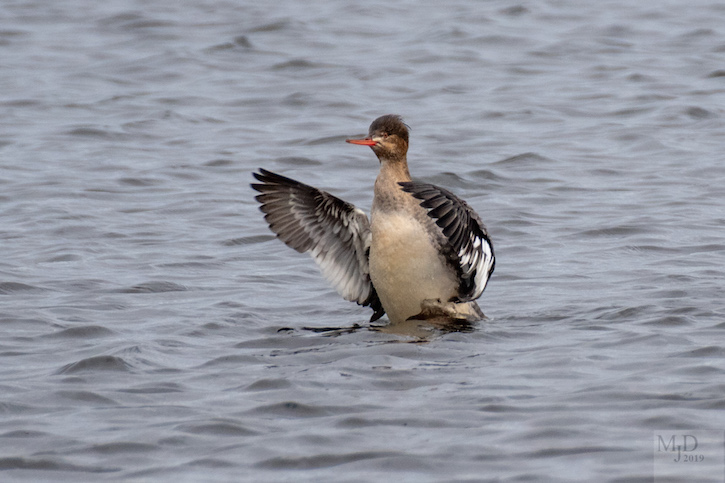 There was not a lot of bird diversity this week near the pier, but hanging around, we did spot Common Loons, and four Surf Scoters in the distant parts of the inner harbor. A very large-looking Gray Seal made an appearance. As we moved on to Eastern Point, more species began to show up. There were six Gadwalls and some American Black Ducks where we usually see them in the protected cove by the parking lot. A beautiful drake Common Goldeneye cavorted just off shore, and farther out, we saw many more mergansers, Buffleheads, and eiders. Black Scoters were mixed in with the eiders along the "Dog Bar" breakwater, and at the very end of the breakwater, we saw little gray bumps on the stones: Purple Sandpipers. We couldn't see the orange legs and straight bills to be absolutely sure they were not Dunlins, but chances are good way out there that they were Purple Sandpipers. A single young Great Cormorant stood out there as well, turning out to be the only one for the day. A Long-tailed Duck and another Surf Scoter were also spotted near the mouth of the harbor, and out of the mouth zoomed some big flocks of Black Scoters.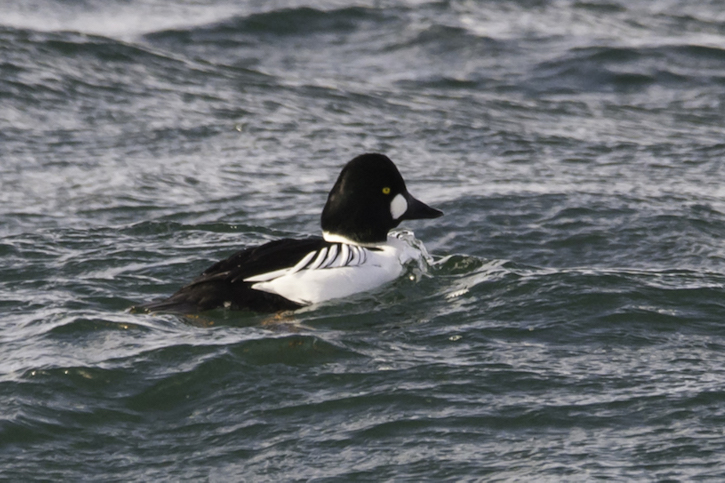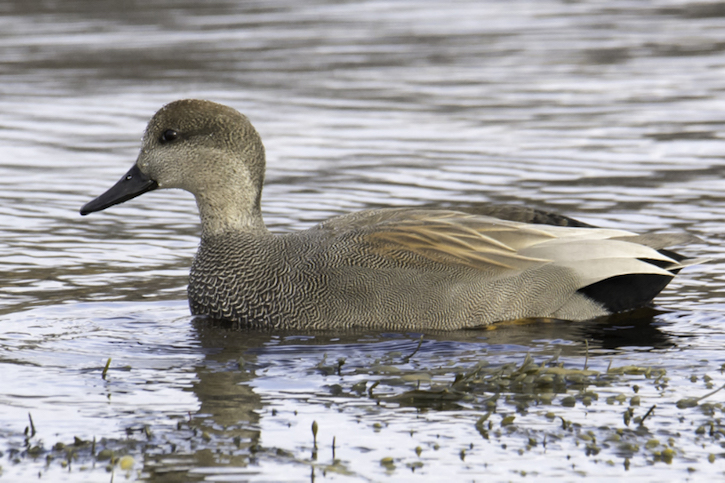 At Niles Pond, there were waterfowl everywhere: many more mergansers, Mallards, and an unusually good number of both Greater and Lesser Scaup. It was fine to see the two scaup species side by side, as the differences appeared quite obvious. That was a gratifying experience, as opposed to the somewhat tortured tutorials we give using images in pocket-sized field guides, when only one of the two comparables is on display. Far out on the pond, the regularly occurring raft of gulls bobbed, among which we found two adult Iceland Gulls. We are seeing a slightly higher number of them than usual this year, and now Niles Pond is a regular place for that species.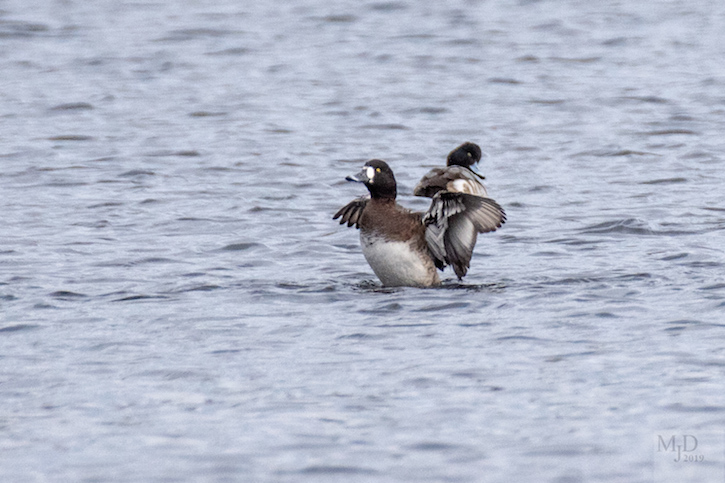 At the other end of the pond, the raft of mergansers hosted a pair of Ring-necked Ducks. Of course, after having looked at a bunch of gulls, it was easy to call them "Ring-billed Ducks." Who doesn't want to call them "Ring-billed Ducks"? Unfortunately, this slip went viral throughout the group, and we had to practice the correct name a few times to snap out of it. I will now refrain from delivering one of many repetitive rants about bird names, which I am usually unable to avoid when provoked. You're welcome.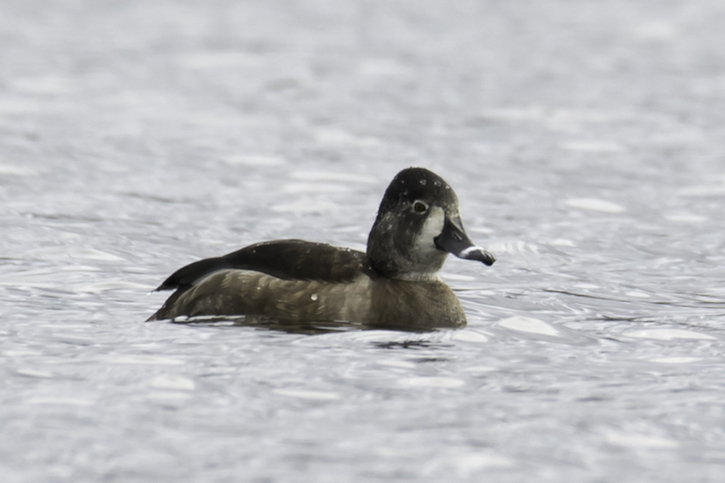 Another fine bird at the pond was a Great Blue Heron, which is notable for the time of year. The way some of them linger or even seem to return briefly during thaws is charming indeed, but one wonders what makes such an individual so hardy and willing to flirt with the closure of its foraging habitat. Why not Georgia, or even New Jersey?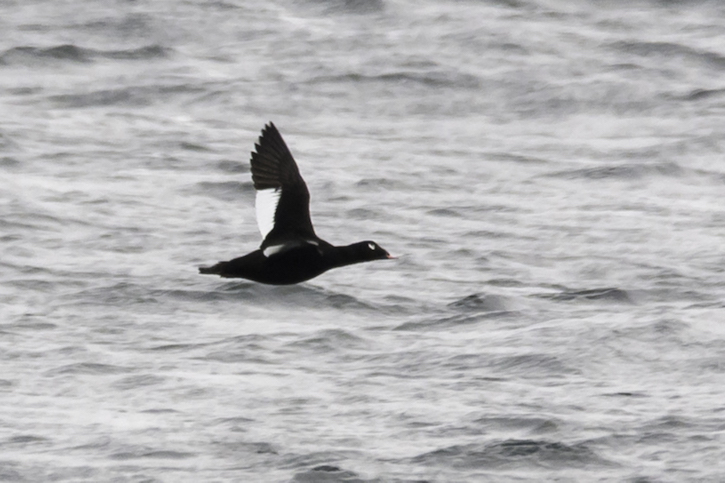 At the beginning of Atlantic Road, Cormorant rock was devoid of its namesakes. While there were eiders and some scoters along the rocks, the wintering population of larger mollusk-feeders seems low this year in our area. From the rocks in front of the Elks Club, we did have a fair number of Black Scoters and some White-winged Scoters, but many of the latter species seem to have gone someplace else so far this year. Buffleheads still seem to love the area from there to the point that forms the cove at Bass Rocks. Next, things got exciting when a very pretty Black Guillemot appeared reasonably close to shore. This very gray individual was foraging heavily, and barely on the surface, putting plenty of sport into our birding. Another Iceland Gull, a very light individual, flew by, well out to sea.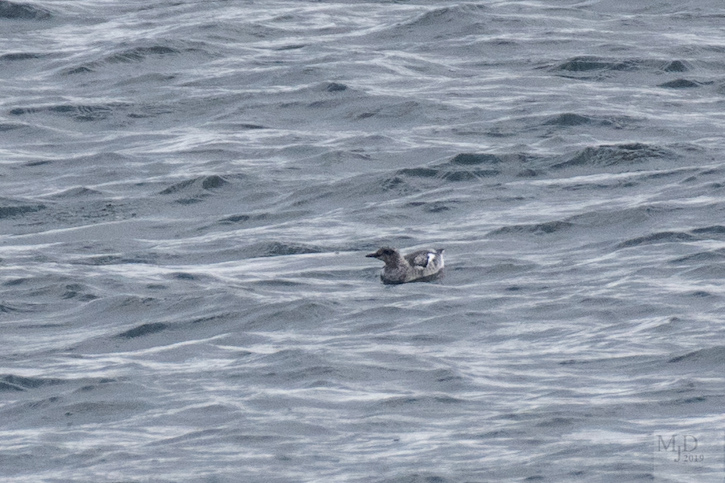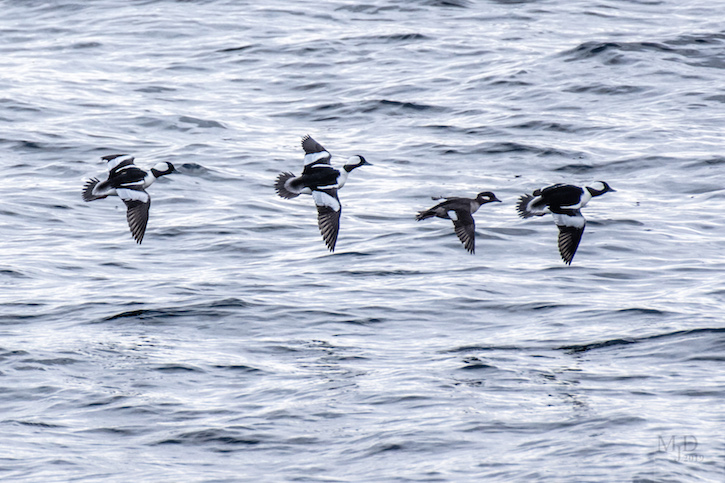 On the way to Rockport Harbor, near the parking lot for Good Harbor Beach, we saw a Red-tailed Hawk, as we almost always do. But this time another raptor appeared: a Turkey Vulture, continuing the theme of lingering vultures this particular winter. For us it has been a big year for winter vultures of both species in New England. Rockport Harbor was quiet, but we were happy anyway, just to have a female Northern Pintail and a warm restroom.
Having spent a lot of time at Niles Pond and then visually chasing that guillemot, we could only make a brief stop at Cathedral Ledge. It was of course lovely to see Harlequin Ducks up close, and as the dramatically rising wind had shifted to the west, this was a much more comfortable site than Andrews Point would have been. Not everyone is as keen as others for the physical challenge and excitement of the point on a blustery day. The adventurous among us might even like to see for ourselves how the sea throws bread loaf-sized rocks at the homes out there on a bad day. Others are content with stories. But we are all amazed by the unimaginably robust nature of the birds that cavort in the tempestuous waves, as apparently at ease as if it were a sweet May day. Everyone agrees that they inspire our awe.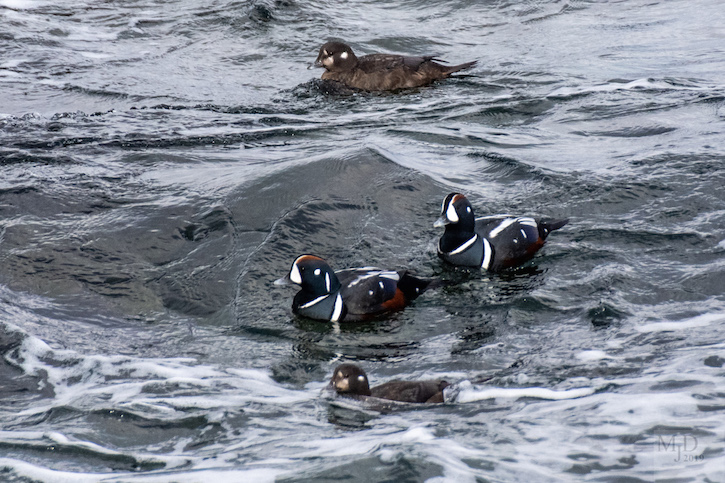 Our list:
Canada Goose (~ 20) – various.
Gadwall (6) – Eastern Point cove.
American Black Duck (~ 12)
Mallard (~ 60) – ~ 40, Niles Pond; ~ 20, Rockport Harbor.
Northern Pintail (1) – hen, Rockport Harbor.
Ring-necked Duck (2) – pr., Niles Pond.
Greater Scaup (~ 12) – Niles Pond.
Lesser Scaup (4) – Niles Pond.
Common Eider – common.
Harlequin Duck (~ 40) – Cathedral Ledge.
Surf Scoter (5) – 4, Jodrey Fish Pier; 1, Eastern Point.
White-winged Scoter (~ 6)
Black Scoter (~ 100) – major share, Eastern Point.
Long-tailed Duck (1) – Eastern Point.
Bufflehead – common.
Common Goldeneye (3) – 1 drake, Eastern Point; 2, Bass Rocks.
Red-breasted Merganser – common.
Common Loon (2) – 2, Jodrey Fish Pier; 1, Cathedral Ledge.
Great Cormorant (1) – Eastern Point.
Great Blue Heron (1) – Niles Pond.
Turkey Vulture (1) – over Good Harbor Beach.
Cooper's Hawk (1) – Jodrey Fish Pier.
Red-tailed Hawk (1) – over Good Harbor Beach.
Purple Sandpiper (~ 12) – end of Dog Bar breakwater.
Ring-billed Gull (1)
Herring Gull – common
Iceland ("Kumlien's") Gull (3) – 2, Niles Pond; 1, flyby, Bass Rocks.
Great Black-backed Gull – common.
Black Guillemot (1) – Bass Rocks.
Rock Pigeon
Mourning Dove (3)
American Crow (6)
American Robin (~ 8) – Rockport.
European Starling
Dark-eyed Junco (1)