A neighbor shared this action shot taken by his sister, Meg Smith, in his backyard. What a spectacular photo of a male American robin in flight!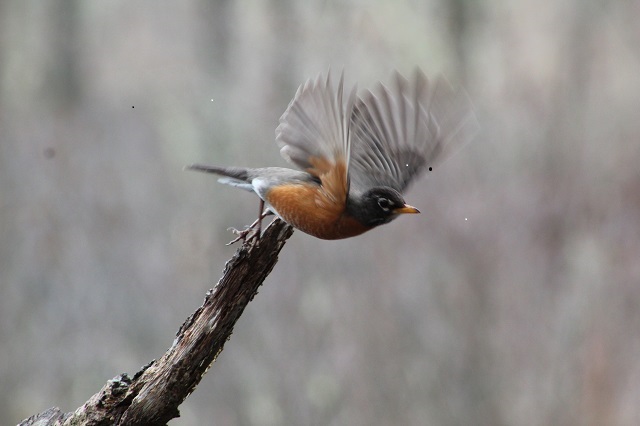 American robins are nesting. See if you can tell male from female. The darker head and dark orange breast of the male is a contrast to the paler orange and lighter head color of the female. This photo shows the bright white patch under the tail.
Look for robins carrying beaks full of mud to plaster their mud and grass nests firmly onto trees where branches join or on a sheltered ledge of your house or barn.  Nests are often at eye height so you can get a peek at the young as they grow.  In contrast to the adults, the young have spotted breasts.
Birding your backyard is a great way to tune up for our Bird-at-Home-athon May 15 – 16.  This year will be by foot or by bike making it the perfect carbon-emission-free event to celebrate the 50th anniversary of Earth Day.  Donations to Broadmoor's Birdathon will be especially appreciated during this year of financial constraints.  Details will be on Broadmoor's webpage, Facebook page and in future editions of Branching Out at Broadmoor.