Great News! We're so excited to share that Broadmoor's trails are now open via an online Entry & Parking Reservation system. This means: all visitors will need to reserve a time to visit prior to arriving (you cannot reserve a spot in person). This will help us limit the number of people on the trails at any given time, helping to ensure the safety of our visitors and staff. Get more details and find out how to reserve your time.
https://www.massaudubon.org/get-outdoors/wildlife-sanctuaries/trails/timed-ticket-reservations
Two of our first visitors demonstrate their protective masks .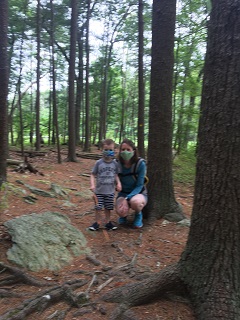 Swamp white azalea and arrow-wood viburnum are in bloom. Goslings and ducklings are on the ponds and great blue herons are frequently seen.
We welcome you to (re)discover the beauty and wonders of nature at Broadmoor.