The start of the 2019 cold-stun sea turtle season is drawing near! Cape Cod Bay surface water temperature has dropped to the mid-50's F, and the bay generally has uniform temperature from surface to bottom at this time of year, so we know turtles are already compromised by the cold. When they get cold enough to lose most of their swimming mobility, coupled with strong onshore winds and high tides, turtles start washing onto bayside beaches.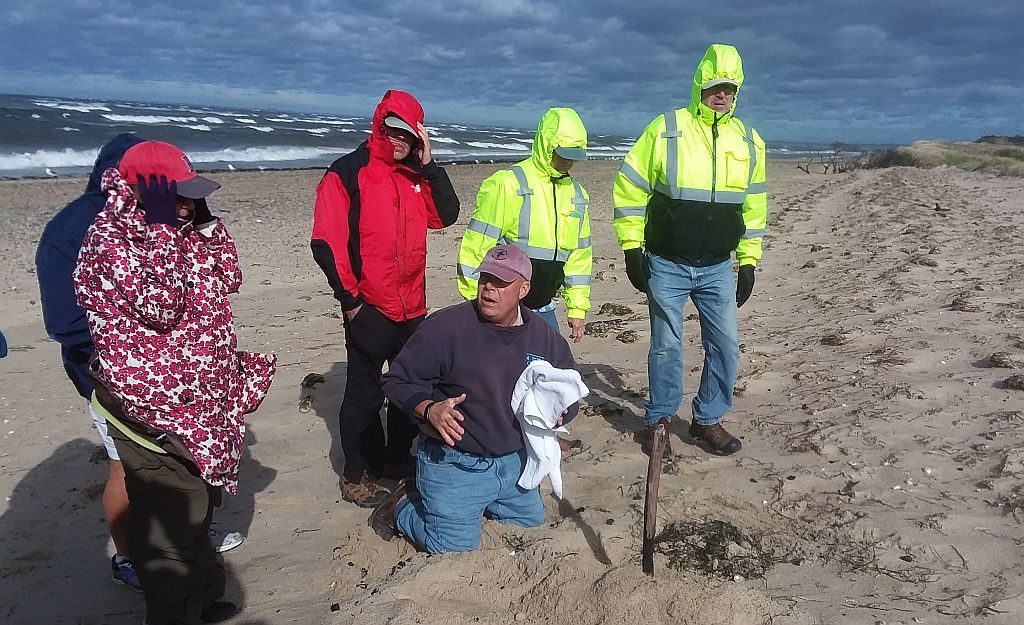 Sea turtle volunteers are required to undergo at least one training session each year, including an opportunity for on-the-beach training. This fall Wellfleet Bay has more than 250 volunteers to patrol beaches and drive turtles to the New England Aquarium's Animal Care Center in Quincy. Many of those volunteers are veteran turtle rescuers, but we're also pleased that a lot of new people have been trained.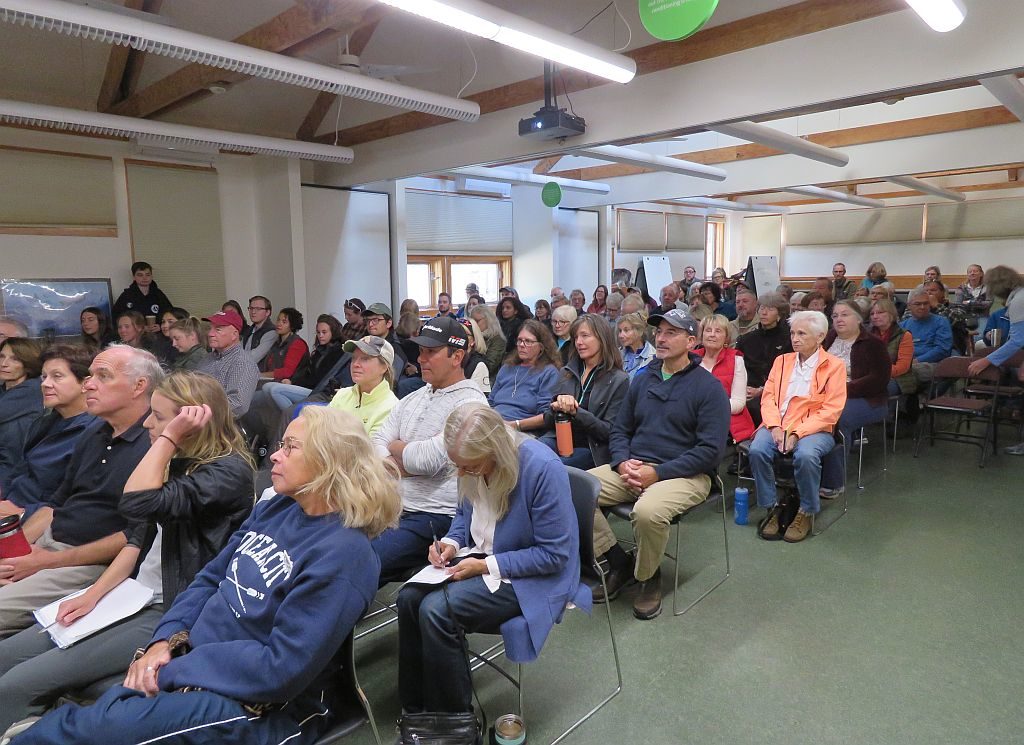 Wellfleet Bay's cold-stun sea turtle program dates back to the early 1980's when director emeritus, Bob Prescott, who still oversees the sanctuary's sea turtle program, found more and more turtles stranding each fall. Back then only a handful to a few dozen turtles washed up. The program changed dramatically in 2014 when a record 1246 sea turtles came ashore. Responders and rehab professionals from Wellfleet to Quincy and other facilities along the eastern seaboard were swamped by cold-stunned turtles.
Since then, federal agencies have been making turtle rescue plans based on the assumption that at least one thousand turtles could become cold-stunned. That number is far more turtles than the New England Aquarium or other nearby facilities can accommodate at one time, so plans are being developed for contingency sea turtle care, including here in Wellfleet.
These plans include keeping turtles for up to several days at the sanctuary, during which time they would "swim" briefly in small, temperature-controlled pools, which provides hydration and raises their metabolisms. They also would be assessed and treated for basic health requirements. To prepare for this possible scenario, Dr. Charlie Innis, Director of Animal Health and expert sea turtle veterinarian at New England Aquarium, recently conducted a veterinary sea turtle training session at the sanctuary. Among those attending was Dr. Tom Burns, Director of Veterinary Associates of Cape Cod, who brought a crew of twelve vets and vet techs. Tom and his staff have generously offered to donate their services should they be needed for cold-stunned sea turtles. This team actually helped us out during the "big year" in 2014, sharing their techs and lot of veterinary supplies with us.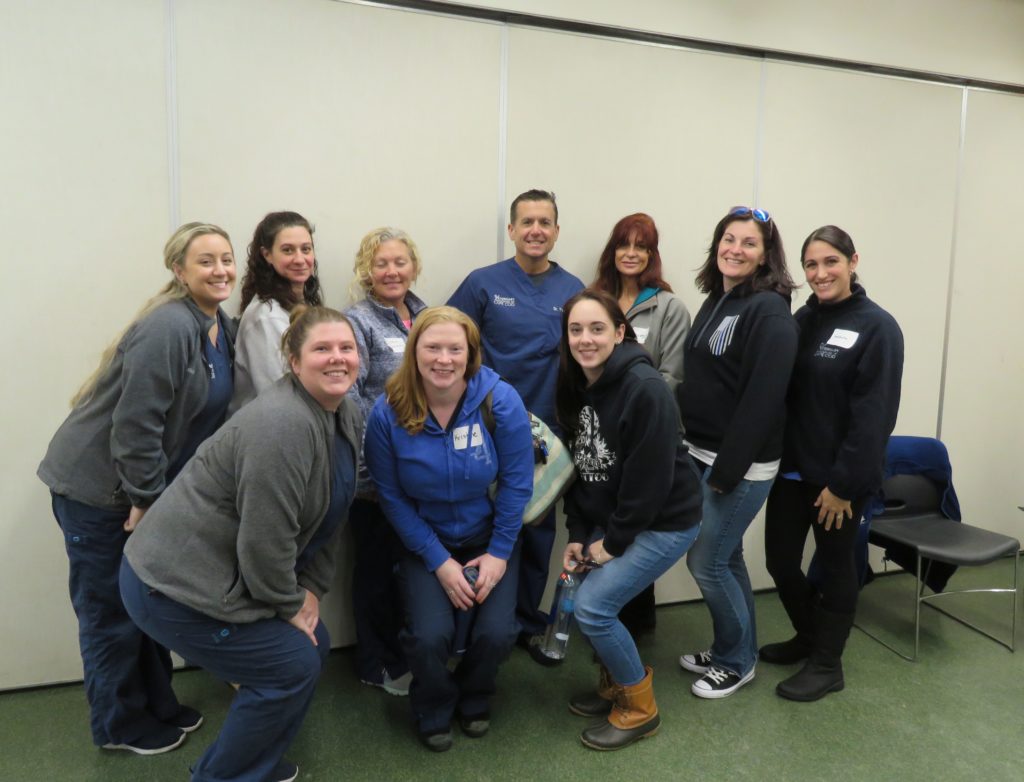 Other contingency plans may include Wellfleet Bay-trained drivers transporting cold-stuns to a back-up facility, such as the National Marine Life Center in Buzzards Bay. As in all years since 2014, the National Oceanic and Atmospheric Administration helps coordinate the flying of stable turtles from southeastern Massachusetts to marine animal rehab facilities in Florida, Georgia, and other US locations. Those flights are provided by Turtles Fly Too, a volunteer group of private pilots and airplane owners.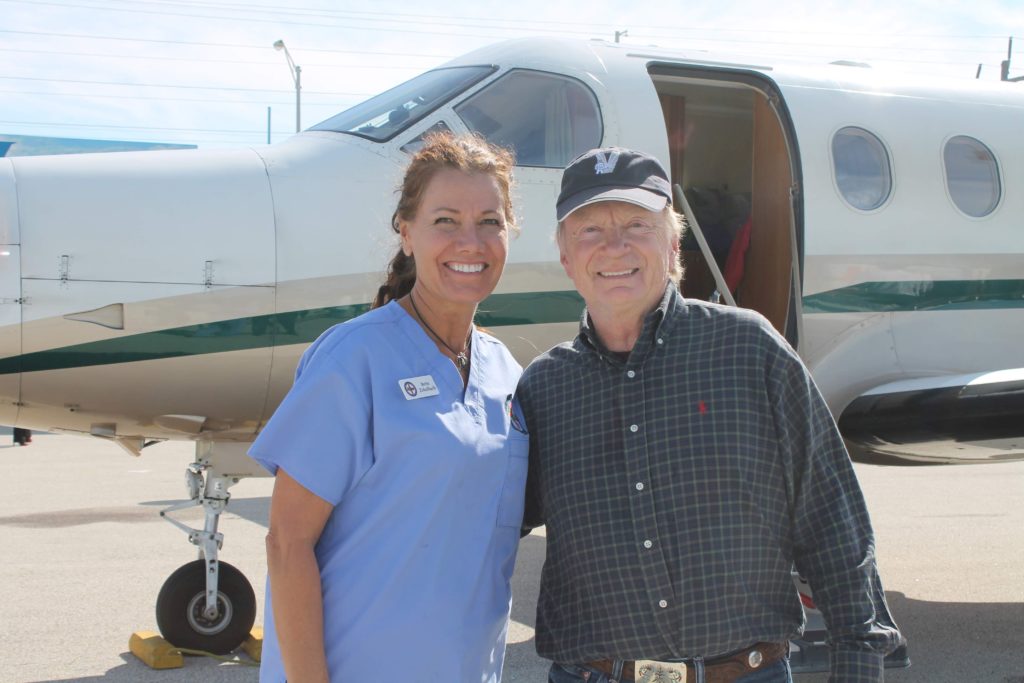 These carefully-made plans are all designed to increase the odds of an endangered sea turtle surviving its experience in the cold waters of Cape Cod Bay. But the process begins with finding a cold-stunned turtle on the beach. If you are walking a beach this fall and happen to find a turtle, it is important that you follow these simple steps:
Move the turtle carefully to above the high tide line
Cover it completely with dry seaweed is possible, wet seaweed if necessary
Mark it clearly with a vertical stick, visible piece of beach debris or a large arrow drawn in the sand above the high tide line
Call the sanctuary at 508-349-2615 ext. 6104
Wellfleet Bay staff will retrieve the turtle very quickly. And please do not think you are helping the turtle by moving it to a warm place or into your car – this can kill the turtle!
See you on the beaches!
This post was contributed by Wellfleet Bay's sea turtle stranding coordinator, Karen Dourdeville.