Susan Yurkus and I co-led our outing on October 30, which we began at Historic New England's Spencer-Peirce-Little Farm to search for passerines we might miss on Plum Island. We were welcomed by jays, titmice, and a large hawk that turned out to be a Northern Goshawk perched over in the neighborhood north of the property. When we first glanced at the bird, it seemed like it would be a Red-tailed Hawk, but in the scope was clearly an Accipter. Tom's image convinced us that it was a rare one, because of the heavy body, dark mark in the face, and barring on the tail. The fields and hedgerows were quiet, with few sparrows or warblers about. A lone American Pipit flew over, detectable only by hearing its call of "pipit" three times or so. Sparrows have been in very short supply this fall on the coast. The usual flood of birds in genus Spizella, with which we happily struggle, never appeared. Only days before, however, Stan Deutsch reported that he had American Golden-Plovers among killdeers and a good number of pipits over there.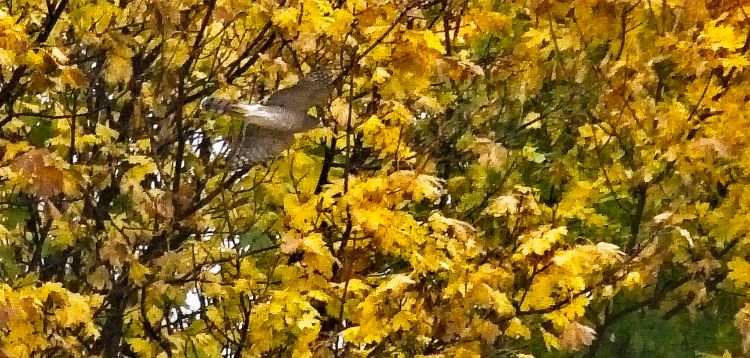 While we are out on WMB, I always hope to hear the little sound from my phone that means that Mary Margaret Halsey has found something interesting. She and other very skilled and regular birders are wonderfully generous in sharing their sightings of rarities. They'll even pass along those of other birders so that our big group has a better chance. This week, in spite of Mary Margaret's welcome alert, we probably would have stopped at the airport anyway, because we saw a group of regulars there, examining the big flock of geese and gulls in the cultivated field across the road. In the middle of the crowd, a beautiful dark-morph Snow Goose stood out. What a treat! There was a rumor of a Cackling Goose, but none of the Canada Geese looked tiny enough to us. More pipits flew over, very hard to recognize without by anything other than sound and general impression.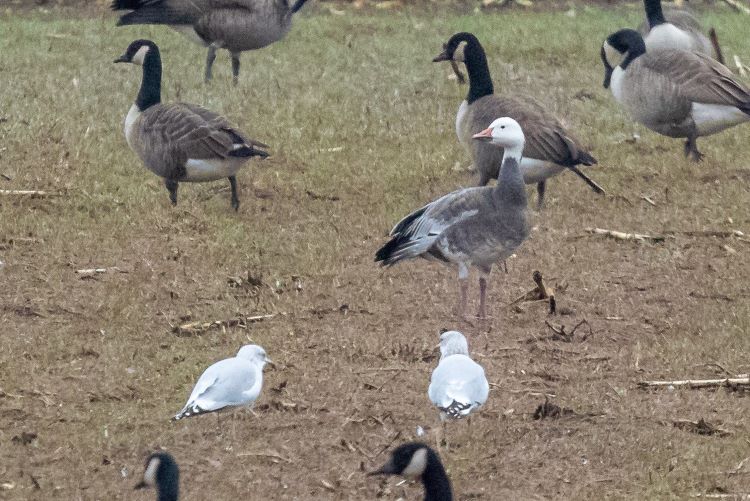 As we passed the Main Panne on the Parker River NWR, we were sorry to see that recent heavy rains had filled the pool and covered the flats along the edge that have been providing a high-tide roost for late-migrating shorebirds. None appeared there on Wednesday, even though the tide rose while we were out. Reports of shorebirds have been good for Sandy Point, however, so you might try there next time you're out and about. We continued to Emerson Rocks at parking lot #7, where the rocks were just covered by the tide. We saw lots of scoters and eiders, and a few loons were still around. This week we only found a few gannets.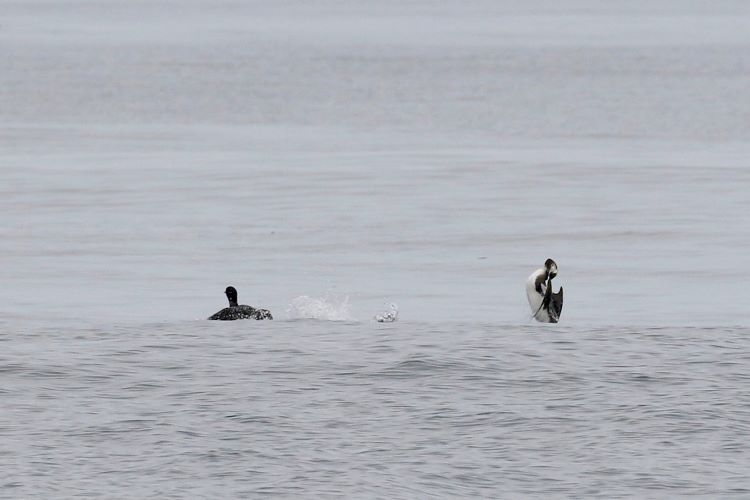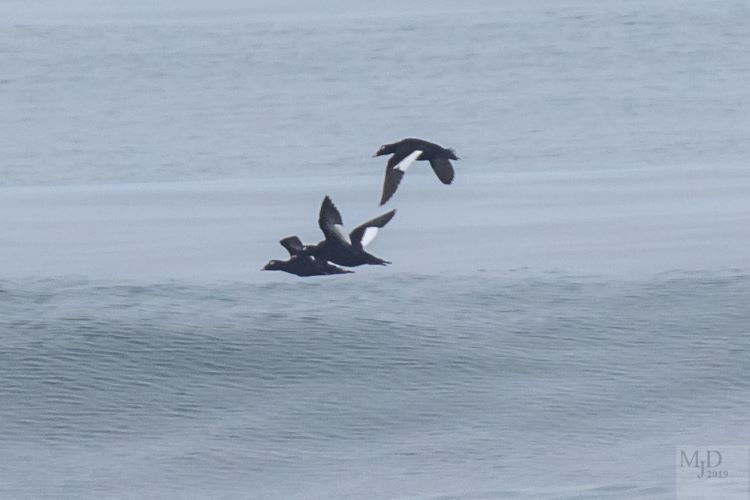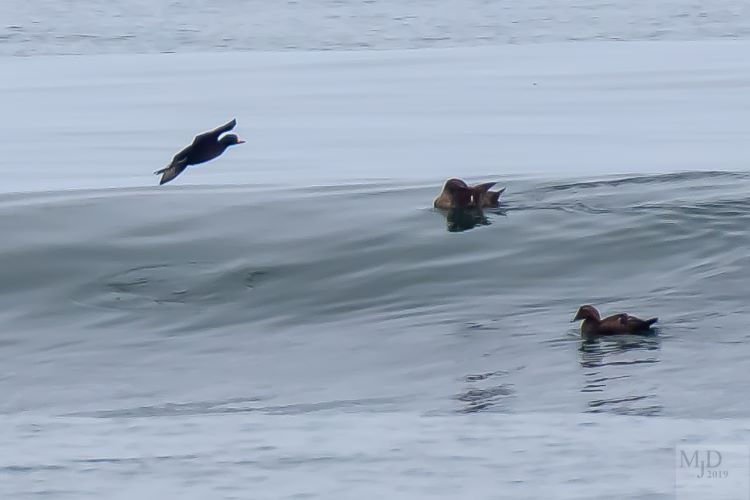 On the dike at Hellcat, we found no unusual waterbirds, but we enjoyed the abundant dabblers in Bill Forward Pool, including four molting Northern Shovelers. Having recent sightings of a rail and shrike to look for made our outing more exciting, even if we didn't find them. We never know what will pop up on Plum Island; hope you will help us find out!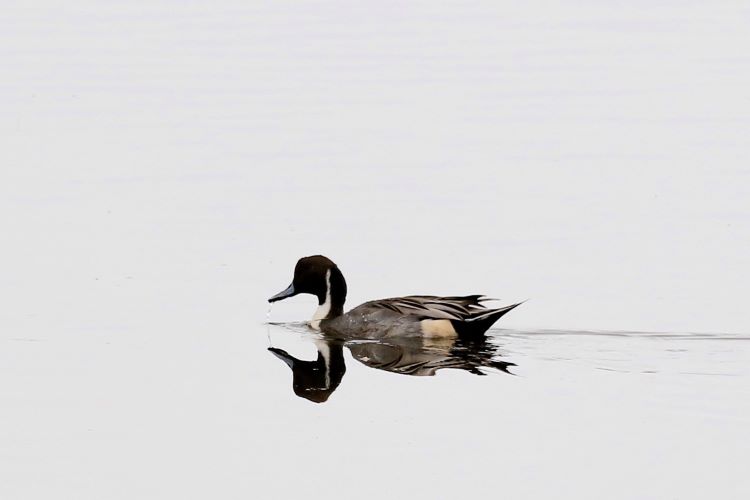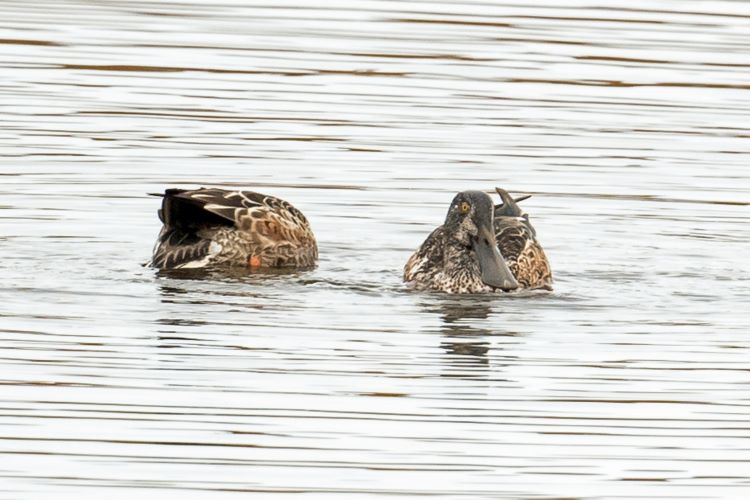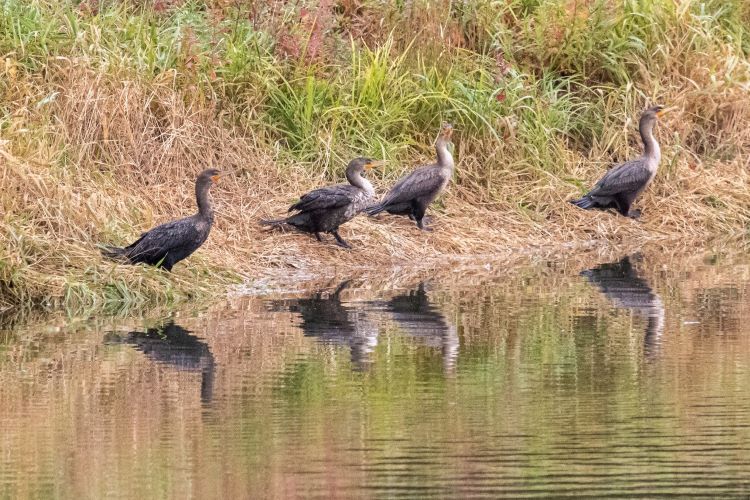 Our list:
Mute Swan (2) – Main Panne.
Northern Shoveler (4) – Bill Forward Pool (BFP).
Mallard – common.
American Black Duck – common.
Northern Pintail ( approx. 40) – BFP.
Green-winged Teal (100s) BFP.
Common Eider ( approx. 30) – Emerson Rocks.
Surf Scoter (5) – flying by Emerson Rocks.
White-winged Scoter – common, scattered abundantly over ocean from parking lot #7 platform.
Black Scoter (1+) – seen in a photo from the trip, but no big flocks this week, though many Scoter sp. out at sea.
Scoter sp. 100s well off shore.
Bufflehead (2) – females, Stage Island Pool.
Wild Turkey (5) – in a driveway north of refuge.
Rock Pigeon
Mourning Dove
Greater Yellowlegs ( approx. 20) – various.
Ring-billed Gull ( approx. 45 +1) – large flock with Canada Geese in field across from airport; 1 at parking lot #7 beach.
Herring Gull – common.
Great Black-backed Gull (1) – North Marsh.
Common Loon (4) – Emerson Rocks.
Northern Gannet (2) – Parking lot #7 ocean.
Double-crested Cormorant – common, many migrating skeins.
Great Blue Heron (2) – 1, Spenser-Peirce-Little Farm (S-P-L Farm), 1 Hellcat salt marsh.
Great Egret ( approx. 15) – various.
Northern Harrier (1) – Pink House marsh.
Northern Goshawk (1) – S-P-L Farm.
Red-tailed Hawk (2) – 1, S-P-L Farm; 1, Gatehouse.
Northern Flicker (3) – Roadside in/near S-curves.
Blue Jay (12) 8 S-P-L Farm; 4, Hellcat parking lot.
American Crow (1) – Airport.
Black-capped Chickadee (3) – Hellcat.
Tufted Titmouse (3) – S-P-L Farm.
Carolina Wren (1) – S-P-L Farm.
American Robin (approx. 10) – various.
Northern Mockingbird (5) – Plum Island.
European Starling – common.
Dark-eyed Junco (2) – Middens.
Savannah Sparrow (1) – S-P-L Farm.
Song Sparrow (1+) – One positively identified, many more probable along road.
Red-winged Blackbird (9) – 8, S-P-L Farm; 1, parking lot #7.
Yellow-rumped Warbler (1) – S-P-L Farm.
Northern Cardinal (1) – Hellcat.