Our dogged determination to "catch up" on WMB continued this week, with a visit to Ipswich River Wildlife Sanctuary (IRWS) in Topsfield. This was a somewhat symbolic choice of locations as Joppa Flats and Ipswich River are now combined in Mass Audubon's North Shore. It was a pleasure to meet there and be greeted by North Shore Director Amy Weidensaul. For those of you who don't know Amy, she is the real deal. Amy has been leading Environmental Education (EE) programs for her entire career, and has been led birding trips all over North America and Central and South America. Amy has a PhD in EE, with a dissertation on the lifelong impacts of youth environmental education on adults' environmental identity. She began her career as a plover warden on Plymouth Beach, where she was vastly outweighed by the fishermen she had to corral away from the nesting areas, but where she found that her intense commitment to wild creatures gave her all the stature she needed. Amy is also a very fun person, though this week she was way too busy with the recent Mass Audubon restructuring to go birding with us. She will someday soon, she will!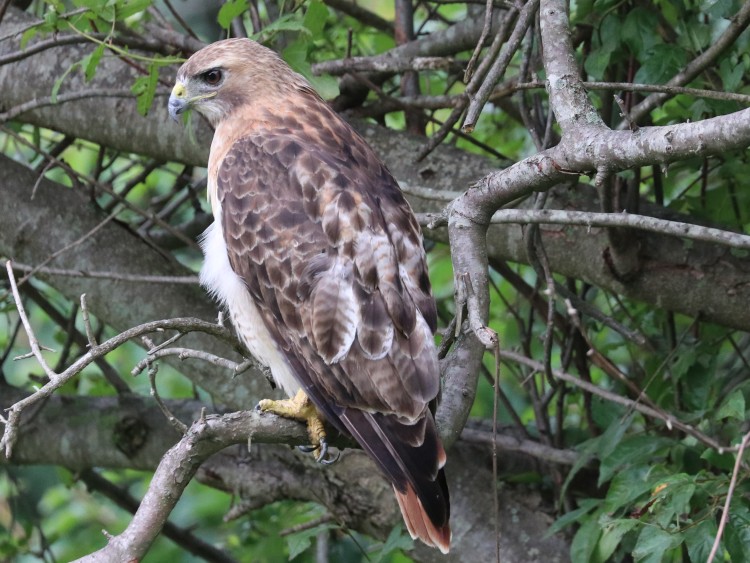 What to say about our slightly quixotic quest for birds in mid-July!? All jesting about Greenhead Flies aside, the real reason we took July off in the past is not the flies or even the beachgoers clogging the refuge. It's the silence. There were two segments of our walk through the woods at IRWS this Wednesday that were utterly silent. There were birds there, they just were not letting us know what they were up to. Only one Ovenbird? Not one Yellow Warbler?? We did find this cool Slime Mold, and lucky for you nature lovers, I can always find a way to fill a vacuum of sound…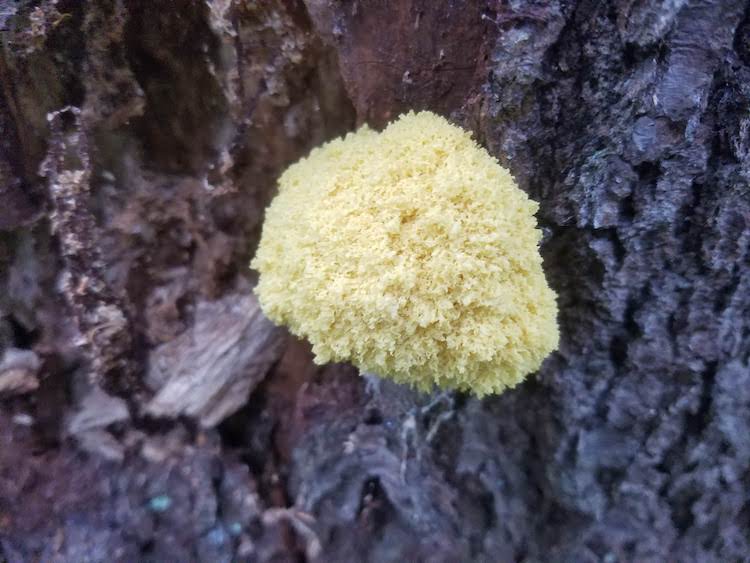 Things definitely picked up when we got up on the observation Tower. The freshwater marshes at IRWS are epic, and if you have never walked along the esker that winds through them, you have to. In our two shifts climbing the tower we detected a nice little smattering of waterbirds, and could see this year's crop of Tree Swallows and Red-winged Blackbirds.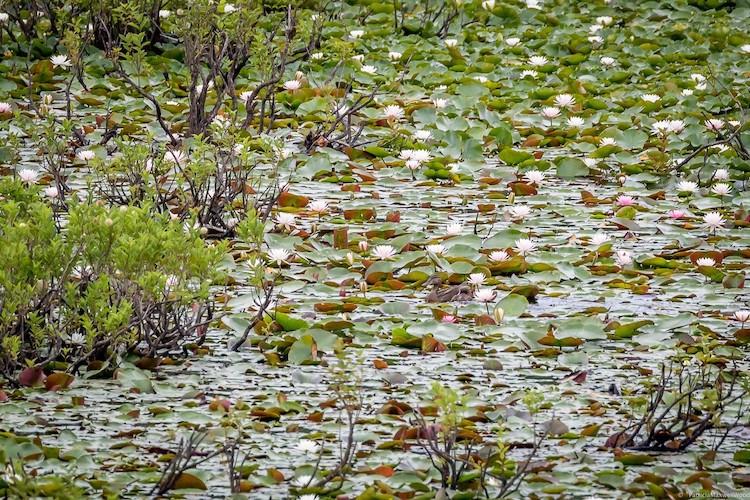 The upland passerines did pick up somewhat as we made our way back up the hill. A family of Blue-gray Gnatcatchers arrested our attention for a time as the young of the year frantically begged for more gooey protein, vireos and pewees called reliably, and a Red-tailed Hawk that somehow has been habituated to humans sat phlegmatically in the lilacs near the yard. This Red-tail's presumed mate soared around above, crying out in classic fashion. The annual mushroom crop has begun to appear, and this blue-staining Suillus was growing in a troop.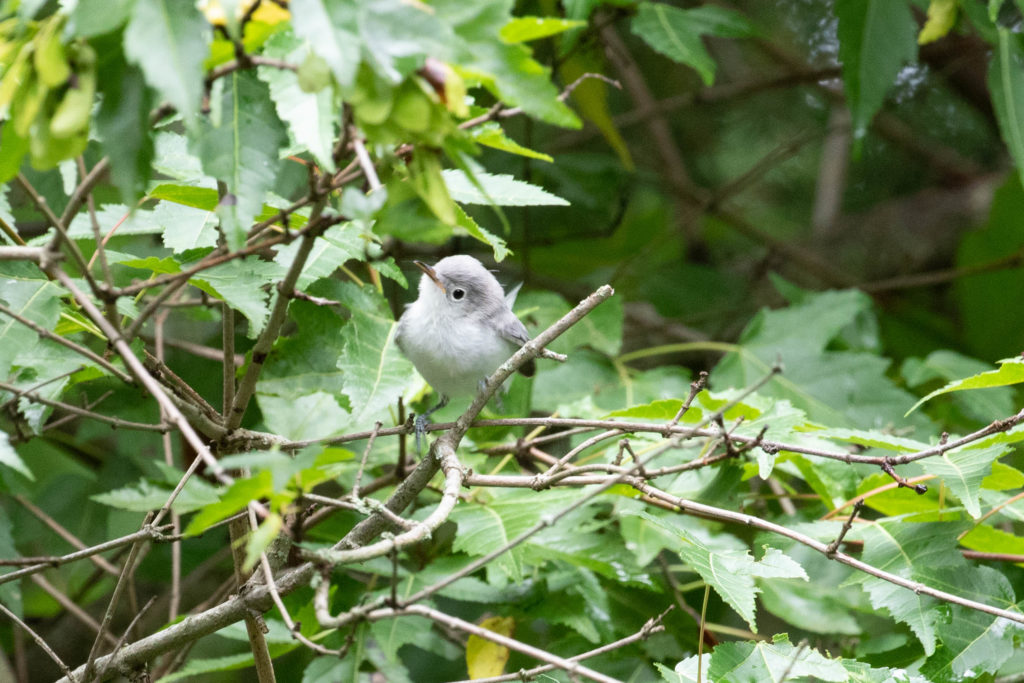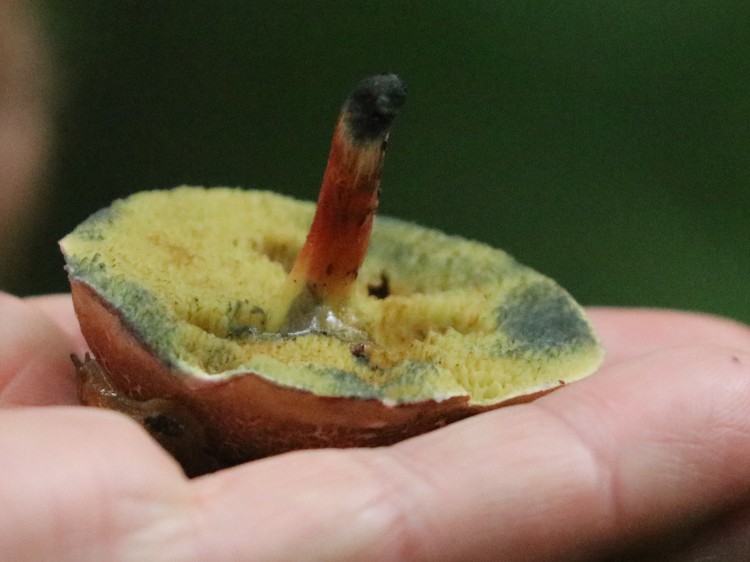 IRWS has a fantastic array of nest boxes, and we found some of the inhabitants, enjoyed the resident Hummingbird, and most of all enjoyed each others' enjoyment of the birds on offer. It still feels incredibly special to be out with other birders!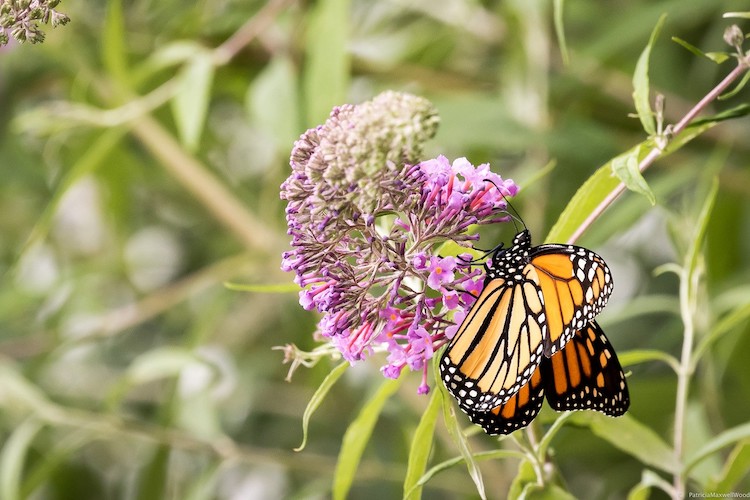 Our List:
Wood Duck (1)
Mallard (5)
Mourning Dove (2)
Ruby-throated Hummingbird (1)
Double-crested Cormorant (1)
Great Blue Heron (2)
Great Egret (2)
Snowy Egret (1)
Green Heron (1)
Black-crowned Night-Heron (1)
Turkey Vulture (1)
Red-tailed Hawk (2)
Downy Woodpecker (5)
Pileated Woodpecker (1)
Eastern Kingbird (2)
Eastern Wood-Pewee (2)
Warbling Vireo (1)
Red-eyed Vireo (2)
Blue Jay (1)
Tree Swallow (~ 15)
Barn Swallow (5)
Black-capped Chickadee (4)
Tufted Titmouse (2)
White-breasted Nuthatch (2)
House Wren (1)
Marsh Wren (1)
Carolina Wren (1)
Blue-gray Gnatcatcher (4) – including 2 fledglings.
Eastern Bluebird (2)
Gray Catbird (~ 5)
European Starling (3)
Cedar Waxwing (1)
House Sparrow – common.
American Goldfinch (4)
Chipping Sparrow (2)
Eastern Towhee (1)
Baltimore Oriole (1)
Red-winged Blackbird – common.
Ovenbird (1)
Common Yellowthroat (2)
Northern Cardinal (5)