Over the past few weeks, the sanctuary has been bursting with life as spring is "just around the corner", even though we woke up to snow on April 5th. Join us at 8am on our weekly Friday bird and natural history hikes to see all the amazing creatures, plants, and views on the Morse Wildlife Sanctuary. Even better is the terrific company and being out in nature. 
Snoozing Raccoon
While I was investigating life in a vernal pool, some peaceful fur way way up in the crook of a tree caught my attention. A raccoon was snoozing the day away. Check out the ears on one side and the foot on the other.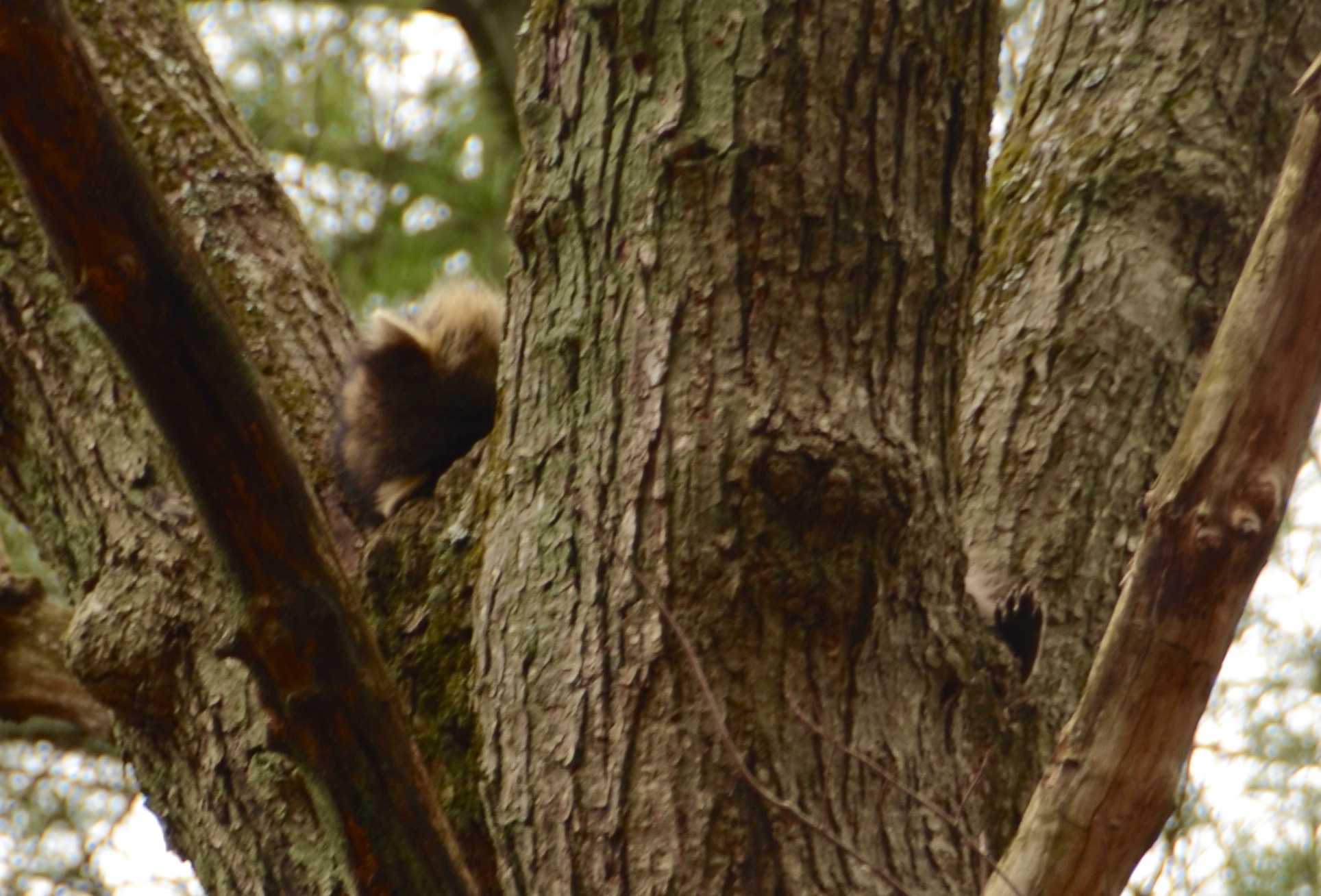 Mystery Tree Damage
Near one of our smaller vernal pools, the damage to this tree puzzled me. Based on it's teeth marks, it is clearly a rodent, but the damage is one inch deep at some points and is about 8 ft long. I'm are not sure what caused this damage, but could it be a porcupine? Let us know what you think.
This slideshow requires JavaScript.
Deer Traffic Jam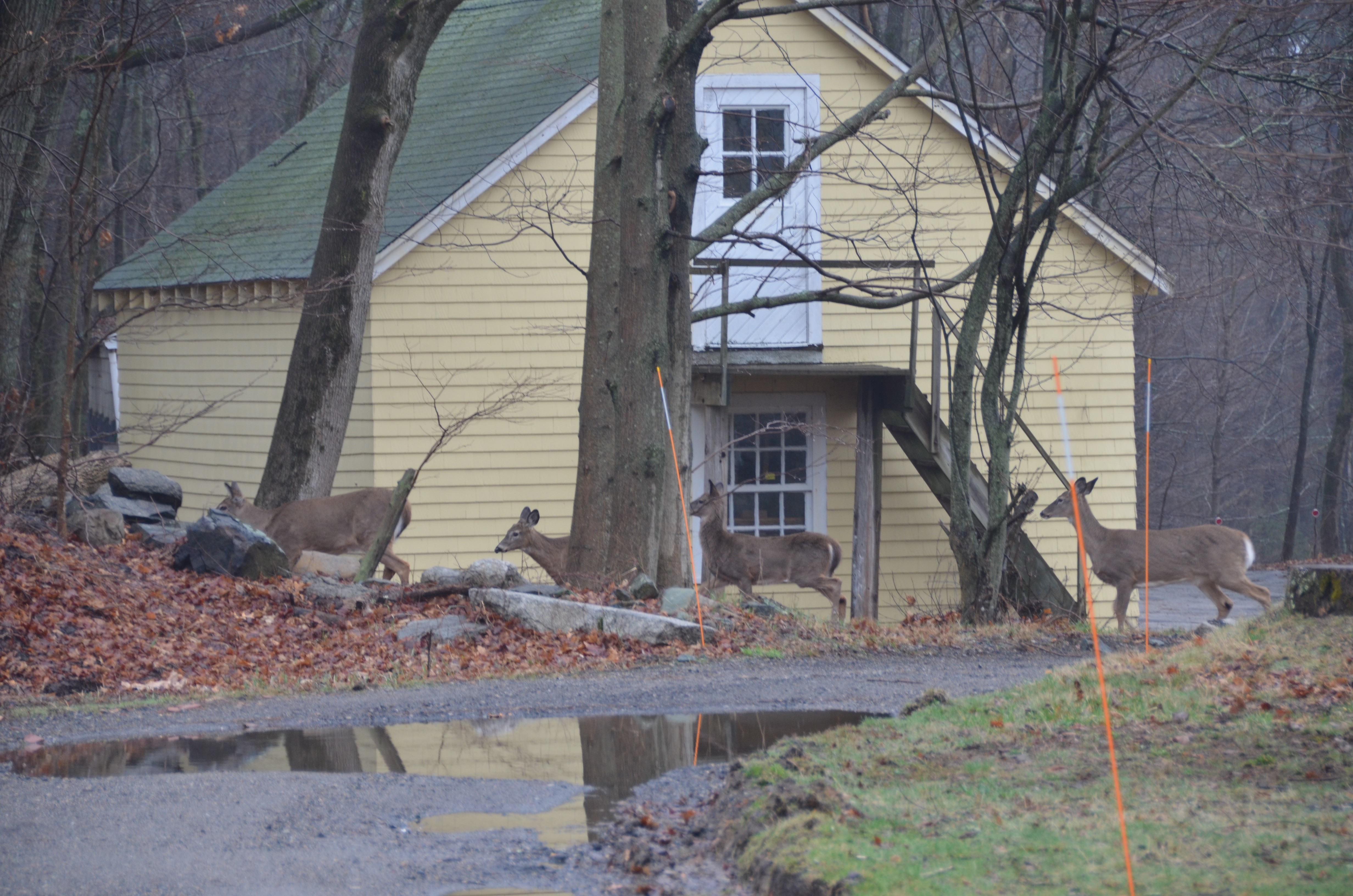 Birding Highlights
Here are a few of the birds that have been seen over the past few weeks.
Red-tailed hawk hunting pine voles

This slideshow requires JavaScript.

Brown creepers
Eastern phoebes
Wood ducks
Hermit thrush
Hairy and downy woodpeckers
Flocks of dark-eyed juncos, chickadees, tufted titmouse, and American robins
Pair of nesting red-shouldered hawks
Red-bellied woodpeckers
Calling red-winged blackbirds in the red maple swamp (birding hotspot)
American woodcock
Our digital photography homeschool class observed a cooper's hawk preying on a mallard.
Check out our bird blind by the gallery, our feeders are always stocked and there are usually lots of birds to photograph
This slideshow requires JavaScript.
Flora Highlights
Stunk cabbage is one of the first plants to emerge in the spring. It is found near soggy or submerged soil and is usually pollinated by flies. This was taken near the Pequit Brook.
This slideshow requires JavaScript.
Check out this amazing little orchid hiding under the pine needles. These pictures are from early March.
This slideshow requires JavaScript.
One of the tiniest and earliest spring flowers
We have had over 10,000 of these flowers blooming in bare patches of soil and on our lawns. They are so easy to miss until you start looking for them.
This slideshow requires JavaScript.
Vernal Pools in the Wildlife Sanctuary
In early March, when the weather cracked 60 degrees, the spring peepers and wood frogs started calling. Wood frogs sound more like ducks than frogs. Check out these two videos to hear them.
Wood frogs are abundant at our wildlife sanctuary and are always one of the first frogs to emerge from hibernation. This year, wood frogs were first observed on March 10 congregrating in large numbers at our main vernal pool and where I counted well over 60 wood frogs on March 11. Listen to their chorus from March 11, 2016.
Spotted salamanders have also been laying eggs and fairy shrimp are abundant.
Fairy Shrimp. Photo Credit: B. L. Dicks and D. J. Patterson
On April 3rd, Owen Cunningham and a volunteer spent the afternoon searching for life in our pools and were able to identify wood frog and spotted salamander eggs. This data will be submitted to the state and we expect that our vernal pools will be certified by the Mass Natural Heritage and Endangered Species Program.
This slideshow requires JavaScript.