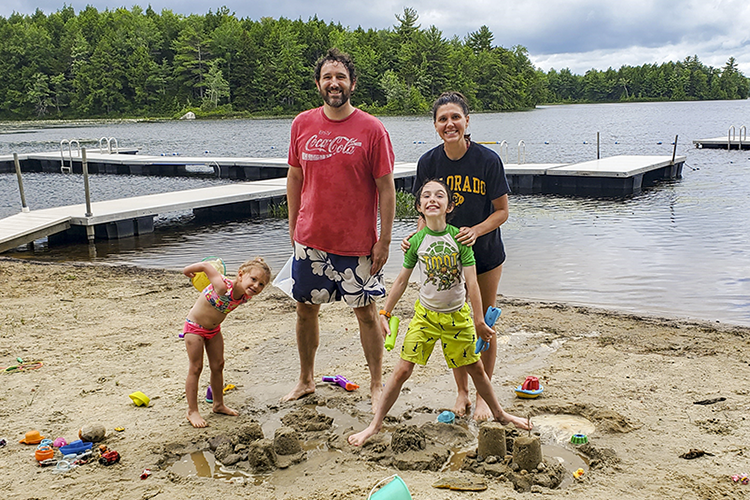 Join us in summer 2020 for a physically distanced family getaway at Wildwood! Wildwood is turning our camp into a campground for camp families from July 10–October 15. We will provide families with a space to sleep and relax while being physically distanced from others.
You can choose from any of the following lodging options:
Bring your own tent: $55/night
Yurt / Wooden Tent: $70/night
Cabins: $75/night (cabins have electricity)
Muir Lodge: $125/night (includes: 4 bedrooms, sleeps 7, private bathroom, shower, kitchenette, refrigerator, microwave, convection oven, cooktop, kitchen sink, dishes, living room, front porch, firepit & picnic table outside)
We will assign one family only to each unit. Each unit has a firepit, wood, sink, toilets, picnic table, trash & recycle cans. Families bring their own bedding, personal items, food, and all cooking/cleaning gear.
The waterfront is open from 10:00 am–noon and 2:00–5:00 pm and is included in the nightly rate. Waterfront activities include canoeing, kayaking, paddle boarding & swimming. If possible, families are encouraged to bring their own lifejackets.
The shower house is a shared space. We will assign families a time block to shower and will clean and sanitize the shower house between families.
Check-in is from 1:00–5:00 pm and check-out is no later than 11:00 am.
We ask families to move out of the unit by 11:00 am in order to avoid being charged for an extra night, but they are allowed to continue to enjoy our property after check-out.