While day camp at Wildwood technically begins at drop-off, every day at camp should always start with plenty of sleep and a good breakfast. While we wait for the last day campers to be dropped off, the counselors and campers apply sunscreen and bug spray, make sure our backpacks have all the essentials, and check-in with how we're feeling for the day.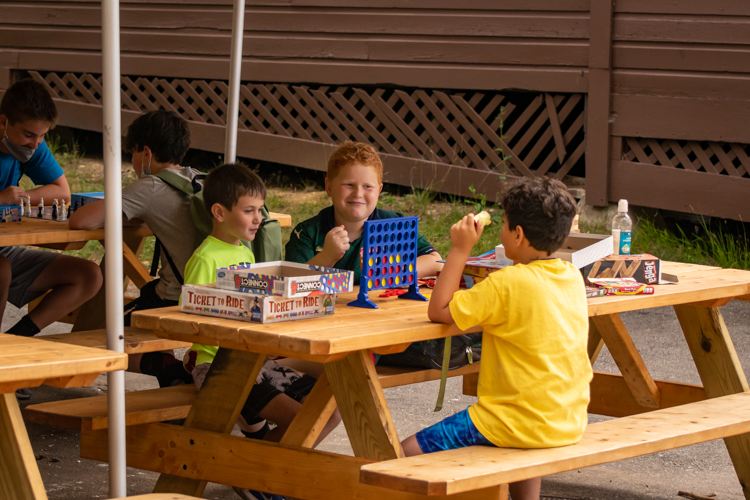 Then, we'll walk up to the beautiful, woodland Day Camp Headquarters and play a fun morning game—sometimes Camouflage, sometimes Hide & Seek, sometimes fort-building!
Afterwards, it's time to come together for Nature Groups. Our focus for Nature Groups changes every day: we may learn about birds and bird nests, food webs, erosion, ecosystems, climate change, animal tracks—the list goes on and on! We'll discuss what we know and what we want to learn more about, and oftentimes we get a chance to go into nature hands-first and come up with our own ideas!
After Nature Groups we'll often hit the activity field for some fun group games. Sometimes it's a running game like Fishy Fishy Cross My Ocean or a teamwork game like the Hula Hoop Lift, and sometimes it's a good, old-fashioned ball game like Gaga. And, on very special days, we'll head on over to the ropes course or the archery range and work on our skills there!
Once we're all tired out, it's time to pick a shady spot outdoors, refill our water bottles, and have some lunch. One of our favorite lunch conversation topics last summer was "Who Would Win?" or "Would You Rather?"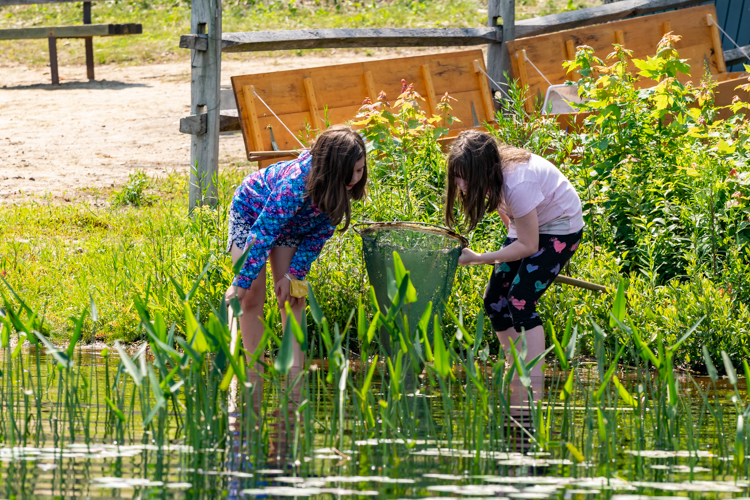 After lunch, it's time to get into our swimsuits, reapply sunscreen, and head on over to the waterfront to get fitted into PFDs and hit the water! Campers have fun jumping off the dock and running on the splash pad. Along the shore, campers look for frogs and build sandcastles. On special days, we break out the canoes and kayaks and have some fun out past the buoys.
Then, it's time for Siesta. We head back to HQ for a snack and some quiet time activities, like drawing and cards. This is also the time campers sign up for their afternoon Discovery Group activities; typically there are three each day to choose from. A few personal favorites are watercolor painting by the creek, kickball, making oobleck, and gardening.
Finally, at the end of the day, we pack up all of our belongings and wait in the parking lot for pick-up. As we wait, we'll play some parking lot games like Night at the Museum or Red Light, Green Light. And after the counselors have waved goodbye to the last camper, we do some clean-up and prepare for the next fun-filled day!
Written by Arianna W., a Wildwood Day Camp Counselor