This is Part 1 of a 3-part blog series. In August 2016, we sat down with three of our international staff members—Karim, Ness, and Matt—to hear what they had to say about Wildwood: the challenges and rewards of being a staff member, their favorite camp activities (Spoiler Alert: they all love the waterfront!), and what makes Wildwood so special.
Don't miss a story! Subscribe to the Word from Wildwood blog in the signup box on this page to be notified when these and future blog stories are posted.
---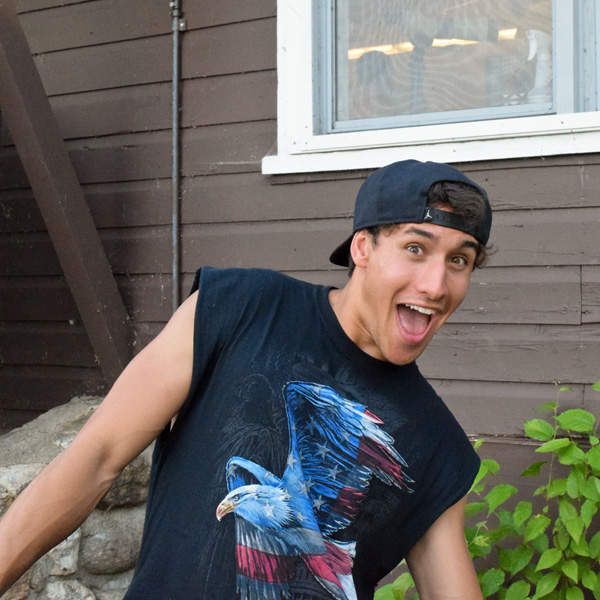 What is your name?
My name's Karim.
Where are you from?
I'm from Liverpool, England.
What is your job title and how long have you been at Wildwood?
I am the Thoreau Unit Leader, which is the 11-12-year-old boys. This is my first year at Wildwood. My first year in America, as well.
What made you want to become a camp counselor?
To be honest, when I left high school I wanted to do it, but I wasn't old enough to because I was 16 (we leave high school at 16). My teachers always advised me to do it, because they said I'd enjoy it, and then a guy I'd only known a few weeks suggested it, too. I'd never really had the guts to do it but I always wanted to try it, so I ended up thinking, "You know what? Now is the time to do it. Time to try something different." Because I was at a boring job I thought, "I want to have more fun with my summers and with my experience," so I tried it, and now I'm here. Pretty crazy, right?
What has been the most challenging?
The most challenging thing has just been adapting to camp life. When I first got here, I just wanted to go home because it was just so frightening at first, and I struggle with anxiety and self-confidence, so the biggest challenge for me was to force myself to stick it out.
We write letters at the beginning of the summer to our future self to open at the end of camp, and at the time I was feeling really down, but I wrote in the letter, "I'm so happy you didn't give up." And I was sticking to that word, so I wasn't going to give up. That was honestly the most challenging thing.
What has been the most rewarding?
There are so many things. One of the things that really made me happy was just connecting with children like you didn't think you could, because they're a lot older than you think. They know so much more than you think. The kids in my unit know so much more than I did when I was 11 or 12, so the most rewarding thing is getting on their level and realizing they're on your level, in the same terms. They start to really trust you and put their faith in you and then you become really good friends. And when you're here, they shout your name and run up and give you hugs and that just feels good.
What's your favorite Wildwood activity?
I feel like I'm having the most fun at the waterfront, especially because we don't get to see these kinds of views all the time. I've only been kayaking once before in my life and now I've done it multiple times, so definitely, for me, it's doing anything on the waterfront—that's the most fun. It's something that we can't get back home.
What are some of the things that make Wildwood special?
The people, 100%. The people you meet here, 110%. And that includes everyone—Meredith, Welch, the program staff, JC's, even the returning campers who come here as well, to me that's what makes Wildwood Wildwood.
But besides that, hmm, it's tough to whittle it down to one point. The place is amazing, too. I love how they focus a lot on nature. And I feel like it's the approach to nature.
I only just realized this now as I'm picking at the dirt under my nails and I'm not bothered; back at home I'd be like, "Oh my god, my fingernails are so dirty!" But here you don't care because you're digging in the dirt and you're looking for things in the dirt and teaching kids to do that and there's so many bugs and it teaches kids not to be afraid of bugs anymore. That's what makes Wildwood Wildwood as well, is how "in nature" it is, or how much it teaches kids to respect nature, but learn how to live in nature and with nature.
I had this realization yesterday that I'm going to go home and talk about camp all the time, until everyone's sick of it.
If you could give one piece of advice to someone considering coming from overseas to be a counselor at Wildwood, what would it be?
Just do it. In life, you always hear people say, "You won't regret it," but it's like, "How do you know I won't? How can you guarantee me?" There's no guarantee…but I just know you won't. I'm so happy I came to this place. You learn so much, and you learn so much about yourself—that's the most important thing.