For Cape Cod bird lovers, there are many rites of spring; hearing the first buzzy call of a phoebe or witnessing a returning Osprey or Piping Plover. People prepare their hummingbird feeders and clean out nest boxes in the hope they'll eventually be filled with baby birds.
At Wellfleet Bay, we recently spotted our first Purple Martins, a relatively new breeding species for the sanctuary, as they return from their wintering grounds in South America. In this part of the world, martins generally nest in colonies and are almost totally dependent on people for nesting habitat—whether it's old structures or nest boxes designed especially for them. On the Cape there are fewer than a half-dozen colonies.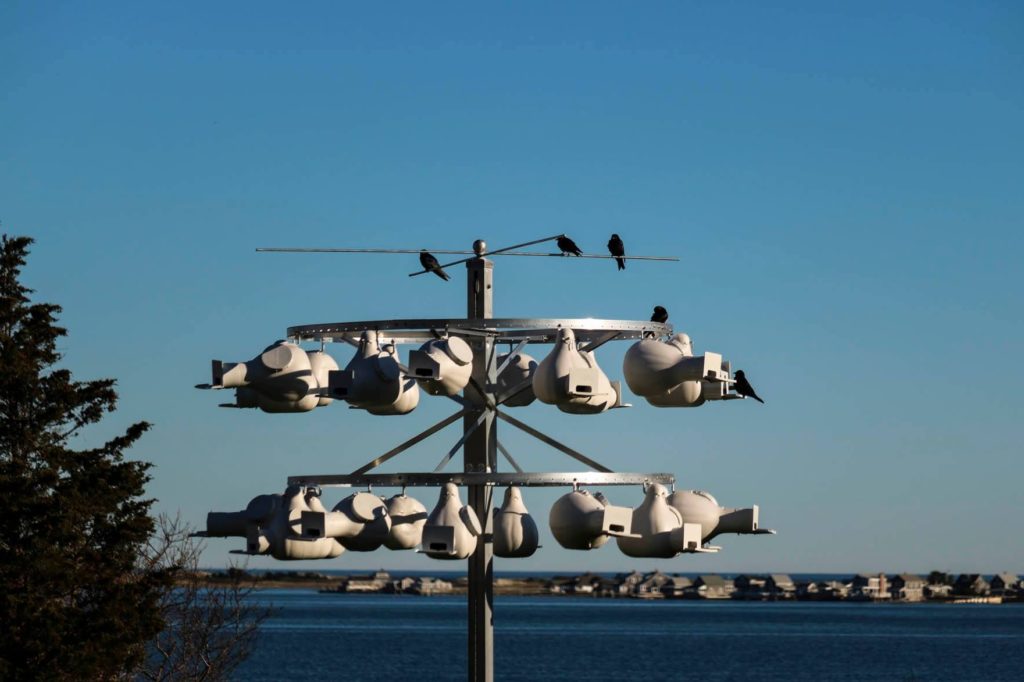 Back in 2015, we installed brand new Purple Martin "condos", gourd-shaped PVC nest boxes that hang side by side from brackets attached to a pole. In that first season, our condos attracted only one bird, a sub-adult from a Mashpee colony (many martins have color-bands to help track where their young turn up the following spring). The next year brought our first pair of nesting birds from colonies in Mashpee and Connecticut. That pair produced two chicks, one of which, a female, has been breeding at our sister sanctuary, Long Pasture, for the last couple of years!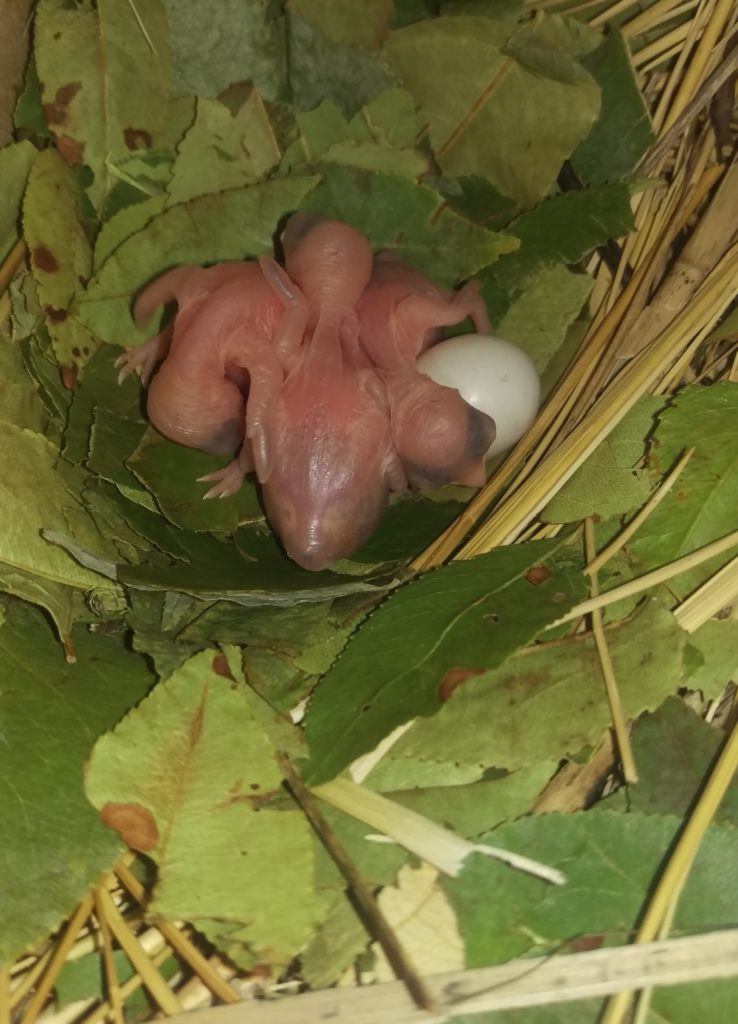 Last summer Wellfleet Bay's 12-unit condo was filled with nests that produced a total of 33 chicks! At Long Pasture a 24-unit martin condo installed in 2017 has been nearly sold-out since 2019. Last year it produced 81 fledglings.
It's pretty hard to miss Purple Martins. They're large swallows—the largest—and males are a midnight blue with black wings. They're also very vocal, producing a series of pretty chirps and chitters, often as they hang out on the nesting gourds or as they fly. They're very tolerant of people and probably the only bird at the sanctuary that rivals wild turkeys as crowd-pleasers!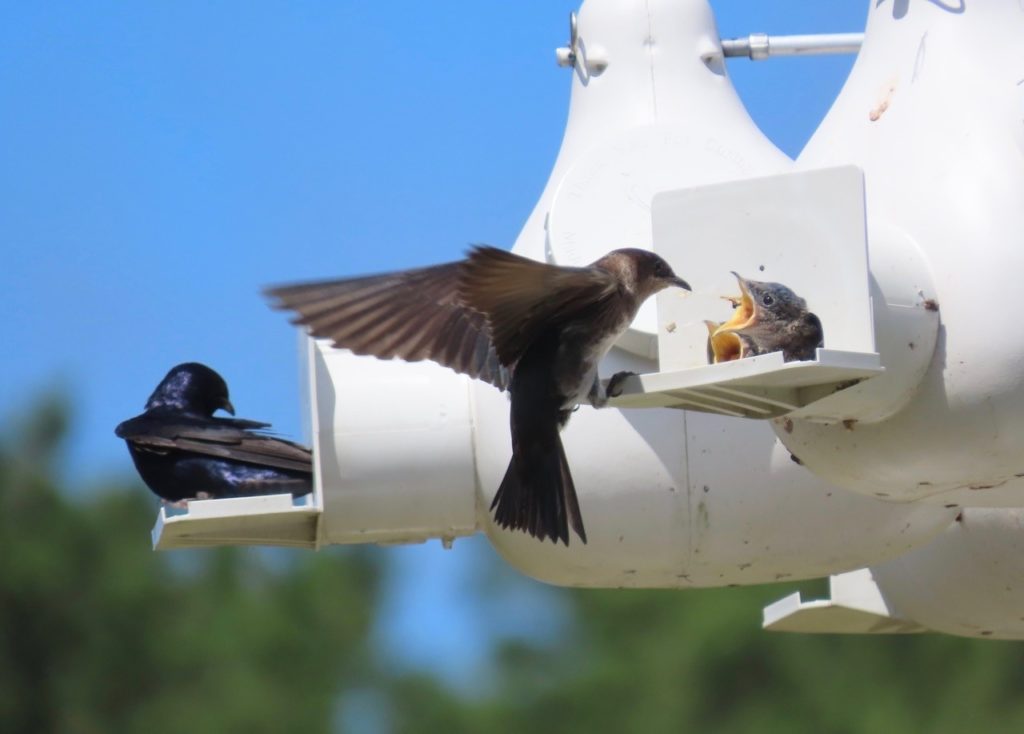 Besides a dependency on people for housing, Purple Martins face another challenge on the Cape; our notoriously cold, wet springs can reduce flying insects, which the birds depend upon for food. At the start of the 20th century, a spring cold spell basically wiped out the local martin population.
Purple Martin housing has more requirements than simply erecting a gourd rack or "apartment house". Martins won't nest just anywhere. Their nest boxes should be installed in open areas away from trees and near water. You also have to watch regularly to make sure aggressive, introduced species like House Sparrows and European Starlings don't move in; they can remove and kill martin eggs and chicks. Pole guards should be installed so that other predators, like raccoons and snakes, can't climb up and wreak havoc.
This spring, thanks to a generous grant from CAF Canada, a second 12-unit Purple Martin condo complex has been installed at Wellfleet Bay. We can't wait to see how long the new vacancies last!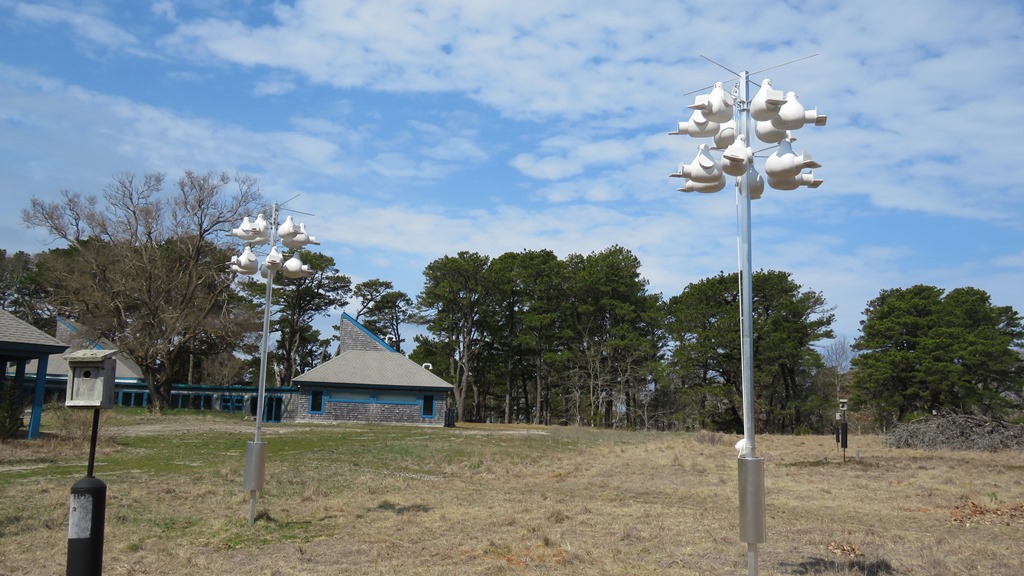 Mass Audubon Cape Cod would like to thank both CAF Canada and Bill Leitch for funding the latest Purple Martin gourd racks at Wellfleet Bay and Long Pasture, respectively. Wellfleet Bay's first Purple Martin nest rack was donated by Bird Watcher's General Store.