October is typically a busy time for Wellfleet Bay's sea turtle staff. A great deal of preparation is underway for the approaching cold-stunned sea turtle season, which involves training new staff and volunteers, checking rescue equipment, coordinating with rehab partner organizations, and numerous other tasks.
But in October, especially a warm one, many sea turtles are still actively foraging in our waters.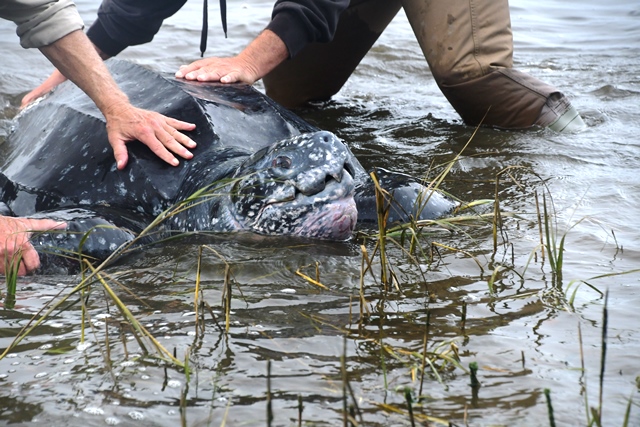 The recent stranding of a live, 600-pound male leatherback in a marsh near the mouth of Wellfleet's Herring River demonstrated the critical role that Wellfleet Bay plays in saving these endangered and threatened species. It also showed the power of partnerships.
Sanctuary director emeritus Bob Prescott was the first to respond to calls about the stranded leatherback and realized that the turtle, which stranded during the morning's low tide, was trying to move farther upriver with the incoming tide.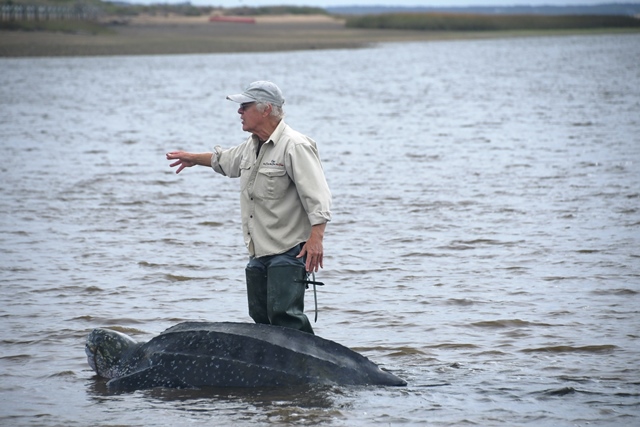 A veteran of challenging sea turtle rescues, Bob saw that the leatherback was healthy and would need to be moved for release to open water. After working to keep the animal in place, and away from potentially dangerous oyster beds, he directed operations to move the huge turtle to the edge of the marsh where it was hoisted to a cart by more than a dozen people.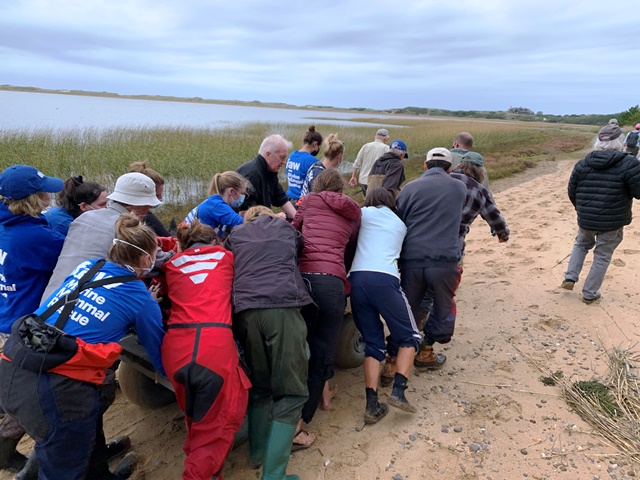 Protecting, transporting, making health assessments, tagging and releasing the endangered sea turtle required many experienced hands and equipment. This dedicated group included staff and volunteers from Wellfleet Bay, the International Fund for Animal Welfare (IFAW) and the New England Aquarium (NEAq), as well as volunteers from the New England Coastal Wildlife Alliance.
IFAW provided their rescue experts and specialized equipment (usually used for moving stranded marine mammals), and NEAq provided their veterinary and rescue staff to make important health assessments, administer infection-prevention medications, and apply federally-permitted satellite and acoustic tags for the unique opportunity to track and learn more about this endangered species.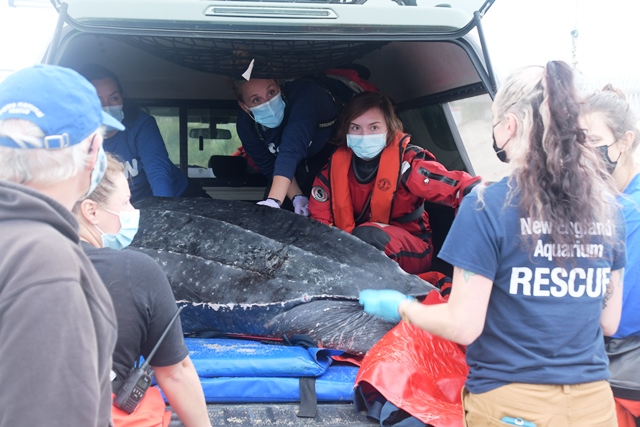 The leatherback was released back into open water that afternoon at Herring Cove Beach in Provincetown. We hope this turtle continues to do well and that its track provides important information for sea turtle conservation researchers.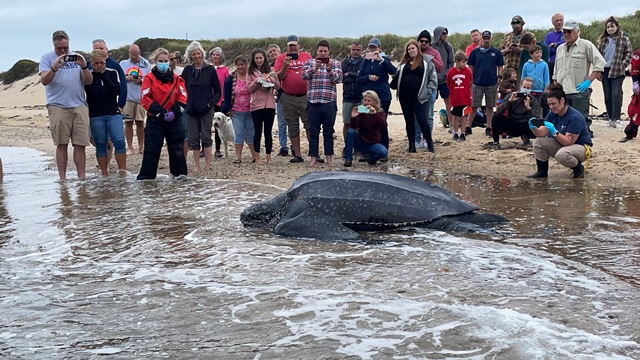 This post was contributed by Wellfleet Bay sea turtle stranding coordinator Karen Dourdeville.