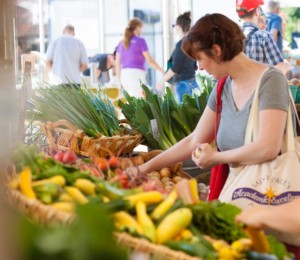 When the CSA (Community Supported Agriculture) movement was beginning in the early 80s, growers and consumers alike were motivated by the idea that people had lost connection with food production on local farms, and would eagerly embrace the opportunity to visit a farm once per week to pick up a share of the season's harvest. Now, almost forty years later, the newest trend in CSA farming is the weekly home delivery of a boxed share. It's a measure of farmers' marketing sense that we continually find ways to increase the appeal of our products, yet it's possible that in the near future people may again find themselves becoming curious about what it's like to be on the farm that produces these wonderful boxes of food.
The shifting trends in local agriculture underscore the power of Louise Hatheway's vision in donating Drumlin Farm to Mass Audubon almost sixty years ago now. Before anyone had heard of a CSA, she believed in the value of being present on a working farm and experiencing people and animals producing food. I was thinking about this as Karen Stein, Lana Cannon and I were out on the walkway selling freshly harvested vegetables and Drumlin Farm CSA shares on Sunday. Hundreds and hundreds of people streamed past, picnicked on the lawn, met up for a tour of the Wildlife Care building, wandered into the Crossroads Barn, and yes, even bought a few CSA shares, all because Louise Hatheway foresaw a need for a place like this and because Mass Audubon continues to support that vision.
We are two weeks away now from our first CSA distribution on June 4, and we still have shares available. The Drumlin Farm CSA is a great choice for those who cook often and like to preserve and share food. It's likely that a share will provide you with an abundance of produce, especially in August and September.  Although it is a founding principle of CSAs that members share the risks and rewards of the farming season, for the past ten years we have consistently provided 15-20% returns over the cost of a share as measured by the retail value of the produce distributed to each member.
Register today for a CSA share with Drumlin Farm. We would love to have you as part of our farm community. If you are already a CSA member, thanks so much for your support! Word-of-mouth is our most effective advertising, so please share this with friends, family, and anyone you know who will enjoy fresh produce throughout the harvest season.
-Matt Celona is the Crops Manager at Drumlin Farm
This slideshow requires JavaScript.