As we wrap up w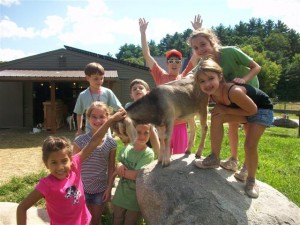 hat little there was of the spring and welcome the onset of summer, Drumlin Farm starts to transform. You may have noticed that there are not many family programs in July and August. Yet, the farm will buzz with activity as 200 kids come each weekday to work in the fields, take nature walks, get up-close to wildlife, participate in farm chores, and play games.
What's the reason for all the excitement and commotion? Summer camp, of course! This is a wonderful season when kids finally have a chance to step away from school work and electronic devices to go outside, get dirty, explore nature, and just be kids.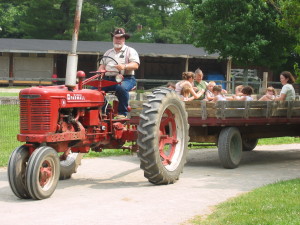 What does this mean for the everyday visitor? We may not have as many preregistered programs, but there will still be plenty to see and do all summer long. Our teacher naturalists provide hands-on programming related to wildlife, farming, and the environment each day. On weekdays you can join these drop-in programs at 10 am and 11:30 am and, on weekends, another program is offered at 2:30 pm.
If you're not sure you want a program, ask for a scavenger hunt when you arrive, check to see if hayrides are running, or take a walk on one of our trails to look for wildlife!
And if you're still looking for an open summer camp for your kids, we have space available at our satellite camp locations: Assabet River National Wildlife Refuge and Wolbach Farm!