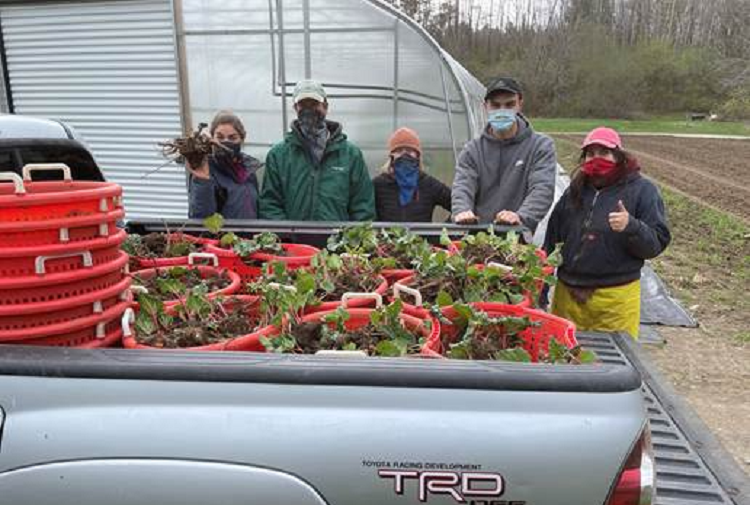 Say "hello" to this year's Assistant Growers: Caroline Bowes, Sean Moriarty, Jill Banach, Greg Suplinskas, and Elizabeth Ventura. Caroline recently graduated from Hofstra where she studied sustainability; Sean is entering his second year of farming, having spent last season in the Berkshires at Square Roots Farm; Greg most recently worked as a research technician at Children's Hospital in Philly where he also volunteered at a community garden focused on providing work opportunities for adults with disabilities; and Elizabeth has been a beekeeper with Boston's Best Bees for the past three years. As a community, we're depending on them to apply their many talents to growing and marketing our food, and we're equally committed to supporting and teaching them.
And we're off to a good start. We started planting onions on Tuesday of this past week, and by Friday, we were halfway done with this enormous job. On Thursday, we moved most of the old, overgrown rhubarb patch to its new location near the hoophouse. We had fun undercutting the old plants and separating the roots so as to expand the patch. Yesterday's rain is helping the plants get re-established. All this prep to get ready for the 2021 CSA season, which kicks off May 19!
The team is coming up to speed quickly thanks in large part to Jill's help in training them. Jill has been at Drumlin for the better part of four seasons and is deeply familiar with our marketing and farming strategies. Over the winter and spring, Jill has been writing down procedures and organizing documents to help teach her successors. Wednesday of this week will be her last day with us before she heads out to a farm near the Olympic National Forest in Washington state. We know she will succeed there because she has greatly improved all that she has attended to here. Thank you, Jill, and best wishes! What a pleasure it's been farming with you!
As a parting note, she's written to our community:
"With each change of season, I appreciate more aspects of farming than the year before. Thanks to Matt and many others, I have learned more about crop production and soil health than I ever would have imagined. This spring, however, I have been especially thankful for all of the people that Drumlin has connected me to and for the conversations we've shared. The new crew of assistant growers and field workers is no exception! Their collective excitement is energizing, and I look forward to hearing about all of the successes of the upcoming season." 
Your Farmers