The Fall CSA farm share program is fast approaching and begins Wednesday, September 11. Get your share of fall favorites, end-of-summer delights, and flavorful greens to enjoy Drumlin Farm produce throughout the fall. Register online today!
---
We had a chill 46 numbing degrees for this morning's restaurant harvest! Thankfully, the sun came up fairly quickly to thaw us out. It's dry in the fields after two weeks without significant rainfall. Greens are germinating more slowly now with only morning dew to get them going, but established plants seem to be enjoying the dry conditions. Cucumbers and melons, which often suffer from foliar diseases this late in the summer, look healthy and continue to produce lots of delicious fruit. But rain is predicted for tomorrow night, and we need to seed cover crop on the next set of fields to take advantage of the potential free irrigation. We've been plowing and raking fields where we've finished cropping for the season in order to prepare them to receive cover crop seed.
With the smaller Crops Team after end-of-summer departures, Monday's pre-harvest is the key to a successful Tuesday restaurant run. Many thanks to Maddie and volunteers Anne and Francesca for picking twenty pounds of string beans and eighty pounds of cherry tomatoes yesterday afternoon. That was a good start towards finishing this morning's mega harvest for 15 different chefs. Our availability list for this week has over 60 individual items on it, so it's a complicated process in the wash station distributing all that variety to so many accounts. The team has come up with many nifty organizational strategies to streamline all aspects of our work with chefs (pictures below). But then there's still lots of old-fashioned pointing and shouting out directions, which is part of the fun and thrill of crops teamwork, deadlines, and getting more done in less amount of time than we thought possible.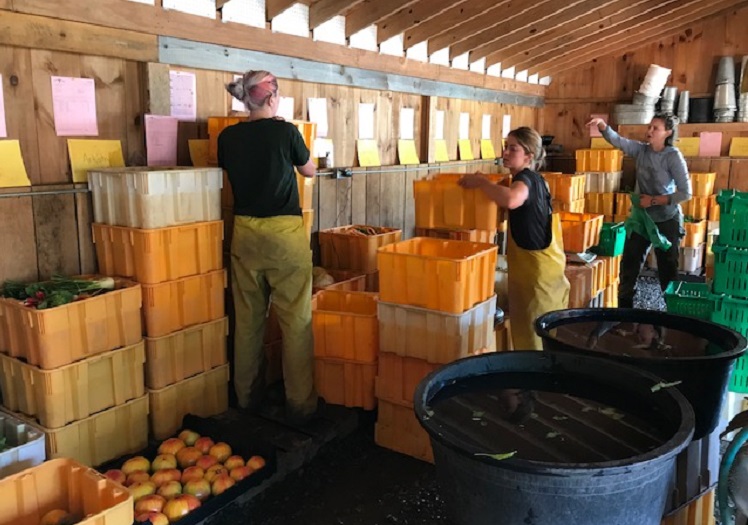 While we're working on restaurant work, we're also separating out the produce that needs to go to the farm stand. This morning, Veronica and Kari, with unexpected and welcome help from Maricella, displayed beautiful cantaloupe, watermelons and tomatoes at the stand. We're just now starting to pick from the second succession of peppers, tomatoes and melons. So as the first successions begin to decline, the quality of produce should remain high into the fall.
See you in the field,
Your Farmers