Saturday's Nor'easter shut down the farmers' market and gifted us a real weekend. We learned about the market cancellation on Friday, and so made use of the hours normally spent harvesting to finish planting next year's garlic crop. We'll try to mulch the patch with straw tomorrow afternoon and early Thursday before the next round of rain arrives. The mulch will even out extremes of temperature over the winter and hopefully will prevent weed growth next spring. There's an art to spreading straw: too thick, and it smothers the garlic; too thin, and the weeds come charging through; just right, and come May all you see is neat rows of green garlic on a field of straw.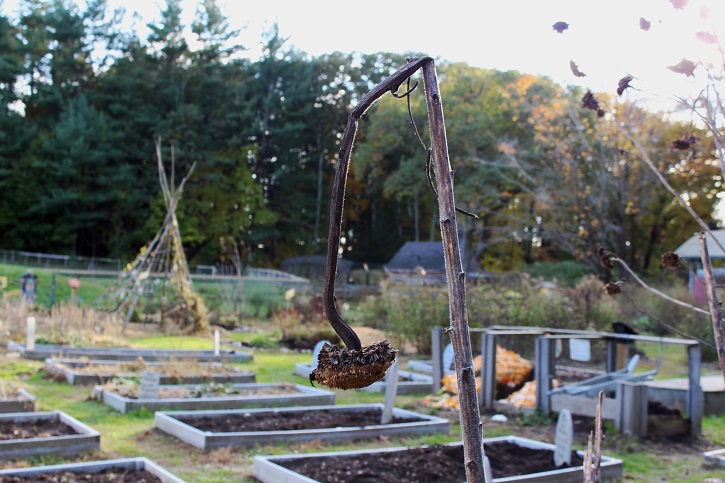 Today and tomorrow are the last times we'll set up the farmstand for the season, so be sure to stock up on onions, potatoes, carrots, cabbage, squash and sweet potatoes. We will be distributing fall CSA shares twice more after tomorrow on November 7 and 14. We may move those last two distributions to the Green Barn depending on the weather, so keep an eye out for any announcements in your newsletters. Although we no longer have a winter CSA program, we're excited to start attending the Wayland Winter Market at Russell's Garden Center. We'll be there on January 19 for the first time, then twice more in February and twice again in March. We're starting to plan our microgreen and pea tendril seeding schedule so that we'll have something verdant to bring to market in addition to our usual root crops, onions and garlic.
With the CSA season winding down, be sure to check out our other fun food education programs to continue the farm-to-table connection and learn more cooking skills. Sourdough Breadmaking and Simple Cheesemaking are favorites for adults, while Crow Brings the Corn and The Gingerbread Man are perfect to bring the kids along.
See You in the Fields,
Your Farmers