After four days in the 80's with no rain last week, so we're grateful for today's cool and wet weather. We had been trying to stay out of the greenhouse on hot days, but by the end of last week, we had fallen more than a week behind schedule on indoor work—a problem considering most of our successional seedings are separated by 14 days. On Friday, despite the temperature being over 90 in the greenhouse, volunteers Francesca, Sheila, and Sandra breathed shallowly and repotted the second succession of tomato seedlings—1,000 plants in need of more room to grow. And on Saturday morning, the Crops team seeded over 70 flats in the muggy heat. Nice work powering through, all! We're caught-up for the moment with only one large-scale greenhouse seeding project left for the season—40 flats of pumpkins scheduled for later this week. We'll be moving 50 flats of winter squash out to the cold frame to make way for those pumpkins.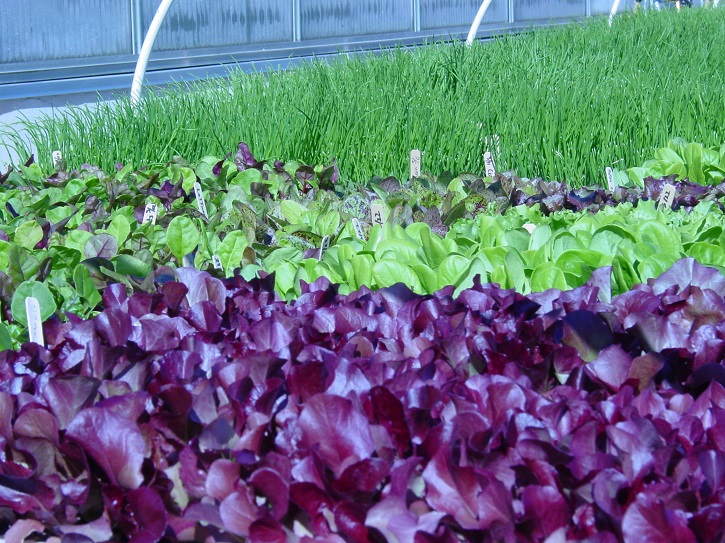 This procession of plants from greenhouse, to cold frame, to field, is our focus in May and June. All this transplanting and seeding is like laying hemlock boughs on a pyramidal bonfire—for a moment you see only smoke (radishes?), then the core grows hotter and becomes a mountain of flame—summer's harvest. And toward that end, last week we transplanted cantaloupe, watermelon, the second round of sweet corn and cauliflower, and the popcorn we'll be harvesting come October. We were helped with this from four master gardener volunteers on Tuesday and four community volunteers on Saturday. Volunteers also helped us weed in the onions—fifteen beds down with one to go! Thanks to all for helping us establish and maintain the plantings. Many crops are faring well this spring, but we are seeing more damage from leafminers in chard, beets and spinach than in any previous year. You can view the latest newsletter from May 24 2018 Vegetable Notes for more information about this and other pests. Next spring, we'll have to consider covering those crops in addition to the onions and greens we already protect.
This coming Saturday, as part of the celebration marking the opening of the Environmental Learning Center, we'll stock the farmstand for the first time this season. Stop envying those savvy spring CSA members and come get your own! Or, register for our Summer CSA and get regular, quality produce every week!
Your Farmers