Have you registered for a Summer CSA program yet? Will we see you at Strawberry Day?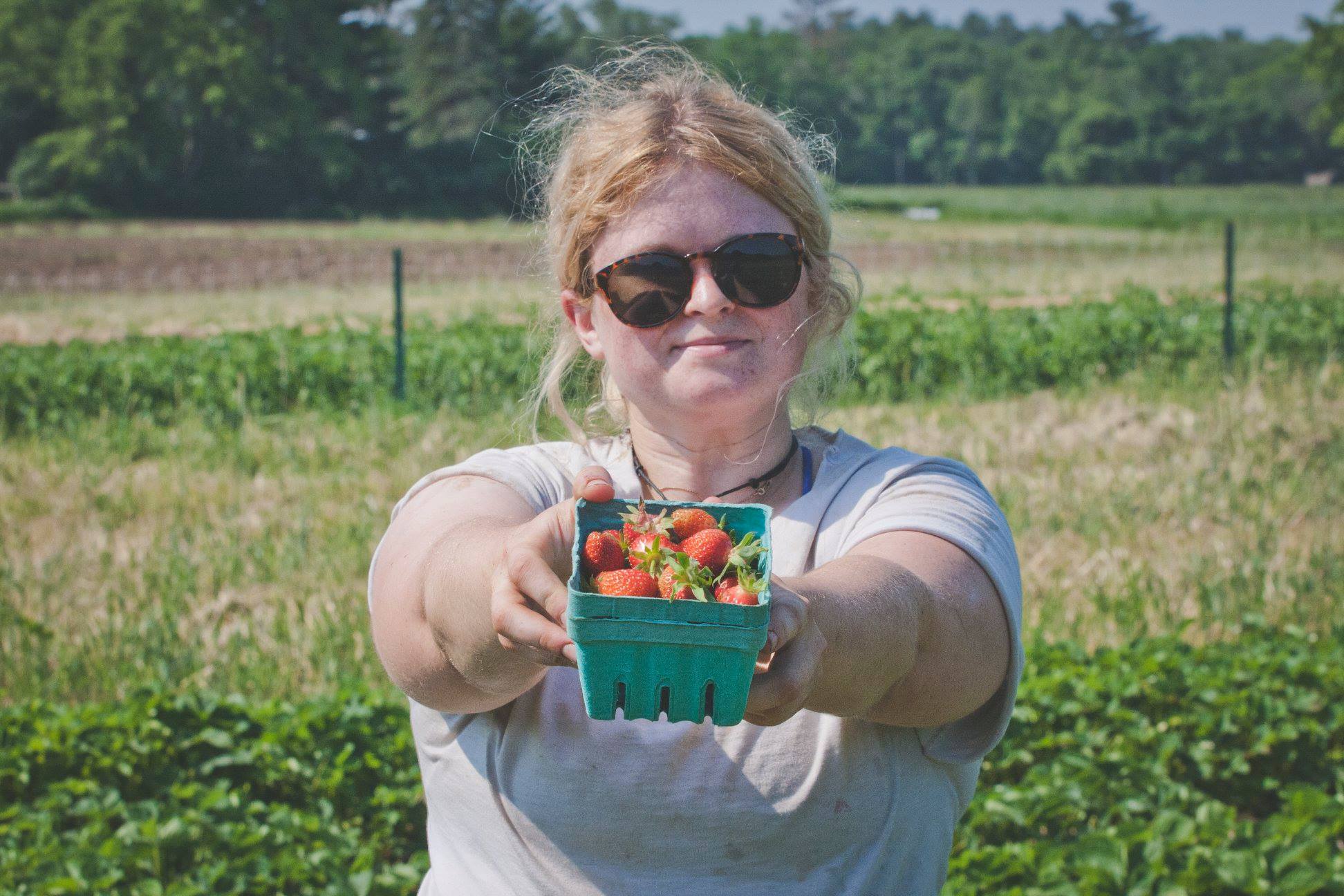 Last night, CSA coordinator Veronica Gassert hosted a gathering where CSA members and farmers met and exchanged ideas. Nearly all agreed on the value of eating freshly harvested food in alignment with the seasons as a motivation for joining the program. By eating locally and with the seasons, you're reducing the environmental costs that come with having your food travel thousands of miles to you. Many expressed interest in having access to more recipes and kitchen strategies for making better use of the bounty. Some noteworthy suggestions also included having a program where a chef teaches others how to use the various crops in their share; providing a recipe tab on the website organized by seasons; providing a forum, or in some way incentivize the sharing of cooking tips and tricks amongst CSA members. Along those lines, I shared my own tip and favorite way to prepare my CSA greens:
 Start cooking rice in a rice cooker.

While the rice is cooking, make a dressing of you choice to jazz it up

Near the end, add in your greens (baby bok choi, broccoli raab, spinach–cram in a whole pound!)

Drizzle dressing onto your cooked rice and veggies. Eat this over the sink (no dishes!) while listening to the Red Sox (optional). Voila, caveman's dinner!
While that's jone way to expand time in the kitchen, while in the field, the time to accomplish tasks shrinks as hands multiply. On Tuesday, volunteers from Harvard Business School's IT department—many with a love of gardening and the outdoors—came to the fields despite a forecast for rain. All went well for about twenty minutes, but then it poured, and it wasn't warm. On the bright side, they were so happy to be out from behind their desks that they voted to work on. The fields eventually became muddy to the point where we had to stop planting cucumbers and switch to weeding strawberries up on the straw. The resulting patch looks great, bravo and thanks again to all! 
On Thursday morning, Emma and the Crops team oriented all the camp counselors to the fields and to the upcoming weed-outs. We then weeded in the carrots before picking strawberries to sell at the farmstand. Thank you, counselors, for your good work! On Thursday afternoon, volunteers from Goldman Sachs planted rosemary, scallions, and basil before weeding carrots. This is the second group this season to make a donation to fund our purchase of rosemary plants, and we have been selling all we can harvest to Iggy's Breads. Thank you Goldman Sachs volunteers for your good cheer and speedy work. On Friday morning, volunteers from Boston Scientific planted the dahlias they had helped us purchase, and then harvested four flats of strawberries (pictured below), all of which we sold the following day at market.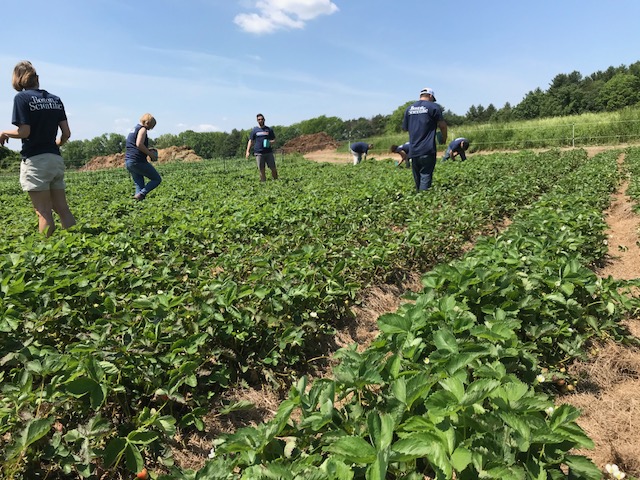 2,500 sweet potato slips arrived in the mail from Tennessee on Thursday, and because The Boston Scientific volunteers had helped us finish the strawberry harvest before noon, we had time after lunch to plant almost all of them. Ten volunteers from the community helped us finish the sweet potato job, put away row cover, and, of course weed, on Saturday afternoon.
In Dr. Who, the spaceship The Tardis, because of inter-dimensional stabilizers (wink!) is in two places at once, and simultaneously small and enormous. At Drumlin, a police-box of a week becomes as roomy as Versailles, not because of weird science, but because of what we do together. In one antechamber of the week, Andrew Kelliher and volunteer Fred Costanza put electric fencing around the strawberries to keep deer and turkeys out. In another, Sarah Lang and Sarah Stockdale delivered veggies to our newest restaurant account, Eataly, in the Prudential Center.
There are two distributions remaining in the spring CSA, but the fun doesn't have to end. The summer CSA program begins on June 27th and it's not too late to join. With the summer brings options for Pick Your Own, Full and Half Shares, Flower Shares, perfect for enjoying the warm sunny season! You'll find strawberries at the stand this week, with a broader variety of veggies becoming available this weekend. On Saturday, June 16th we'll also be celebrating Strawberry Day on the farm, where you'll have the opportunity to pick your own strawberries (while supplies last!) and take part in special activities throughout the farm.
Your Farmers