It's predicted to be in the 30s by early Thursday, and so we are in harvesting high gear trying to maximize 2019 yields before frost. This past Thursday, we finished the restaurant harvest just as a group of Lexington Christian Academy freshmen were arriving to help with the squash harvest. We had clipped several beds of butternut squash the previous afternoon, so they started by crating and loading them onto a truck. Next, we transplanted the last 1,600 lettuce seedlings of the year before weeding through two beds of collards. Then we handed out clippers, and the students and chaperones cut, crated and loaded acorn and more butternut squash—over 2,500 pounds of it!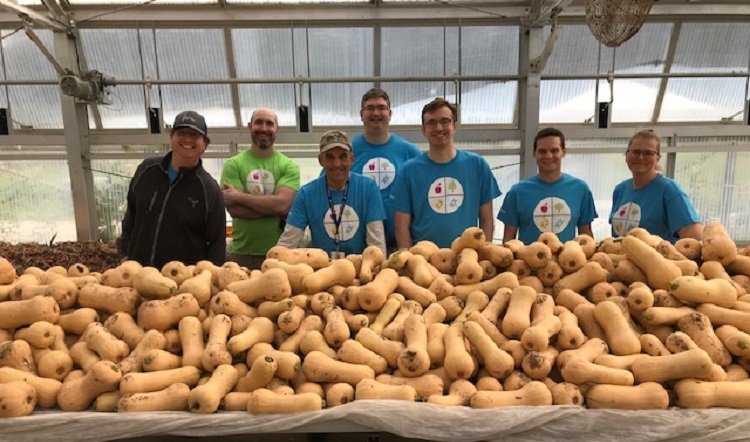 That afternoon, a large group of volunteers from Perkin Elmer started by unloading all that squash into the greenhouse—we made a long bucket brigade and passed each crate from person to person, from the truck bed to the greenhouse bench. We then headed to the field where half of the volunteers harvested, loaded, and then unloaded an additional 5,000 pounds of butternut squash. The other half of the group harvested beans, tomatoes and husk cherries for Saturday's market. What an amazing day! Thanks all for working hard and accomplishing so much.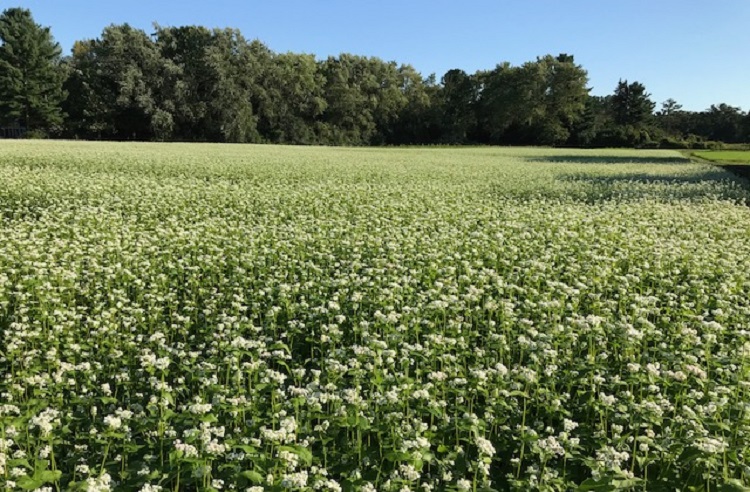 On Saturday, volunteers from Boston College School of Theology arrived just as it started to pour. Improvising, we took shelter in the greenhouse where we worked on topping onions for an hour. We still have more to do, but we made enough space to bring in some mini-pumpkins later that day. We were disappointed to discover a lot of rot in the pumpkin patch, but it looks like this is going to be where we experience the down side of what has been a very wet growing season. On the positive side, brassicas and cover crops have been loving the rain. The buckwheat is in full flower, and those sections of the field look snow-covered (pictured above). The second successions of tomatoes, melons, and watermelons are still producing well; come to the stand today to get yours.
See you in the field,
Your Farmers