This Wednesday, the weather was very fair for a winter day. The gales of the New Year that buffeted us marvelously at Andrews Point on January 1 had died completely. Dave Weaver and I led the group to Salisbury Beach State Reservation for a start. From the boat ramp it was nice to see a greater number of American Goldeneyes and Long-tailed Ducks than there had been in previous weeks, but we still do not have the usual numbers of the wintering population on the river. There were some White-winged Scoters on the river, as well, and a few Common Loons out there too.
After enjoying a forest of yellow-green legs of the Ring-billed Gulls in the jetty parking lot, we scanned more birds on the almost glassy river. Then Dave Weaver said something I love to hear. He very quietly asked me to take a look at a bird in his scope. That means it might be a very interesting bird. Yes. There was a loon with a shorter, pointier bill than a Common Loon, and with what we thought looked like the "chin strap" of a Pacific Loon. It appeared smaller than an obvious Common Loon nearby. But this is a genuinely rare and difficult to identify species. I have since learned that I was not clear on how tricky it can be. Fortunately for us, our skilled photographers sent data, and we sent images to the top experts. The E-bird reviewer said no. Dave Larson leaned toward PALO with one image, but not with additional ones. I sent images to someone who knows someone, and got this response from David Sibley:
"It's not a Pacific Loon, sorry. It does look small-billed, and some other things like dark face suggest Pacific, but that may be just the lighting. It's a common trap that catches a lot of experienced birders, even more in the spring and summer when the immature birds are worn. I look for details of neck pattern to confirm.
Points for Common Loon:
– the white triangle extending toward the back of the neck just below the head
– the dark triangle extending toward the front of the neck just below that
– the lower mandible has a distinct upward angle
– the flapping photo shows pale around the eye
– the small "knob" on the forehead making the head sort of square-topped"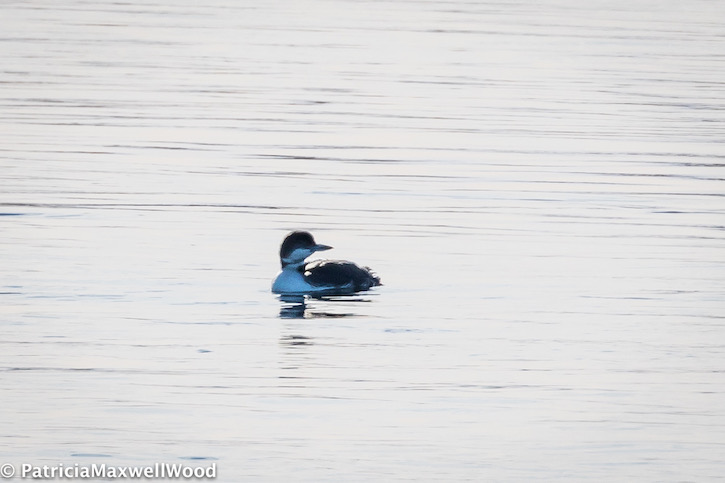 How kind of our preeminent friend to share his expertise! So this week I/we discovered a new birding frontier: "seeing" Pacific Loon. I remember the one that was off Cathedral Ledge last year or the year before, tossed in waves and bitter wind, subtle marks, not appearing very definite… So pick your species to learn, and learn it without worrying how long it takes. The loon we found on Wednesday definitely warranted attention, but presumably has all the DNA of the Common Loon, not its "cousin." Photos taken by skilled people with excellent equipment show things that may not easily appear in binoculars or even spotting scopes. The wonderful thing about this process of learning is that the more we discover, the more infinite birds become, and any struggle is rewarded a thousand fold, just by the joy of looking.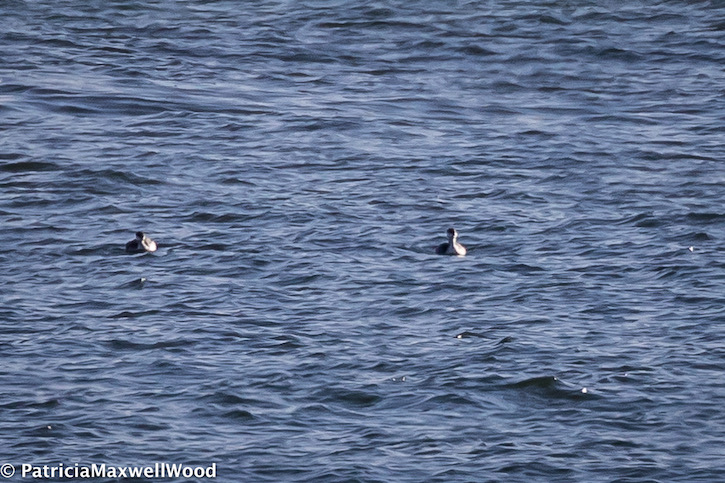 The next place we wanted to get to was Emerson Rocks, which is about as long a drive as one might make on WMB. We stopped along the road in Parker River NWR for a perched Red-tailed Hawk , and to enjoy acrobatic hovering of a light-phase Rough Legged Hawk at Cross Farm Hill. Then it was on up to the beach platform to look for either of two King Eiders that have been seen there among the other seabirds. Emerson Rocks is a tiny scrap of "rocky coast" habitat for Plum Island, not bedrock, but a pile of big stones left by the scouring of a glacial drumlin by ocean waves, great and small. Its a good spot for diversity on Plum Island, and there he was, a drake King Eider, out with many Common Eiders. There were horned grebes aplenty, scant White-winged Scoters, and many more Black Scoters than we usually see at Plum Island, as has been the case all this fall and winter. Still an absence of Red-throated Loons, though. So we did have at least one rarity for the day, and enjoyed thinking for a time we had found two.
Passing Cross Farm Hill, the Rough-legged Hawk that performed earlier was perched in the trees on the south side. Check that spot! Sparrows indiscernible to occupants of a passing vehicle skittered in the thickets in front of us, but we pushed on toward home, enjoying glimpses of Northern Harriers that can be expected but that always are thrilling in their acrobatic energy. 2019 is off to a great start, and we look forward to many more Wednesdays.
Our list:
Salisbury —
Canada Goose – common [with several hundred along the river's edge
between the education center and beyond the clam shack].
Gadwall (1) – Salisbury boat ramp.
American Black Duck – common.
Common Eider – common.
White-winged Scoter (~ 8)
Black Scoter – common.
Long-tailed Duck – common.
Bufflehead (2)
Common Goldeneye (~ 12)
Red-breasted Merganser (5)
Common Loon (~ 5)
Horned Grebe (3)
Red-tailed Hawk (1)
Ring-billed Gull (~ 50) – mostly in jetty parking lot.
Herring Gull – common.
Great Black-backed Gull (~ 6)
Rock Pigeon
Blue Jay (4)
American Crow (4)
Northern Mockingbird (~ 6)
European Starling
American Tree Sparrow (4)
Northern Cardinal (2)
Plum Island —
Canada Goose – common.
American Black Duck – common.
KING EIDER (1) – seven ocean; male – subadult or full adult in process
of molting into definitive breeding plumage?
Common Eider – common.
White-winged Scoter (4) – seven ocean.
Black Scoter – common; seven ocean.
Long-tailed Duck – common; seven ocean.
Bufflehead (7) – 5, seven ocean; 2, Stage Island Pool.
Red-breasted Merganser (1) – Emerson Rocks.
Common Loon (1) – seven ocean.
Horned Grebe (6) – seven ocean.
Northern Harrier (2)
Red-tailed Hawk (2)
Rough-legged Hawk (1) – light morph; Cross Farm Hill.
Herring Gull – common.
Great Black-backed Gull (2) – seven beach.
Rock Pigeon (~ 40) – on utility wires n. refuge entrance.
American Robin (5)
Northern Mockingbird (4)
European Starling
Snow Bunting (~ 40) – seven beach.
American Tree Sparrow (2) – roadside between lots 1 & 2.