September 28, 2016
Canoe Meadows Wildlife Sanctuary, Pittsfield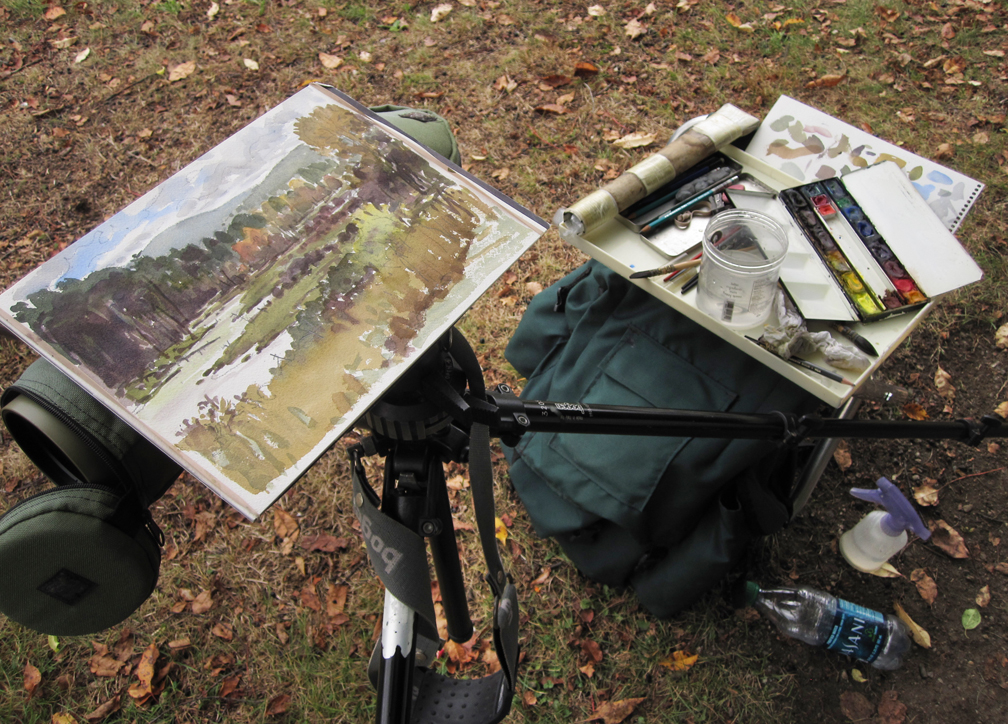 Arriving at a new sanctuary, the first thing I do is make a quick circuit of the immediate vicinity, noting the location of the trailheads and perusing the visitor's kiosk that describes the property and features a large color map.   At Canoe Meadows Wildlife Sanctuary, I am doing just that when I hear a shriek from the nearby bushes, and a hawk bursts out and sails away clutching a small bird.   It happens so quickly that I can't identify either the hawk or its prey, but I know that late September is prime time for migrating raptors, and I'll likely see more before the day is over.
The Carriage Road passes through an intriguing mix of wetlands and shrub swamps, where I encounter several families of wood ducks.  The young birds are well grown by this date, but their plumage is quite distinct from adults.   I puzzle over these plumages, finally concluding that these are ALL young birds – a mix of juvenal males and females.  I've read that the adults – in heavy molt at this time of year – are reclusive and seldom seen.  I map out these juvenal plumages in my sketchbook and later make a more detailed watercolor study.
The Sacred Way Trail follows the Housatonic River for a stretch, then skirts an oxbow pond left behind years ago by the meandering river.  It passes by an impressive beaver dam on Sackett Brook, then over a series of boardwalks through shrub swamp before returning to West Pond and the parking area.
A group of mallards are hanging out at the pond, but with them is a much smaller duck – a blue-winged teal!  I try to capture its gentle facial expression in my sketchbook, and struggle with a shorthand way to render the intricate pattern of chevrons along the flanks.  Every now and then the bird preens or flaps, and I get a glimpse of that lovely powder blue patch on the shoulder.
The view of West Pond from the meadow near the parking area is one of the nicest views on the property, so I set up to paint a landscape.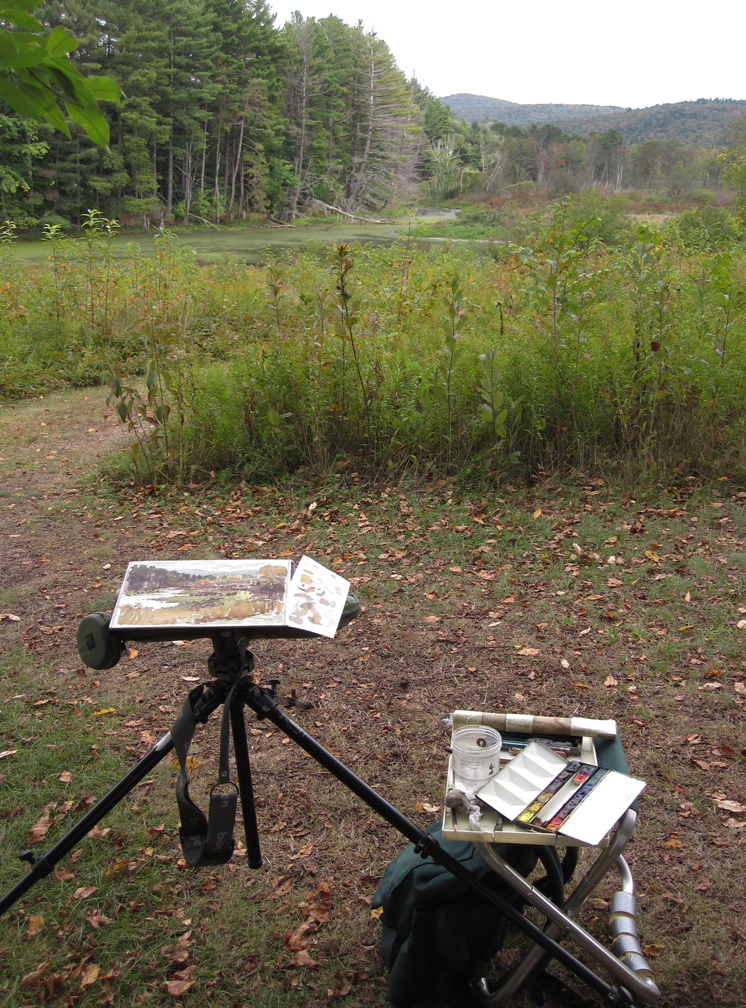 The skies are overcast, which brings out the autumnal colors, and the suppressed contrasts lend a softness to the scene.
As I'm packing up to leave, a hawk flies in and lands in a big poplar across the pond, which immediately raises a clamor among the neighborhood crows.  I train my scope on the bird and see that it's a Cooper's Hawk – a young bird (brown upperparts and fine streaking on the breast) with a lean, hungry look.  It strikes me as impossibly elongated or stretched out – like a figure painted by El Greco!   The bird is driven off by the crows several times, but each time it returns to perch in the big poplar.  It's that LEAN, HUNGRY look that I keep uppermost in mind as I develop its portrait.