Eagle Lake, Holden (revisited)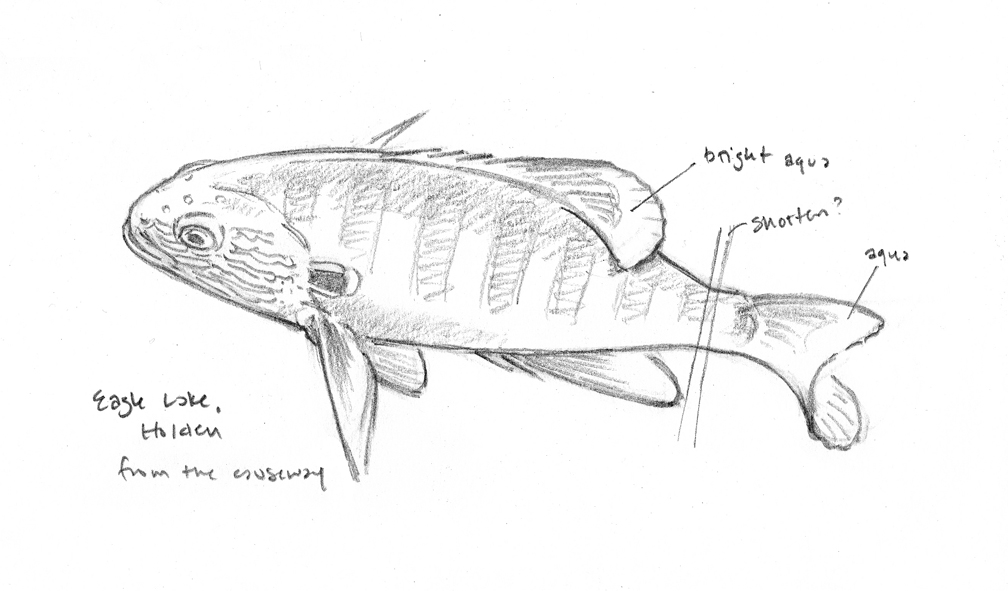 I spent my childhood in the Sebago Lakes region of southern Maine.  In summer, my brothers and I spent nearly all of our time IN or ON the water: boating, swimming, snorkeling, fishing – and fish-watching.  Some of my earliest memories are of times spent gazing into watery depths, spying on various piscine forms.
In November, we'd go on special fish-watching expeditions to the old fish hatchery on the Jordan River, where we could watch spawning landlocked salmon up the river from Sebago Lake.  More often, we'd simply lurk around the dock at my grandparents place on Panther Pond, watching the bluegills, pumpkinseeds, and an occasional largemouth bass defend their nests in the weedy shallows.
One behavior I find especially attractive is the way pumpkinseeds and bluegills wave their aqua blue fins as they guard their nest sites.  If an intruder draws too near, they give chase, then return to the nest and resume waving those fins.  I've come to think of them as "Fan Dancers".
I watched this same behavior when I visited Eagle Lake Wildlife Sanctuary in Holden, Massachusetts back in May, 2015.  I took some digital photos at that time and made a few quick sketches, but with the press of other subjects, never got around to doing anything more with them.  Winter in the studio is a good time to revisit these "lost opportunities", and the watercolors you see here are the result.