This is from a series of posts by MABA resident artist Barry Van Dusen

Drumlin Farm Wildlife Sanctuary, Lincoln on June 10, 2015
This is certainly the busiest sanctuary I've visited so far on my residency. At 9:30 a.m. the parking lots are nearly full and the place is hopping, with buses full of school children arriving for the morning programs and tours. I soon find, however, that most of the visitors are headed for the Farm Yard with all its animal exhibits, working farm, wildlife sanctuary and more. The trails up onto the drumlin are quiet and peaceful!
From the drumlin's summit (270 ft.), I'm captivated by the wonderful view down into the fields that dominate the southern end of the sanctuary. This is where the produce for the Drumlin Farm CSA is grown, and where other fields are set aside for wildlife. I get right to work on a watercolor, and as I'm painting I watch several groups of visitors touring the CSA operation. You can see one of these groups in the center right of my watercolor.
A watercolor like this is a study in greens – I think I've used nearly every green that it is possible to mix from the yellows and blues on my palette – which intentionally does not include any green pigments!  I've found most commercially available green pigments to be too artificial and raw, and I much prefer to mix all of my greens. Note the shift in temperature of these various greens – some very cool and bluish and others very warm and yellowish. These contrasts in color temperature are what make the painting come alive!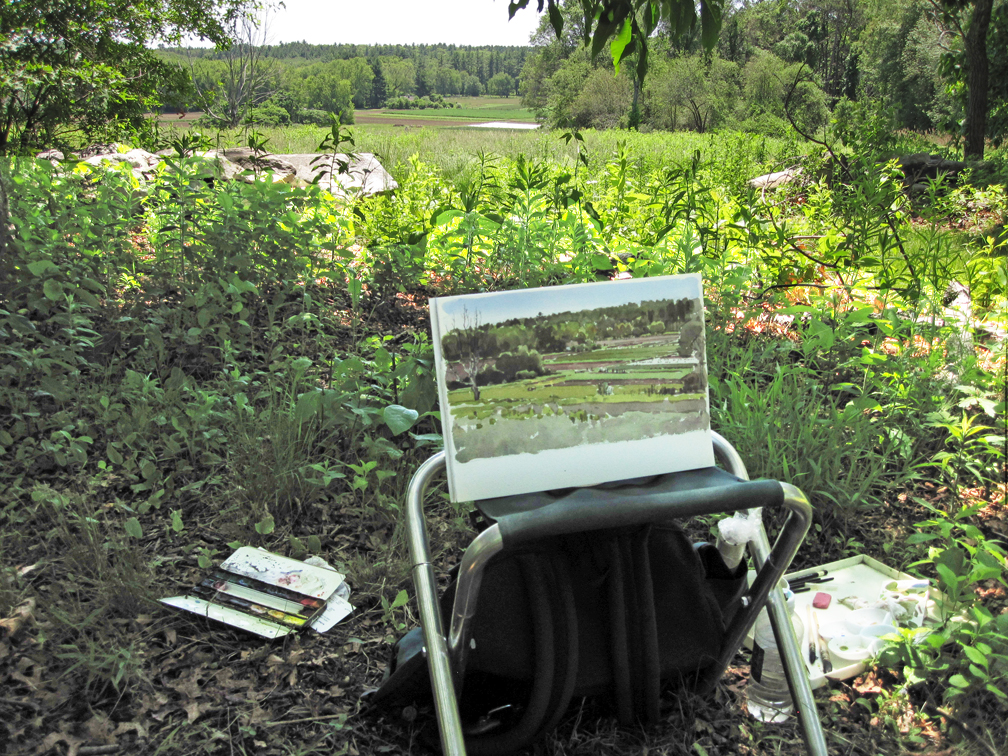 After lunch I'm back out on the trails, this time in search of birds. I linger by the big dead trees that stand in the middle of the WHIP Field. They are a magnet for birds, so I set up my scope and watch the parade. A kingbird, an oriole, tree swallows and a bluebird come and go, but the best models are a pair of red-winged blackbirds. They linger long enough for me to sketch and paint them.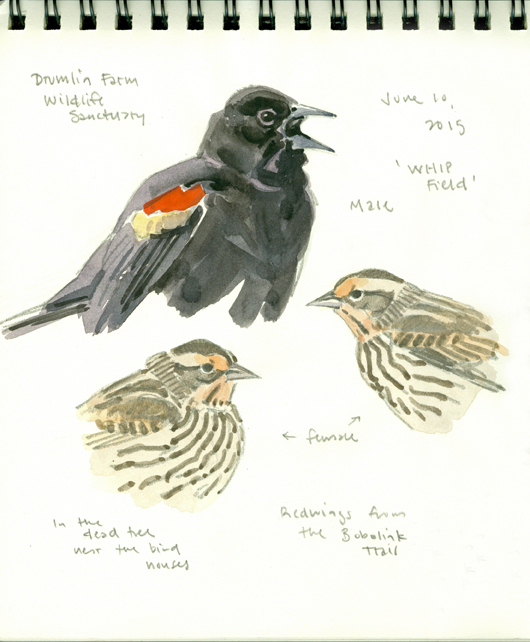 Back near the overflow parking area I notice movement in an unmowed area near the split rail fence, and find two females, and one male bobolink. The meadow here is a verdant tangle of vetch, milkweed, and a yellow-blossomed flower I can't identify. This mix of vegetation adds color and variety, and I take some digital photos of the plants to supplement my drawings of the birds. Back in the studio, I put together this larger watercolor using my field references.