Join Barry Van Dusen for a virtual live book launch of his new book Finding Sanctuary on June 24, 2020 at 7 pm. This is a free event.
Finding Sanctuary: An Artist Explores the Nature of Mass Audubon, written and illustrated by Barry Van Dusen, is a true treasure. It is the second book published by MABA. Amy Montague, the museum's director, knew she was embarking on a very special project when she invited Barry Van Dusen to be an Artist in Residence at MABA for a period of two years. Amy was well aware of Barry's great artistic talent, having seen his work for many years in Mass Audubon's renowned Sanctuary magazine. What she did not know was his gift for writing. This is the first book Barry has both written and illustrated, and it is a gem. The text is as remarkable as the artwork.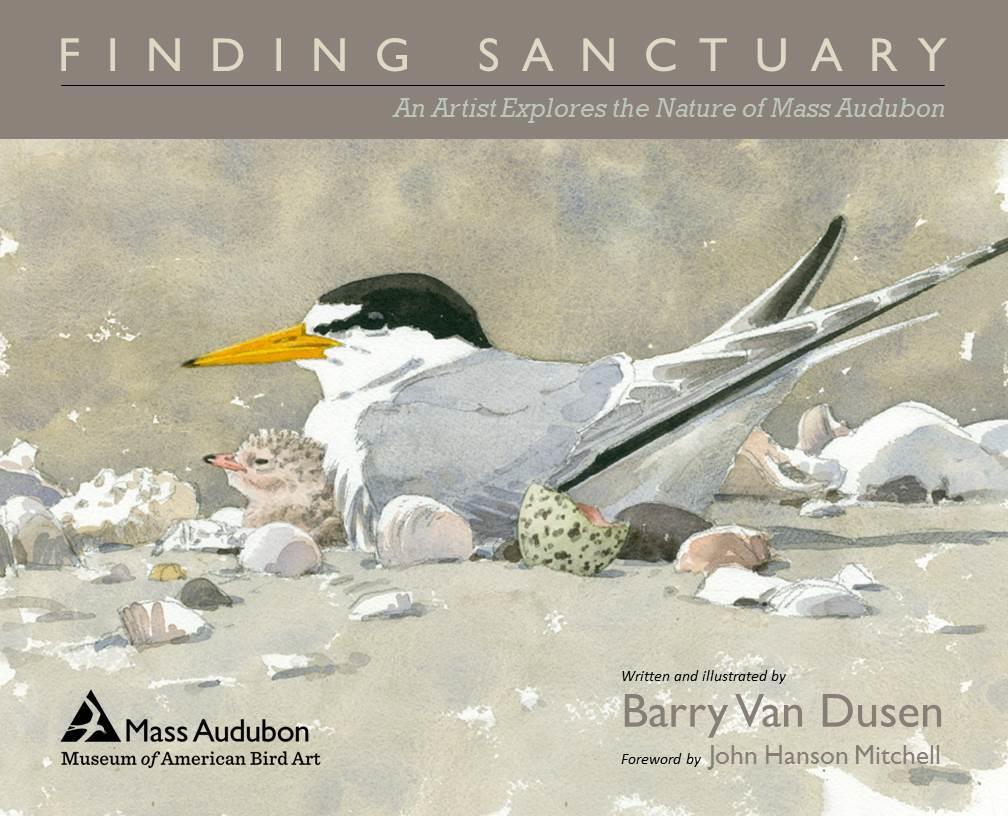 Barry's two year residency eventually stretched into a four and a half year endeavor, as he visited all sixty of Mass Audubon's sites: wildlife sanctuaries, nature centers, museums and nature camps. He worked under a wide variety of weather conditions, observing, sketching, taking notes and in some cases painting watercolors. Other works he painted in his studio in Central Massachusetts, utilizing his field notes, sketches and, perhaps most importantly, relying on his extraordinary visual memory. While working as MABA's resident artist, Barry submitted frequent blog entries which eventually were incorporated into his book.
The result is more than a record of his visits to Mass Audubon sites. It is a delightful experience for the reader to sense Barry's excitement as he contemplates what he might discover on an individual site visit, his appreciation for the beauty of nature and his ability to convey what he sees and feels in such an authentic, genuine way. Barry also explains in detail his artistic process which is of interest to the artist and non-artist alike. It shows his thorough preparation, years of study and practice and his openness to unexpected surprises. Barry's unique, impressionistic painting style captures his subject matter in a refreshing and engaging way.
Finding Sanctuary is a celebration of both Barry's writing and artistic talents as well as the diversity and natural beauty of Mass Audubon's properties. The book is available online through the Audubon Shop in Lincoln.
Our guest blogger, Ginnie Hibbard, is a longtime friend of MABA, a member of the Mass Audubon Council and MABA's Executive Advisory Committee.