This is from a series of posts by MABA resident artist Barry Van Dusen
Lake Wampanoag Wildlife Sanctuary, Gardner, MA on May 4th, 2015
If I had to pick out two iconic species to represent early spring in Central Massachusetts, I'd be hard pressed to do better than yellow-rumped warbler and red maple.  Today the "butterbutts" were murmuring all along the trails at Lake Wampanoag Wildlife Sanctuary in Gardner.  The red maple was in full bloom, adding gauzy golden and carmine washes to the landscape.  I'm told that the smaller deep red flowers are male, and the larger orangey or yellowish blossoms are females, with both sexes often occurring on the same tree.
The woods along the Moosewood Trail at Wampanoag have a distinctly Northern feel, with patches of balsam fir and spruce mixed in with the red maples and hemlocks. It's an unusual forest community for Central Massachusetts. I paused along the trail to draw a red spruce trunk heavily worked over by a pileated woodpecker.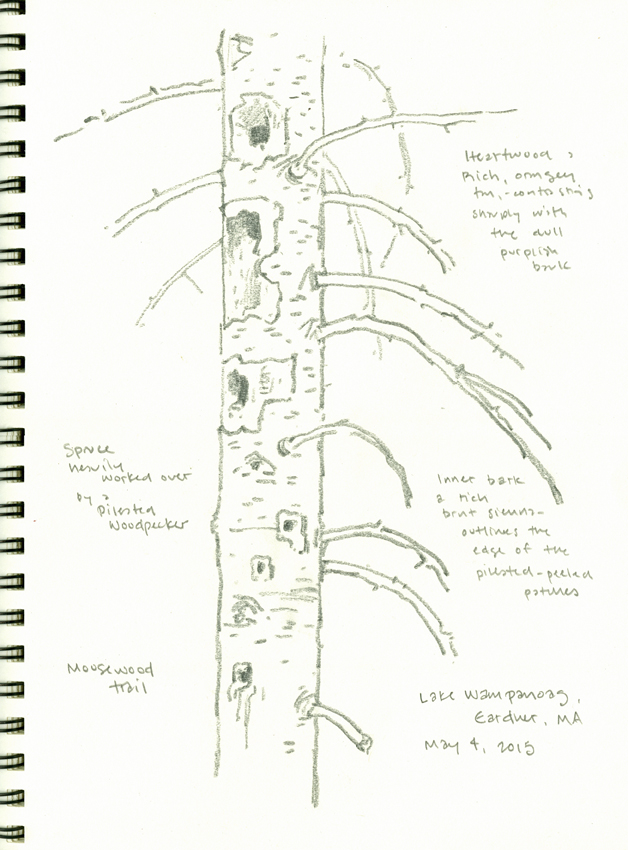 The square-sided excavations were recently made, with fresh wood chips littering the forest floor beneath the tree.  Black-throated Green warblers buzzed overhead, and the staccato song of a Northern Waterthrush drifted up from the pond shore.