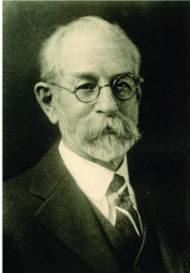 In ornithology, as in most disciplines, there are inevitably "giants" whose profiles stand taller than those of their peers.  Such a figure was Edward Howe Forbush, a prominent Massachusetts ornithologist living from 1858–1929.
Born in Quincy, most of Forbush's adult life was spent in Worcester in the county that today hosts a bird club bearing his name. Once established in Worcester, at the early age of 16 he was appointed Curator of Ornithology at the Worcester Natural History Society.
By the turn of the 20th century, Forbush's awareness and passion for the developing need for increased bird protection resulted in his appointment as Ornithologist to the Massachusetts State Board of Agriculture, where his duties included determining which bird species at that time were deemed detrimental or beneficial to agriculture. By 1896 he became one of the founders and supporters of the Massachusetts Audubon Society, and in 1908 he was named the first Massachusetts State Ornithologist.
As a lifelong champion of bird protection, Forbush ultimately undertook the project for which he is best known today: the publication of Birds of Massachusetts and Other New England States (1925-1929), a spectacular three-volume set of books magnificently illustrated by artist luminaries Louis Agassiz Fuertes and Major Allan Brooks.  In addition to their famous collection of paintings, the species accounts and accompanying essays about the birds in these books are still considered among the best ever compiled on the birds of Massachusetts.
Sadly Forbush never lived to personally complete his magnum opus, yet his many essays and species accounts about birds will forever linger on as richly informational and engaging accounts of the bird species found in the Commonwealth today. The world lost a true hero and a giant in the bird conservation movement with the passing of Edward Howe Forbush.
To get a glimpse of his essays on birds, look for our Warbler of the Week postings, which feature a quote from Forbush for each bird.
Can you spot the grey morph of the Screech Owl in the below Fuertes watercolor?
Please consider supporting our bird conservation work by making a donation today. Thank you!