Sounds like winter arrives tomorrow, so we're doing our best to bring in the last of the parsnips, leeks, and brussels sprouts before the thermometer hits the teens! Last week and yesterday, we finished the fall carrot harvest (pictured below), stacking over a ton into the root cellar. Jobs that remain include: mulching the strawberries, rhubarb, and perennial garden; stowing away equipment and preparing the wash station and Green Barn for winter; and seeding micro-greens and arugula in the greenhouse.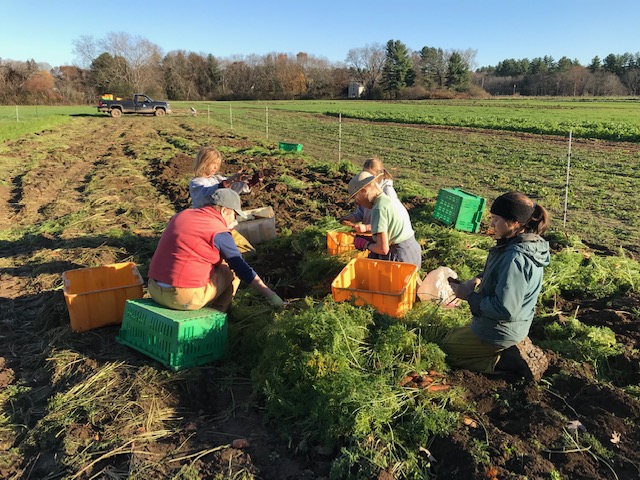 You may have also noticed pea tendrils already growing on heat mats in the greenhouse (pictured below). Volunteers Anne, Sheila and Francesca seeded those last week. Many thanks! The last Somerville market of the season is this coming this Saturday, and then we'll have a break before starting at the Wayland Winter Farmer's Market on Saturday, January 19. Tomorrow is the last fall CSA distribution of the year, and it's taking place in the Green Barn where we'll be happy to turn on the heat! We'll be stocking up on Thanksgiving essentials like carrots, potatoes, butternut squash, garlic and onions.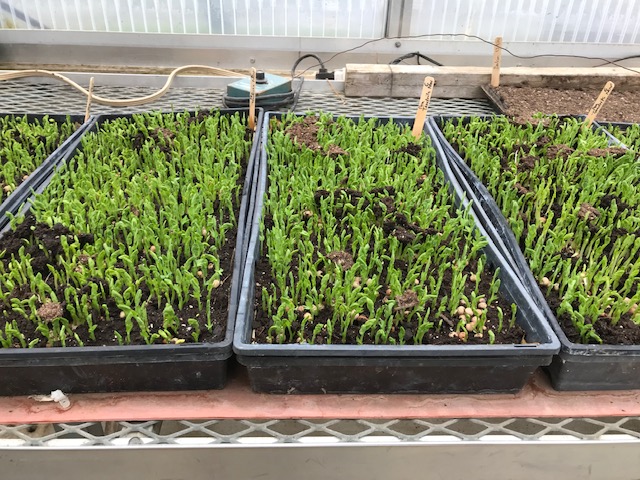 The fall's incessant rain brings to mind the House of Usher, and how it finally dissolved into the vaporous bog it was built on. In Poe's tale, it was the isolation of the family that led to its ruin and symbolic collapse. And while these days it feels as if the squishy ground could open and swallow all the farm's barns and buildings, our story is different because we're not alone. We have all of you to thank for supporting us through another successful growing season. Whether you worked in the field, sold produce to customers, shared the story of our farming methods with others, or cooked a meal with Drumlin ingredients, you took part and contributed to this solid community. We're thankful for you, and wish you the best during the holidays!
See you at our winter markets,
Your farmers