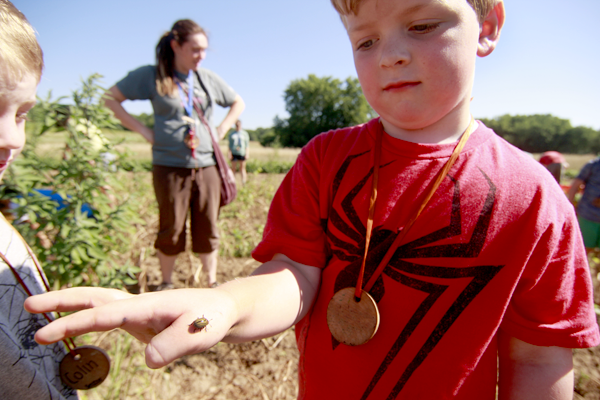 Potato Beetles: 1, Potatoes: 0
The potato plants are nearly gone now, having been entirely defoliated by the Colorado potato beetle. Much of the potato crop is still safe underground, but our yield may be smaller due to the early defoliation. Now the weeds are growing quickly with no competition from the crop, so it's a good thing today is Weed Out #2 at camp. The work of the campers will make harvesting potatoes much easier. Thanks to Emma, Cara, Katie, and the counselors for organizing the weeding in a very buggy field.
Other Plants in Danger of the Beetle
We noticed the potato beetles leaving the potato patch over the weekend in search of more food. They are now on every crop, with eggplant and tomatoes at high risk. We've spent hours over the past two days picking them off the eggplant as we wait for delivery of an organic pesticide: Mycotrol (made from the spores of Beauveria bassiana, a fungus). If it works, it will take several days for the fungus to multiply in the gut of the beetle. So we'll be picking beetles off eggplant, and possibly tomatoes, until we get control of the situation (or until we wave the white flag).
Where's the Rain?
Yesterday's thunderstorms went to the south and north of Lincoln. We saw beautiful lightning, but received no rainfall. About a quarter-inch of rain has fallen in the past week—helpful for direct-seeded crops, but not reaching the roots of established plants. Drumlin Farm's impressive soil keeps amazing us by producing healthy crops in these dry and dusty conditions. We put a lot of effort into building soil organic matter through fallowing fields and spreading compost. The organic matter holds what little moisture there is. We hope the plants can hang on until the fields get the soaking they need.
Volunteer Shoutouts
Last Friday, volunteers helped us harvest crops for Saturday's Union Square Farmers Market. They picked string beans, cucumbers and eggplant before digging all the potatoes for Wednesday's CSA distribution. Thanks also to the weekend farmstand volunteers who have sampled veggies and shared recipes to (hungry) curious visitors. Nice work, all!
See you in the field,
Your Farmers