Tuesday, May 19
At Drumlin, we don't irrigate crops out in the field, so we celebrate every time it rains. This Saturday night's loud storm watered-in our potatoes and the first sweet corn planting of the year. We were hoping for more rain on Monday, but no luck. We dry-planted the first round of cauliflower and cabbage on Saturday, so now we need to either water it in by hand, or trust that there's enough moisture in the soil to carry the plants through to the next rain—but there's none in the forecast.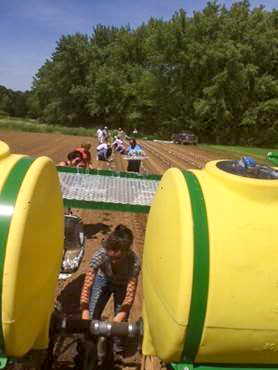 On our side is our system of soil-building practices: fallowing, cover-cropping, and spreading compost, all to build soil organic matter—the stuff that makes soil a sponge rather than a mere paper towel in terms of its water-holding capacity.
But it's time to start using the water-wheel transplanter in the way it was intended. Above, you can see the water wheel marking the bed with water-filled holes to receive pumpkin transplants. This picture was taken in June 2017, when we had a large volunteer group and no need for masks!
This spring, because we're missing the extra help of volunteers, we've been trying to save time by letting the rain do the work and skipping the step of filling the transplanter with water—it takes a while to fill, and then more time while running it for a dedicated person to clear the spikes of mud (that's what Veronica is doing in the above picture). But now that the reliable spring rains have ended, we'll need to invest more time in establishing crops. This week, we're planning to plant the first round of basil, summer squash, and broccoli, and, if the sweet potato slips arrive from NC, we'll plant those, too.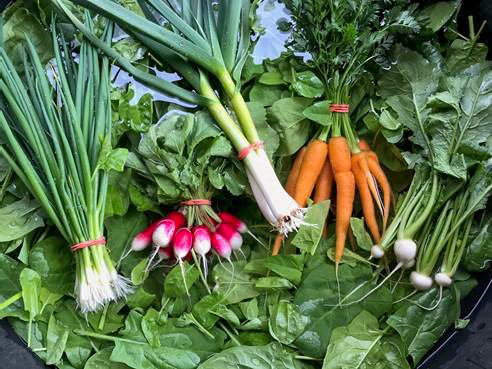 Some of what we'll be harvesting this week for market and CSA is pictured above. The carrots will be coming out of the hoop house, and all the way to the right, you can see the current size of one of our favorite springtime crops—Japanese salad turnips. They're about a week away from being ready to eat! The bunch of aliums in the middle of the picture is green garlic; it's just garlic pulled early, more mild in flavor than the mature bulb. Chop up as much of the stalk and leaves as possible and use it like a scallion.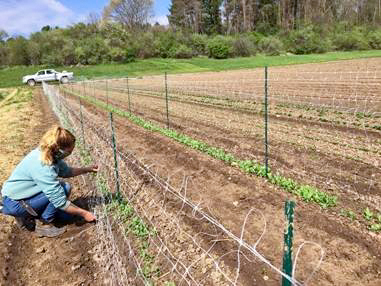 Because the opening of the Union Square market has been delayed until this coming Saturday, we had all of last Friday available for field work rather than a market harvest. We made good use of the time trellising and mulching peas. Above, you can see Margaret attaching the netting to the T-posts.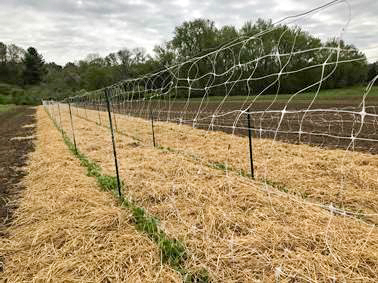 This is the first time we've ever mulched peas, but given that we won't have volunteer groups to help us control weeds, we decided to dedicate valuable straw to this crop that doesn't compete well with weeds. The straw will also help the soil stay cool and retain moisture—conditions pea roots love. And we'll certainly appreciate kneeling on the soft straw rather than the hard soil during the long pea harvests.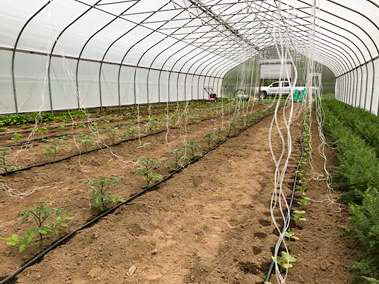 Also on Friday, in the hoophouse, we planted lunchbox peppers and husk cherries, and lowered the trellis lines down from the spools in preparation for clipping up tomatoes and cucumbers. It's truly an octopus' garden in there, or even a jelly fish heaven, as that other fab four, The Dead Milkmen, sang!  
Tuesday, May 26
The first Union Square market took place this past Saturday. The City of Somerville and the market managers had COVID-19 protocols in place and our team did an excellent job following them. In the above picture, you can see our masks, gloves, hand sanitizer, rope barrier, and plastic shields. What you can't see are our new touchless credit card readers from Square.
Thanks to Renata, Ryan, and Jill, we have a fabulous new web store for online purchases that also supports sales at the market. We're getting familiar with the new technology, but eventually, it should help us speed up transactions and keep better records there.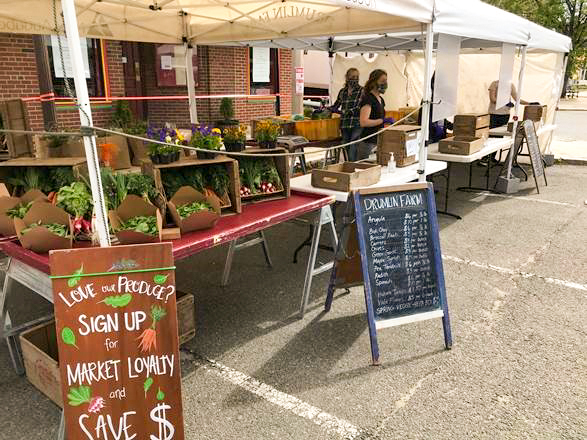 The produce you see on the display table was like the plastic sushi in a Japanese restaurant—only for the looking; we made up orders from bulk bins behind the registers. A policeman asked if the display produce was real. I thought he might be asking if it was for display only, but no, he thought it looked so pristine that it might be plastic! Kudos to the Crops team for producing bunches of radish, carrots, and turnips that even Plato would have had a hard time sorting into real and ideal.
The new market protocols radically limited the number of people who could enter the area at one time, and so we saw far fewer customers than usual. We had harvested large quantities thinking that pent-up demand might lead to a very busy day, but we returned to the farm with a lot of beautiful food.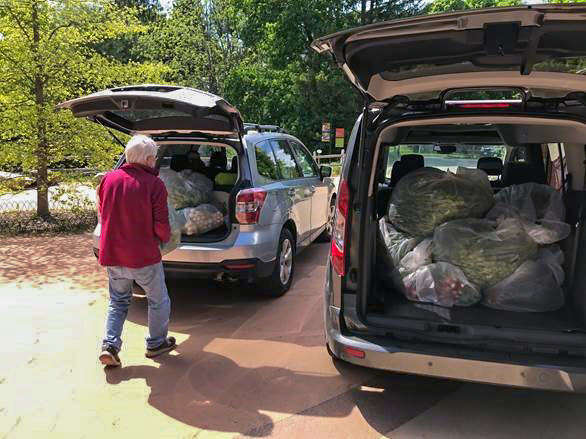 Thankfully, Concord Open Table—a long-term food donation partner of the farm—was able to bring all of the leftovers to various food pantries where they are seeing a big increase in demand. Above, you can see them filling two cars with all the food! This past week we were thrilled to learn of a generous contribution to our food donation program: matching gifts up to $25,000! Our community's response to those in need is a huge inspiration and motivation for the farm team.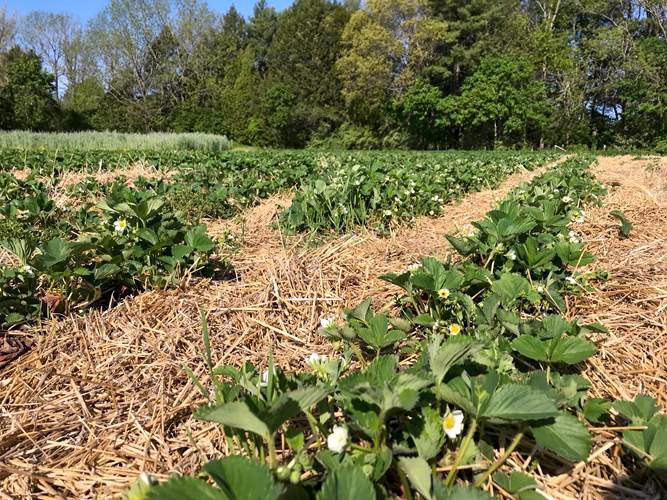 Out in the fields, it's time to plant the heat-loving crops. By the end of the week, we hope to have the tomatoes, peppers, eggplant, and sweet potatoes planted. The forecast is for showers on Friday, but this is a dry weather pattern that has us concerned. If it doesn't rain on Friday, that will be day 14 without appreciable precipitation. For now, plants look happy, and we expect to start harvesting lettuce heads, spinach, kale, cilantro, and scallions in the near future. Strawberries are flowering right now, and we're envisioning the sweet harvest in mid-June.
Your Farmers