It must have gotten close to freezing on Monday night in our ice bowl of a farm. The next round of basil out on the cold frame is mostly burned, and the tomatoes we planted on Friday afternoon have some darkened leaves on top.
Normally, in spring and fall, we look at the predicted nighttime low and subtract 10. That would have brought us to 33°F last night. At Drumlin, we're well aware that it can freeze any time in May, and as much as we'd like to submit a formal complaint to the weather gods—"But it was June starting at midnight!"—we'll just be grateful that it didn't get any colder.
Because we had already pushed our chips to the center of the table, in a sense gambling with our peppers, sweet potatoes, and tomatoes—all of which were in the ground by Saturday afternoon and covering way too much area to try to protect with row covers—and given all the planting work we need to do this week (corn, cantaloupe, watermelons and winter squash), we didn't want to delay any longer starting the process of getting the frost-sensitive plants in the ground.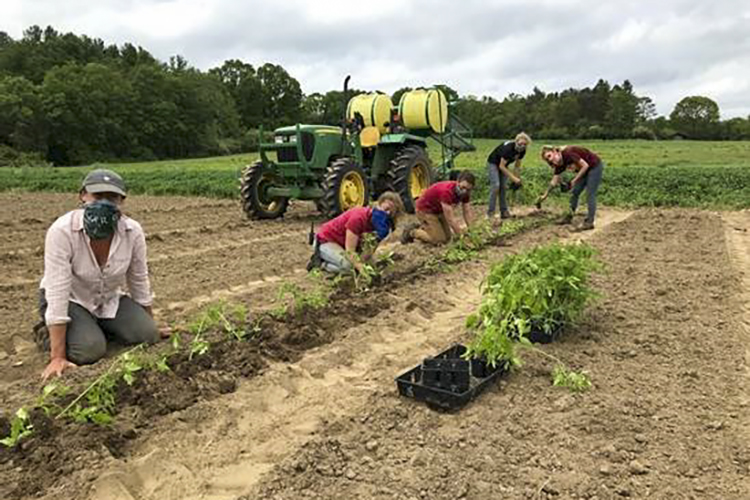 Above, you can see some of the Crops team planting the tomatoes this past Friday. From L to R, farm bandits: Nina Halty, Jill Banach, Jen Healy, Paige Taylor, and Margaret Hayes.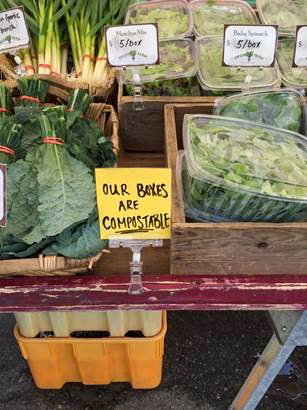 Many more people attended the Union Square market this past Saturday (hooray!), and instead of hauling lots of food back to the farm like last week, we mostly sold out of things. We are slowly figuring out a new approach to selling during the pandemic, and spent several hours on Friday pre-packaging the market greens. In the past, this is something volunteers would do in the back of the box truck or under the market tents as customers took cellophane bags of greens off the display tables.
Here, you can see part of the roped-off display Margaret and Jill put together this weekend. The kale, green garlic, and baby lettuce mix are some of the crops we'll be featuring this week.
Your Farmers