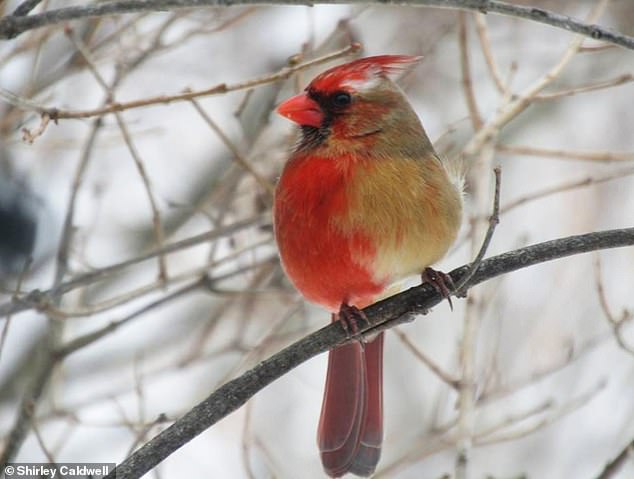 Sometimes Nature offers up anomalies that seemingly defy credibility. Such was the case when a striking Northern Cardinal showed up recently at a backyard bird feeder in Erie, Pennsylvania. In appearance the cardinal appeared to have the typical red plumage of a male on its right side, and the light buffy-brown plumage of a female on the left side. So what's the deal, you may ask?
This remarkable cardinal isn't quite as unusual as you might suppose. It is actually a classic example of a chimaera—also known as a bilateral gynandromorph. So what does this mean in everyday-speak? A little review of Biology 101 reminds us that in humans, males have one copy of each sex chromosome (i.e. X and Y) while females have two copies of the X sex chromosome. In birds, this scheme is a little different in that in birds the sex chromosomes are referred to as Z and W, and it's females that carry a single copy of the ZW chromosome, while males on the other hand have two of the ZZ chromosomes. Accordingly the cell nuclei of avian reproductive cells normally would possess only Z-carrying sperm cells in males, or Z or W-carrying egg cells in females.
Very rarely however, individuals occur where a female egg cell develops two nuclei — one with a Z sex chromosome and one with a W sex chromosome—and then gets fertilized twice by two Z-carrying male sperm cells. Clearly the odds of this happening are very low, but when it occurs, literally half of the double-fertilized product offspring will exhibit one set of gender characteristics while the other half will exhibit characteristics of the other gender. In the present instance, the right half of the Pennsylvania cardinal is exhibiting male features and the left side the features of a female. An ultramicroscopic examination of cells from the male half of this cardinal would reveal that it has a ZZ chromosome makeup, while cells from the female half would have a ZW makeup.
As if the circumstances described above are not improbable enough, the fact that the female (or left half) of the Pennsylvania cardinal has to be carrying both Z and W sex chromosomes, it's actually possible that the bird could become fertilized since in birds, only the left ovary is functional! And the most exciting news of all is that the Erie cardinal is currently keeping company with a normal male Northern Cardinal, and local ornithologists are carefully tracking the chimera to see if it successfully breeds and lays eggs. So stay tuned for what could prove to be another chapter of this remarkable circumstance.
In conclusion it should be pointed out that such genetic reproductive anomalies may not actually be as infrequent as they might seem, since unless a species is strongly sexually dimorphic (i.e., males and females with highly different-looking plumages), bilateral gynandromorphism may not be as readily detectable as it is in cardinals. As an example, check out the "half-sider" images of a Rose-breasted Grosbeak that briefly attended a Newbury, MA feeder in 2015. For a full account of this individual, see Bird Observer (Vol. 43, No. 5, 2015).  Additionally, bilateral gynandromorphism is not uncommon in certain insects, fish, and even rarely in mammals. So if nothing else, not only have you possibly learned some new scrabble words, you may also now know to be particularly careful when you think you're seeing double!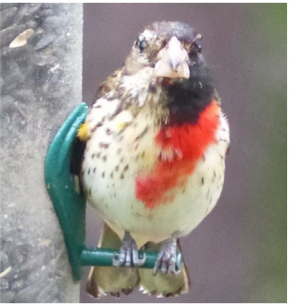 Note: This post has been updated to remove an anachronism.