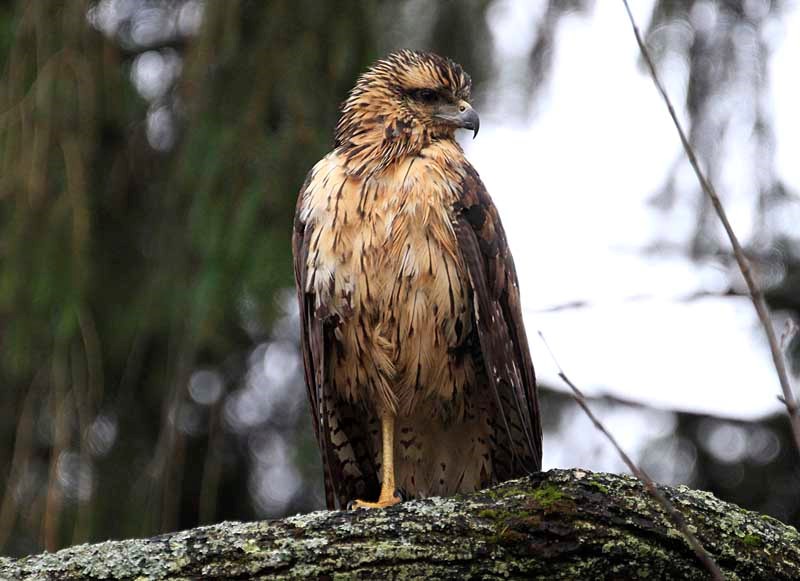 Black hawks are hefty, Buteo-like hawks not too distantly related to the widespread and familiar Red-tailed Hawk (Buteo jamaicensis). There are several species, but most common are the Common Black Hawk (Buteogallus anthracinus) that sparingly nests in the extreme southern portions of the southwestern U.S. south to northern South America, and the Great Black Hawk (Buteogallus urubitinga) that primarily breeds from coastal Mexico south through tropical South America. Both species feed on a variety of creatures including reptiles, amphibians, crayfish, crabs, small mammals, and occasionally even birds.  Both black hawks are relatively sedentary and neither species is a long-distance migrant.
With this information in mind, it understandably came as a mind-blowing surprise to several ecstatic birders who saw and definitively photographed for 20 minutes a juvenile Great Black Hawk on South Padre Island on the coast of Texas, April 24, 2018. But this is only the beginning of a saga!
Fast forward to August 6 in Biddeford, ME, where the same individual Great Black Hawk was again definitively photographed and the images were matched exactly to the April sighting in Texas. The hawk lingered in Biddeford until August 9 before once again disappearing, this time until October 29, when it showed up in Portland, ME! Only this time the elusive tropical raptor only stayed under cover until November 28 when it appeared in a different part of the city only two miles away.
Virtually as I write, this itinerant tropical raptor is still present in the vicinity of Deering Oaks Park, just west of downtown Portland where it has become headline news and is happily feeding on the plethora of gray squirrels inhabiting the urban park. What will be its ultimate fate when the snow flies and the inevitable cold becomes extreme may never be known….but for now, this has to be the Greatest Black Hawk of them all!