Fast on the heels of Bald Eagles' exciting return to Cape Cod, another iconic species of the north has recolonized Southeastern Massachusetts after more than a hundred years' hiatus. This summer, Common Loons are raising chicks in Plymouth County for the first time since at least 1872.
It started with an oil spill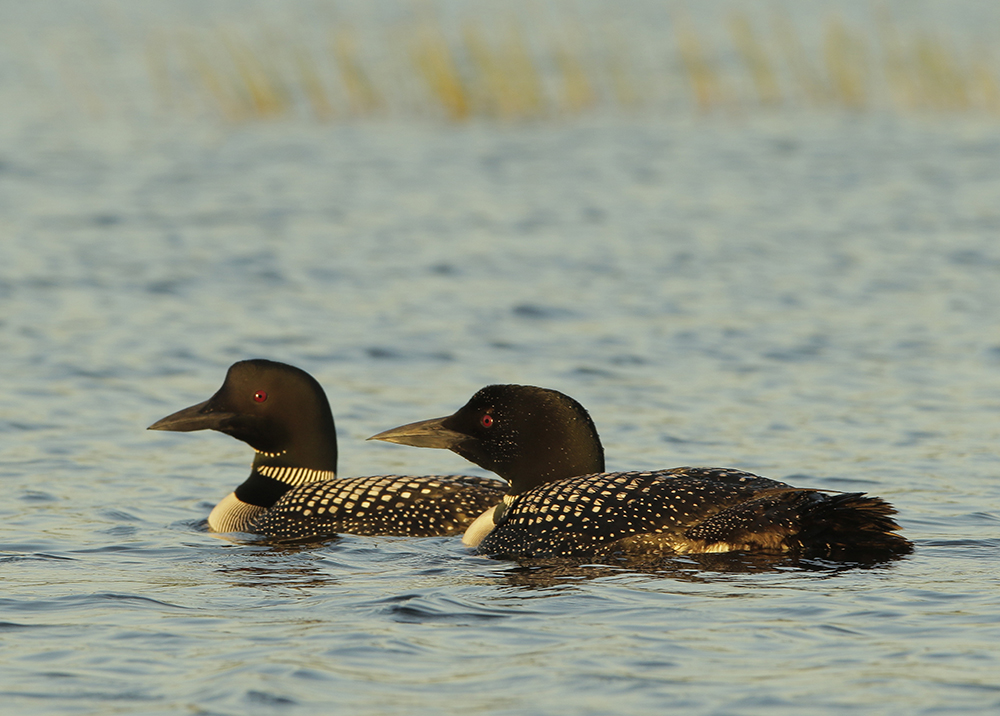 Loons used to be common in some of the deep, clear lakes of Plymouth County until the 19th century, when sport hunting and state-sponsored extermination programs removed them from the state entirely. While loons that breed in New Hampshire and Maine spend winters off the Massachusetts coast, it wasn't until 1975 that they started nesting here again. In fact, Massachusetts is the only state where loons have returned of their own volition, and they now number over 100 birds—but only in the north-central and western parts of the state.
Strong, proactive environmental laws are enabling loons' renewal to this part of their original range. The male of the Plymouth County pair arrived as part of a reintroduction program, funded by a legal settlement over a Buzzard's Bay oil spill.
In 2003, the population of overwintering loons in Buzzards Bay took a hit when an oil barge spilled 100,000 gallons of oil into the water after striking a rock. The spill killed over 1,000 marine birds (the total loss, accounting for those birds' future contributions to their populations, is closer to 20,000 birds).
Under the Oil Pollution Act of 1990, the barge company had to pay to clean up its mess. (At the time, the Migratory Bird Treaty Act also required that companies pay to restore any birds they accidentally killed, whether or not an oil spill was involved). Some of the funds went towards habitat protection, lead fishing tackle cleanups, and artificial nest sites in areas with existing populations. But there's no easy way to quickly replace 530 Common Loons, especially when it's not clear which breeding areas the dead birds came from.
So, the remainder of the funds went towards facilitating loons' return to places they had historically occupied by translocating "excess" birds from upstate New York and Maine. When loons have two chicks, one often outcompetes the other, which is less likely to survive—making the second chick a great candidate for captive rearing.
Giving loons a head start
Local loon reintroduction efforts formally began in 2015, when the Biodiversity Research Institute began raising loon chicks in captivity in partnership with state wildlife agencies. For the next few years, they managed to release around eight young-adult loons annually into unoccupied, good-quality habitat in Massachusetts.
The project's success would only become clear a few years later. Young loons don't breed until they reach several years of age, spending at least the first three years of their life at sea. The marine areas they use as juveniles continue to be their wintering grounds as lake-breeding adults.
While one of the (now fully-grown) male loons has returned to the Plymouth County lake where it was raised for the past couple of years, it was joined by a fully wild female in the spring of 2020. Their chick— the first of what will hopefully be many to come out of the translocation effort—was spotted a few weeks later.
Strong conservation laws yield results
In this case, loons' reintroduction into southeastern Massachusetts was part of a larger vision for restoring public resources—from fisheries, to swimming beaches, to migratory birds—after they were accidentally damaged by a private company.
But were the damage to bird populations not caused by an oil spill or other pollution that affected people's health, only the MBTA could have been used as a legal tool to require that a company make amends. Now, that framework is gone—and the current administration's decision may soon become difficult to overturn.
Birders have already observed several other loons from the reintroduction project at different sites across eastern Massachusetts. If you see a loon with a leg band, or on fresh water inside of route 495, let us know in the comments!