Even with most volunteer programs on hold for public health reasons, there's still a way to participate in bird-window collision monitoring from home.
The normal format of the Avian Collision Team (ACT) will not be possible this spring. Last year, ACT involved around 40 volunteers looked for dead or injured migrants along routes through Boston. Working a couple of days each week during migration, those volunteers tallied 193 window-struck birds in total, representing nearly five dozen species.
Many volunteers, once primed to look for window strikes, also started reporting injured birds outside their homes and offices. Window strikes are indeed not only an urban issue, and houses in the suburbs or countryside play an important role. While a skyscraper kills an average of 24 birds per year, low-rises are not far behind at 22, and most single-family residences kill between 1–3. (Buildings vary, of course, and some are responsible for more than 100 collisions a year).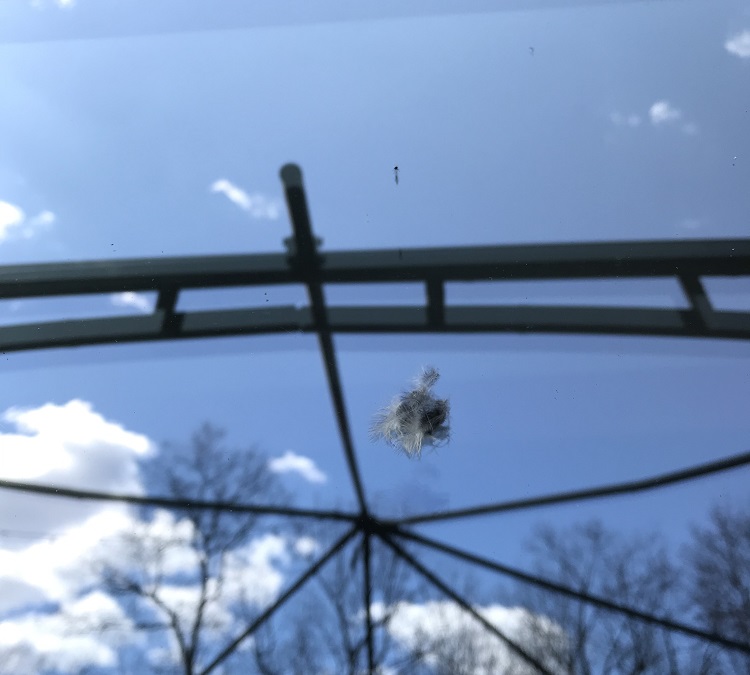 Residences: a silent culprit
Standalone homes are responsible for 90% of bird-window collisions. Even though sleek, all-glass facades on non-residential buildings kill many more birds on a per-building basis than the average single-family home, residences are more than 60 times as common as tall city buildings—making their collective impact even more significant.
More importantly, bird collisions are harder to detect outside of the city. Landscaping around houses conceals the bodies of window strike victims, and scavengers like raccoons and squirrels abound. Consequently, window strikes at residences are underreported.
Help us track bird-window collisions at home
Participating in this project requires less effort than a normal ACT season, since it only involves a quick daily check at one building (your home). It's important, however, to make this a daily or near-daily routine, since there may only be one or two days out of the season when you find a bird (although there may be many more). As always, data on where window collisions are not occurring is just as important as where they are. The data from this project will help us better understand the problem and eventually develop recommendations for reducing bird kills caused by window collisions at residential structures and low-rise office buildings.
The survey period officially runs until June 2, when most migrants are settled into their breeding territory. Anyone is welcome to continue submitting data after that, though—breeding birds are nearly as likely to collide with windows as migrants.
If you want to learn how to make your home safer for birds, check out these tips. Please only put up bird-friendly products like window tapes or screens before or after the data collection period. Modifying your windows in the middle of the data collection period will make it impossible to analyze data from your building.
To learn more about why birds have a hard time detecting glass, and to sign up to survey your home, visit our Anecdata webpage.