Post by Drumlin Farm Wildlife Program Coordinator Flavio Sutti and Drumlin Farm Wildlife Care Technician Brittany Knowles
Summer is generally seen as a time of respite from school, but for five ambitious college students who recently joined our Wildlife Care Internship program, learning doesn't stop to take a breather.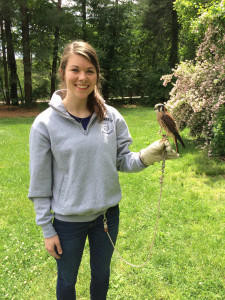 Since 2012, Drumlin Farm has offered college students a unique opportunity to work alongside our staff to learn how to care for more than 30 species of native New England wildlife. As part of the program, students also learn how to conduct wildlife education programs for the public.
This summer our interns come to us from Mount Ida College, Middlebury College, Brandeis University, and the University of Maine. On any given morning Maggie, Bess, Jenny, Nathalie, and Kristina can be found atop bird hill, assisting volunteers in cleaning the raptor enclosures. They might also be spotted co-presenting on woodchucks, opossums, kestrels, or screech owls alongside our education staff.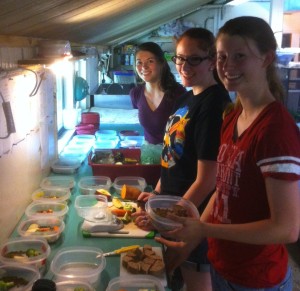 When not interacting with the public, the interns spend most of their time at Drumlin Farm's Wildlife Care Center, an area of the sanctuary closed to public, where our educational animal ambassadors live. Here they prepare food, clean animal enclosures, and assist with daily husbandry tasks such as rearranging enclosures and weighing and training animals.
Our Wildlife Care Internship program is offered to local college students each semester and provides an excellent way for students to fulfill academic requirements. The hiring process for our fall 2015 internship program will begin mid-July; be sure to check the website at that time to learn how to apply!