Post by Drumlin Farm Volunteer Marilyn Rudick
When Polly Reeve was growing up in New York City, she never pictured rolling pastures, goats, and chickens would be part of her daily job. Yet, that's exactly what happened when the big-city native became passionate about conservation.
After studying history and literature at Harvard University, Polly began a career in nonprofit resource development, eventually working at the Trust for Public Land. It was there that her interest in the connections between open space and people blossomed.
Years later, after receiving additional training at Harvard's Landscape Institute, she began managing her own landscape design business. Yet, something was missing; she yearned to once again be part of a mission-driven organization. This longing led her to the The Food Project, where she served as development director for five years prior to joining Drumlin Farm in March 2015.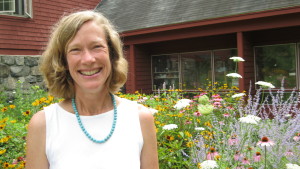 As development director at Drumlin Farm, Polly enjoys communicating the breadth of the sanctuary's "amazing work" as well as the impact of that work within the community. Most of her time is devoted to cultivating Drumlin's $4.7 million capital campaign, Landscapes for Learning, which will provide critical support and infrastructure improvements that enable Drumlin to bring meaningful programming to the public.
At present, Polly has her sights set on Moon Over Drumlin, the sanctuary's biggest annual fundraiser. Set for Saturday, September 26, the gala and auction will raise funds that support education at the sanctuary and within the community. This year's event promises to be bigger than ever, with six expert chefs from Cambridge, Somerville, and Concord; delicious tastings prepared with fresh Drumlin Farm ingredients; a live auction; and a raffle.
In Polly's view, "Everything at Drumlin Farm is related to education. Through outreach and innovation we continue to enhance what we offer to the community."
Along with lifelong farmers and educators, Drumlin Farm's staff includes a variety transplants from other career paths, including engineering, veterinary medicine, music, sales, entrepreneurial ventures—even podiatry! Our "Meet the Staff" series explores the many ways that the people who work at Drumlin Farm found themselves drawn to common goals of environmental education, sustainable farming, and conservation.