This phone camera is as beat as these plants. If you can make it out through the impressionistic haze, that's our frozen tomato patch on the left and two burned-up bean beds on the right. We noticed the first frost damage of the year on husk cherries and purslane weeds on the morning of 9/15, and have had several freezes since then. Remember, the last frost of the spring killed half our sweet potato patch on the morning of 6/2. That means we had a total of only 104 frost-free growing days this season! The Crops team and volunteers worked throughout last week with an awareness of the looming cold, and did a great job maximizing the final tomato, pepper, flower and string bean harvests of the year.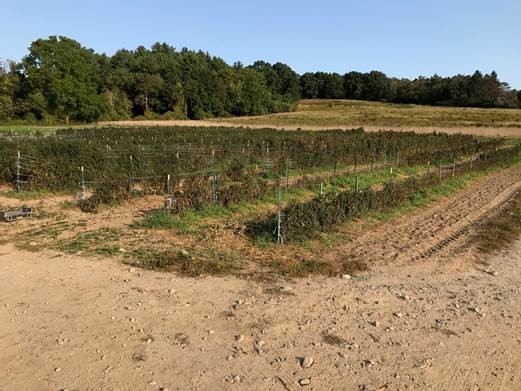 On Friday afternoon, volunteers from Definitive Healthcare (the first corporate group of the year!) picked 80 pounds of beans and 90 pounds of cherry tomatoes. They've been working remotely throughout the pandemic, and this was their first opportunity to be together outside of Zoom meetings. You can see them picking away and then proudly standing behind their bean harvest, while in the background of both pictures, notice volunteer Anne, intent on the job at hand—saving more beans! While this group worked in the front field, a separate group of community volunteers thoroughly picked through the main tomato patch and another planting of beans. And then, for the second week in a row, a large, fresh wave of volunteers arrived at 4 p.m. to cut flower stems. All told, Drumlin had about 30 people harvesting that day–right before the killing frost!
And so, we made the most of the summer. To all who have been helping, whether it be by greeting volunteers in the parking lot, pulling weeds in the field, seeding trays in the greenhouse, harvesting crops, boxing CSA shares, paying bills, mucking barns and making compost, fixing broken things, ordering supplies, and/or, at the other end of the process, buying the farm's food, take a moment to reflect on the delicious bounty the earth produced all summer, and to appreciate the role you played in that. Thank you!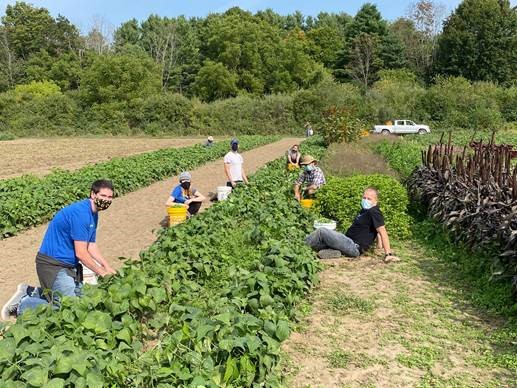 By the end of this week, we plan to begin filling the root cellar with storage potatoes. Before that, we need to dig all the sweet potatoes that survived the June frost. Now that the September frost has burned away the vines, the deer have easy access to the tubers, and they will dig down with their hooves. Root harvests have been made easier by the lack of rain; it's as if everything is buried in sand and lifts right out. We would trade that ease for the water the storage carrots and cabbage really need right now. It hasn't rained since 9/11, and there are so few days left for crops to put on size!
Your Farmers