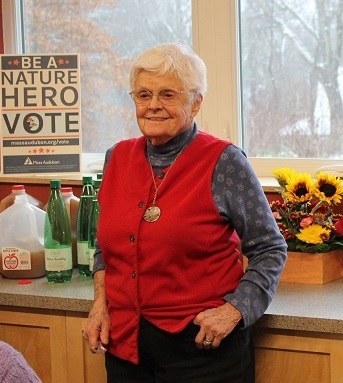 Edie Sisson is a Drumlin Farm superstar. She has been teaching at Drumlin Farm for fifty years, and during that time has opened countless people's eyes to the wonders of nature. She believes in living sustainably, and her household includes chickens, geese, and honeybees, and for many years she provided many thousands of fertilized eggs for incubation to schoolchildren across the state, while her late husband, Tom, served as Drumlin Farm's beekeeper. She also believes, passionately, in social justice and in the power of an individual to make a difference.
In 2007, she founded the Drumlin Farm Outreach and Assistance Resources (DOAR) program to provide scholarship support to make Drumlin Farm available to schools, families, and others for whom the financial barriers were too high, as well as to increase the diversity and accessibility of our community. Thanks to the DOAR Program, many people have been able to experience the magic of nature and the farm first hand. Seeing wildlife up close, getting your hands dirty in the garden caring for plants, and observing the interconnectedness of the natural world are lessons that last a life time and have inspired many, thanks to Edie's push for inclusiveness.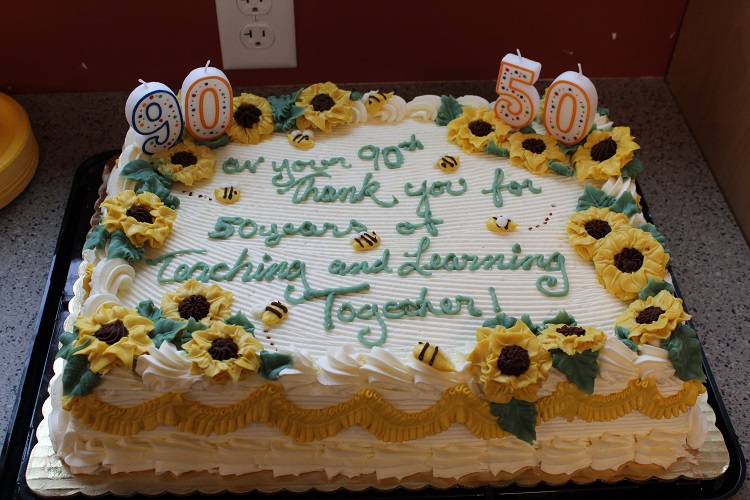 On November 20, Drumlin colleagues past and present joined with Edie's family to celebrate both her 90th birthday and her 50th anniversary at Drumlin Farm with a lunch in her honor. Just a couple of days before Thanksgiving, it was a perfect opportunity to reflect on all that Edie has brought to our community and give thanks for her!
If you would like to make a gift to the DOAR Fund to help support socially diverse programs at Drumlin Farm, please contact Polly Reeve ([email protected], 781-259-2239).