In yesterday's high heat, the team brought in close to a half ton of cukes and summer squash, and lots and lots of peppers for this week's CSA distribution. Nice work, all! Those veggies are now in the walk-in cooler, and today, we'll continue the CSA pre-harvest with radish, onions and carrots.
On Wednesday, we'll round out the harvest with greens and sweet corn. Now that the CSA has more than doubled in size, we spend more of each week getting prepared for these distributions. What had been a bagging operation during the spring CSA program, has grown into a boxing operation to accommodate all the veggies coming in from the field for the summer CSA shares.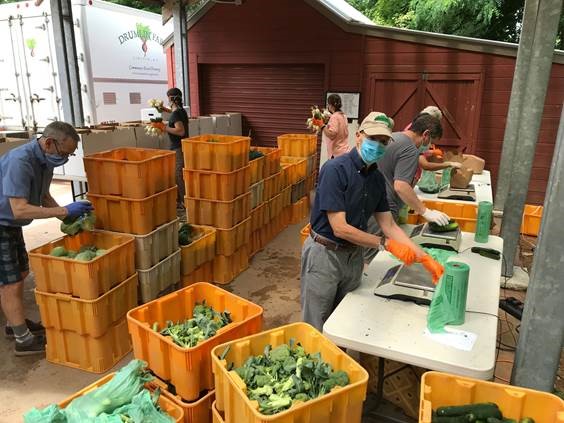 Each Wednesday morning, eight volunteers led by farmers Margaret and Paige weigh and count out the produce and pack 230 boxes. It's an amazing undertaking, and we are so grateful to all those who are giving their time to make it happen in such a precise way.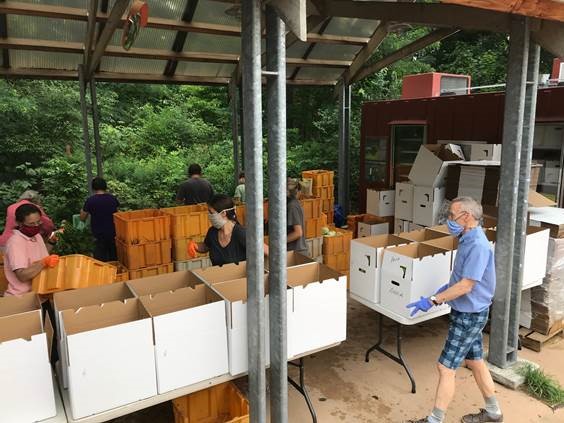 Out in the fields, we finished the garlic harvest this past Friday with the help of volunteers from the community. Many in this group have been been remarkably consistent, returning each Wednesday, Friday and Saturday to harvest and weed.
By the seventh and last day of the garlic harvest, each person knew all aspects of the work, and this made the whole job so much simpler and efficient than in years past. Last season, we didn't even begin the garlic harvest until this week, and we finished on July 26. So, we're ahead of schedule, and can now turn our attention to the storage onion harvest, which should begin in the next few days.
We're also nearly finished planting the fall storage crops thanks to the help of ten volunteers from the Appalachian Mountain Club. Kate Bentsen has been leading groups of AMC volunteers at the farm for several seasons, and we always get so much done when they arrive. This past Saturday, we planted over 4,000 kale, broccoli, and summer squash seedlings with their help. It was a hot day, but we were able to move at a reasonable pace thanks to all the helpers. Thank you Kate and thanks AMC!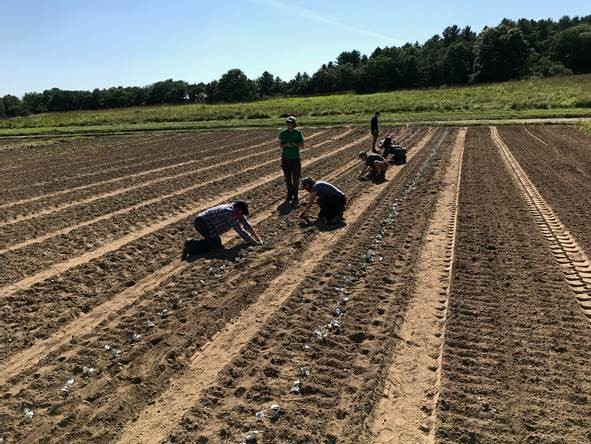 Your Farmers