Adapting to Rain
Wow, that was a lot of rain! Several sizzling thunder and rain storms have hit Lincoln, and below, you can see the before and after state of our soil. On the left, Paige and Margot proudly stand over the third succession of summer squash they planted into the dust on Saturday morning—just the two of them! On the right, Monday morning, the oats and field pea cover crop is breaking through the mud in a field that will lie fallow this year. While all this rain will reduce the quality of the remaining strawberries, all other crops will greatly benefit. We were able to maximize the value of this year's strawberry crop thanks to the harvesting work of volunteers and the farm team.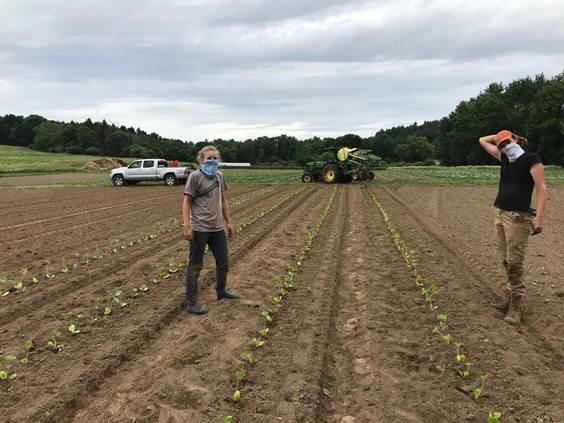 Stop by our Farmer's Market Stand
This past Friday afternoon, another group of volunteers helped us pick about fifteen flats of berries for sale at the Union Square Market. Margaret, Jill, Nina and volunteer Avril did a great job selling them, and to date, sales at the market are far closer to average than we had predicted heading into a retail environment greatly altered by COVID regulations.
Reopening for Visitation
Thanks to the hard work and careful planning of many Drumlin staff members, the sanctuary opened to the public (who registered ahead of their visit) for the first time this weekend. It was great to see so many masked families exploring the farmyard and fields, and several people stopped to watch us hurriedly planting before the rains came.
If you've been missing Drumlin Farm and are overdue for a visit, please reserve your spot here so that we can safely manage our capacity limitations. Stop by the fields to say hi and see what the farmers and volunteers are working on!
New Veggies on the Way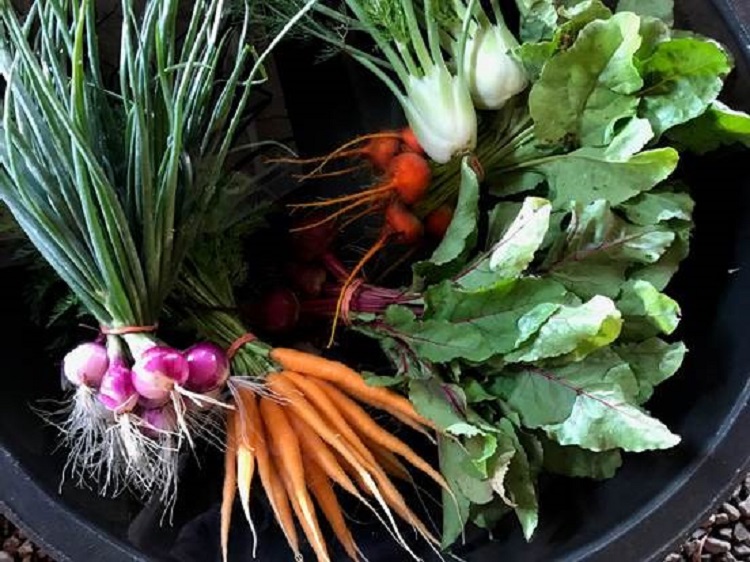 On Saturday, in addition to the 640 summer squash Margot and Paige planted, we also set 2,400 Brussels sprouts and 1,100 flower seedlings, and seeded the next round of greens and radish. The last four rounds of greens have been affected by high heat and lack of rain; we're looking forward to having a renewed supply of them in about three weeks.
In the meantime, a new set of exciting crops will start to appear in your CSA shares this week. We're beginning to harvest the March 23rd seeding of carrots; it's about two weeks later than we had anticipated due to the cold spring and subsequent lack of rain. We're also harvesting the mid-April seeding of red and gold beets (our thanks to Volunteer Anne for weeding and thinning them!) and the first spring onions, fennel, fava beans, and field cucumbers of the season.
Food Donations
We continue to donate food to area pantries, and this past Tuesday we made our first delivery to the Lincoln Food Pantry—dinosaur kale, scallions, and salad turnips for 90 families. We also continue to bring produce to Food for Free in Cambridge. All told, we're approaching  $20,000 in food donations since mid-March! Thanks to all who are making it possible for us to contribute in this way.
Your Farmers