Snow and twenty degrees is predicted for this Friday night, so, in the days ahead, we need to focus on harvesting any last sensitive crops like daikon and cabbage, while also protecting immature greens. We're in good position after a week that brought three corporate volunteer groups to the field. All those Brussels sprouts in last Wednesday's CSA share were separated from their stalks by lawyers from IBM. They also helped us trim the leeks that went into the share boxes. The next day, volunteers from National Grid helped us break apart and plant the last three beds of garlic. We now have eleven beds planted (using about 14,000 cloves)—a new high for Drumlin. This reflects our customers' and our own newly discovered enthusiasm for cooking with green garlic—the immature plants pulled whole in May and early June. National Grid volunteers finished their afternoon's work harvesting parsnips. The drought has affected the size of the crop, and, above, you can see Paige and Margaret sorting the parsnips by size into two separate crates—small and smaller! We still have more parsnips to bring in, but they won't mind being buried in snow for a while.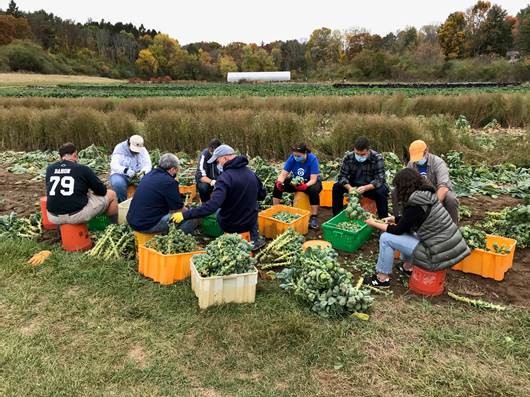 On Thursday, Jill and Margaret delivered 750 pounds of potatoes to The Greater Boston Food Bank (GBFB). This is our first time visiting the enormous warehouse, a relationship made possible by one very generous donor. That's Jill on the right holding up some of our precious Kennebecs with Emily Yerby, manager of local food donations for GBFB. That day, as part of our restaurant circuit, Jill and Margaret also donated produce to Food for Free in Cambridge, something we've been doing every week throughout the season. Thanks to you both for building relationships out in the community and for coordinating all the ins and outs of our complicated Thursdays.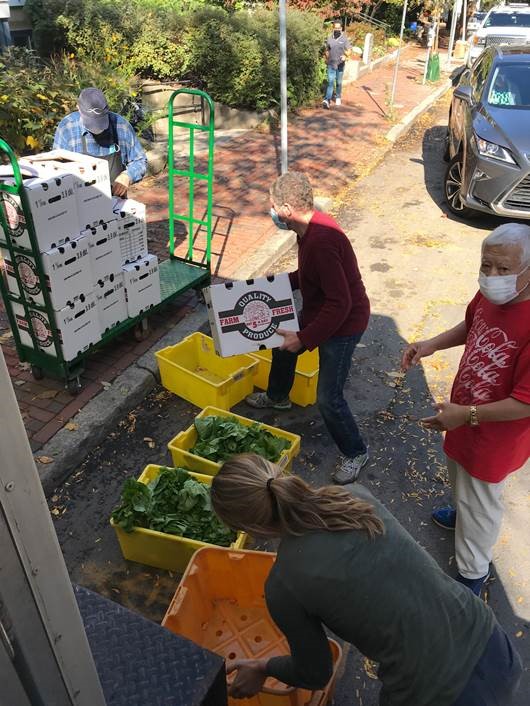 On Friday, volunteers from ENGIE, who help businesses move toward energy sustainability, helped us harvest the last watermelon radishes of the season and prepare Brussels sprouts for sale at the weekend market and farmstand. Saturday was a warm and beautiful day, and many shoppers in Somerville and here at the farm were so thrilled to get those sprouts that we sold out! Out in the fields, we worked with community volunteers to finish the turnip harvest. Now it has turned much colder, and given the challenging predicted weather ahead, it's time to close the farmstand and express our gratitude for the volunteers who made it possible for Drumlin to operate a stand during the pandemic—Richard and Nancy, Linda and her grandson Jake, Leah, Alden and Basha. Thanks all for working to feed our community.
Your Farmers